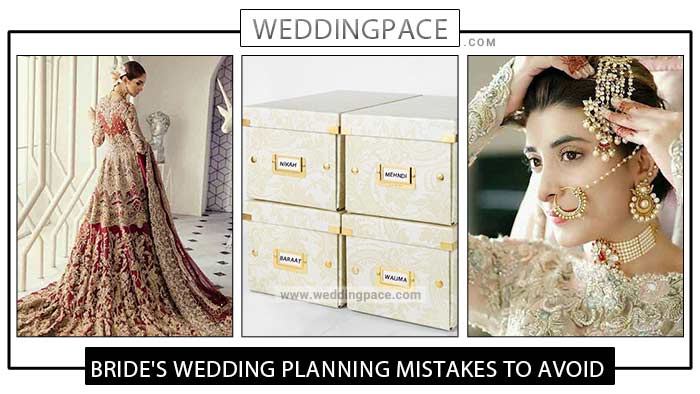 Here are the most common Pakistani bride's wedding planning mistakes to avoid. Because your marriage is supposed to be super fun, not a tragedy!
Don't let something happen silly that will leave your mood off or stop you from enjoying it. Today we will help you to avoid tacky wedding mistakes that a Pakistani bride can make and provides you with the best possible wedding tips and solutions.
Pakistani Bride's Wedding Planning Mistakes And Tips To Avoid
Here is a question to be asked about wedding planning problems: What are the tips for brides on their wedding day?
The answer is simple, not eating on time and not retouching her makeup!
So first of all, make sure don't wait for the guests or celebrate your wedding day on an empty stomach otherwise you probably may not be enjoying the event to its full.
Secondly, Be assured you look all good throughout the wedding event, keep checking your makeup, hairstyle, dupatta setting, maang tikka, maatha patti or bindiya setting, and most importantly bridal dress neckline.
For that, you must have a few items in your wedding bridal pouch:
A handy mirror
Safety pins
A few hairpins
Compact face powder
A lipstick
Whether you are a bride or the groom, there are certain common Pakistani wedding planning mistakes when you plan your events. The easiest way to learn about something is just to know about do's and Don'ts! If you are about to plan your wedding, make sure to follow all the tips to avoid wedding planning mistakes and be the sunshine of your special wedding events.
NOT CHOOSING THE RIGHT SALON BY THE BRIDE
The worst and the most disastrous mistake is choosing the wrong salon, or look. To avoid this, visit and see the work of the best salons in your area. Ask people about the reviews, and go for the one which satisfies you, never forget to ask about the one who is going to do your makeup, and meet her/him.
Meeting the staff is necessary for two reasons. You will know if they will cooperate with you, and they see your face and hair once before styling you. So that nothing goes off. Ask for a trial, get your jewelry and outfit and meet your beautician. Show her the stuff and ask her to plan the look according to that.
Also, see Mehndi designs for Engagement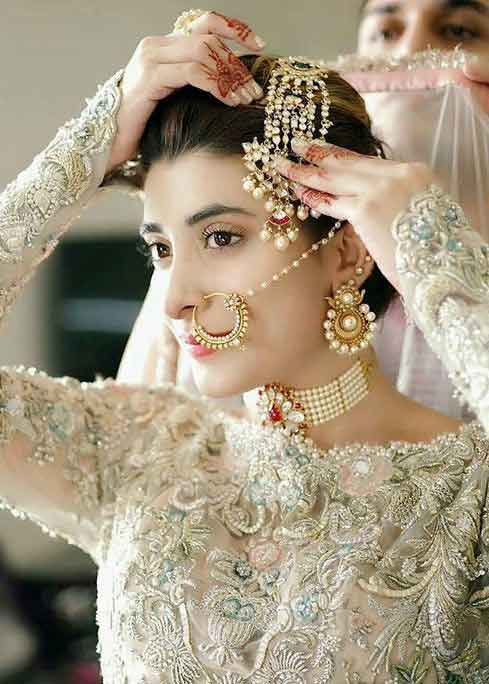 Always ask about the facial products they will use on you, to confirm the quality and inform your expert about any reaction or sensitivity you can get from any product.
After that, keep the services in mind. Check the products, select the service that suits you, and always try to go at least two days before the event, so that if any rash or allergy occurs, you get time to let it recover.
Don't forget to use your anti-allergy if you have any issues.
Check out Pakistani bridal sarees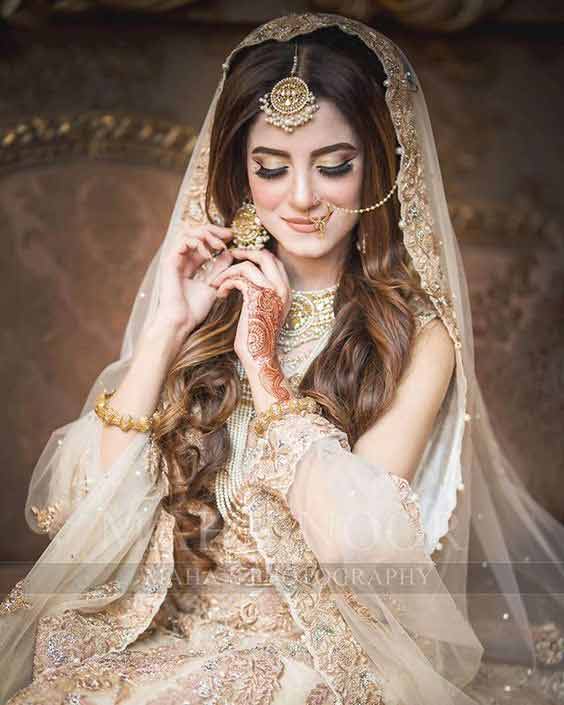 NOT SELECTING THE RIGHT BRIDAL DRESS
Here comes the bridal wedding dress. This biggest mistake is to select an old-styled Pakistani bridal dress that can ruin your wedding charm. Select your big-day outfits wisely, and don't repeat the colors or styles.
Pick the style that you are sure will suit you and try your outfit out by wearing it, then decide. Same with jewelry, check, try and then decide. Keep your figure and face cut in mind.
Plus. Don't forget your innerwear and cancan – a ruffled net skirt underneath the bridal lehenga to give it a royal flare!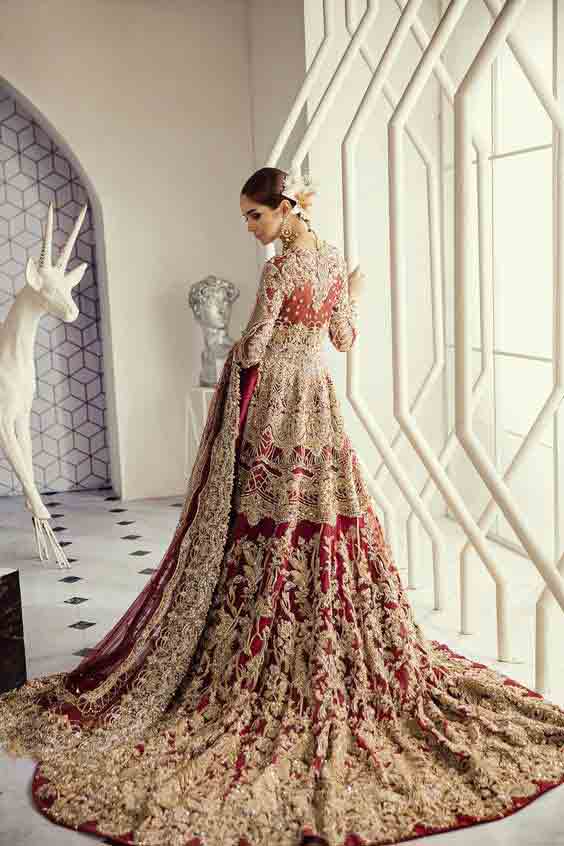 NOT PACKING THE STUFF PROPERLY
Don't keep all the dresses and stuff in the same way, divide it accordingly to summer, winter, formal and semi-formal dresses. And on the safe side always have bridal dresses a size larger than your present size. Pack coats and sweaters separately from semi-formal and formal clothes. Pack shoes separately and keep your cosmetic box and jewelry box separate too.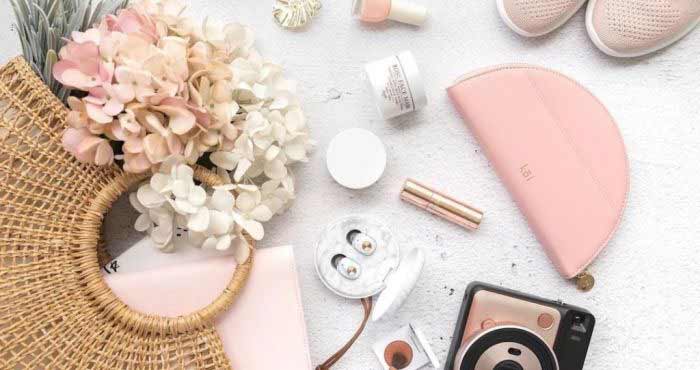 NOT KEEPING WEDDING EVENTS DRESSES AND ACCESSORIES ORGANISED:
A major mistake that a Pakistani bride probably makes is not to keep wedding dresses, jewelry, and shoes accordingly. So here is a tip to organize all of your stuff a month before, according to your wedding events separately. It means, keeping independent packets/boxes of each event such as for Engagement, Nikah, Mayo, Mehndi, Baraat, Walima, Muklawa, or any other event.
Keep the stuff salon-ready, which includes dresses, shoes, jewelry, and accessories in each box accordingly.
Do you know what most brides forget?
Additional accessories to take to the salon!
Thus, DO NOT forget about the accessories that you have purchased to carry them to the salon. Which may include hair extensions, eyelashes, nails, hair jewelry, fancy hairpins, red roses or flowers for hairstyling, or anything else – whatever you want.
Otherwise, your salon will have it all but of course, you will need to pay a little extra for that.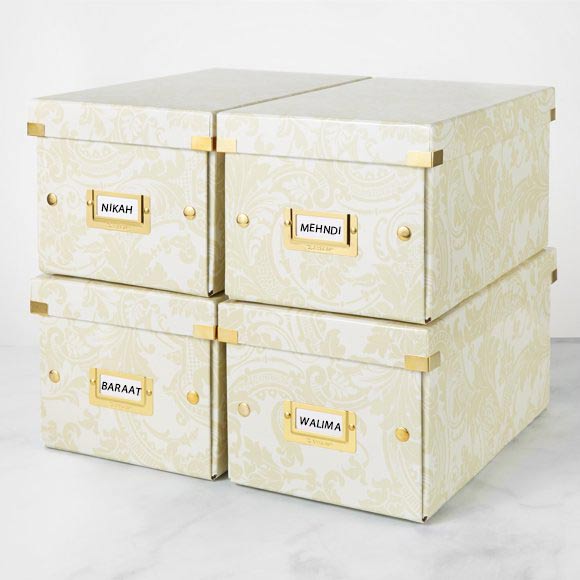 One more question arises: What do brides regret the most about their wedding? In our opinion, most Pakistani brides regret blowing their budget on just a dress! Hence, be within your budget and enjoy your big day.
Any miss management or mistake can disturb the event and turn all the excitement and enjoyment into stress again. But wait for a second, there is a huge fuss and stress of responsibilities and arrangements that are to be done. There is a lot of hustle and hard work behind a beautiful wedding ceremony. And remember, nothing can meet perfection! So it is okay if you forget anything to do, but the best part is that you have done all the good you could do! That's your achievement.
So, this is all, These are some common mistakes done at our weddings, you must keep an eye on them. We wish your event goes the best and leaves a nice memory for you and your people.