Let's dive into the latest collection of Pakistani bridal shoes for engagement.  No one is going to stare at your face and dress for a whole day when it's the time for engagement ring ceremony, your shoes must also incorporate with your overall appearance because the secret of a gorgeous bride is a flawless pair of shoes.
Imagine yourself, walking on the engagement, wedding floor, wearing the emblem of style and glamour full of dazzlingly beautiful embellishments, but what about your shoes? Of course, the bridal shoes must be elegant enough to catch the attention of everyone present in the marriage hall!
Now, how does that happen?
The main focus of this article will stick to the following categories of Pakistani engagement shoes for bridals:
Bridal Heels
Bridal Wedges
Bridal flats
After this, you will come to know the most significant things to be considered when choosing engagement bridal shoes and most important tips to be remembered as a bride-to-be.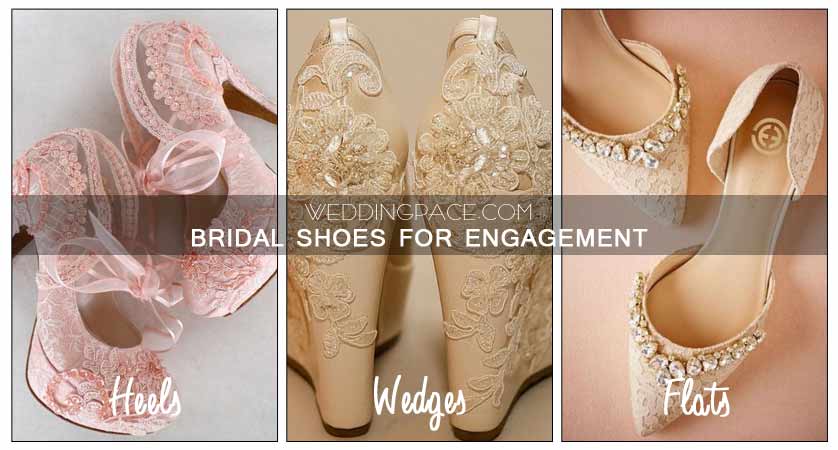 Latest Pakistani Engagement Shoes For Bridals
What are you feeling deep inside about the engagement shoes for brides-to-be?
Ask yourself first! Would you love to wear high heels? Bridal wedges? Or would feel more comfortable wearing the bridal flat sandals? Do you want to try anything special on your big engagement day? For example, why not give a try to the most comfortable yet voguish bridal wedges this time? If you are tall, then why not go for the bridal flats? (Well, if you are short then you must opt for the high or low heels or perhaps wedges).
Anyhow, everything suits everyone, nothing matters at all except; you just need to know that how to carry/wear the fashion accessory appropriately, that's it! After you have got answers of all of these above-asked questions, scroll down the images shown below and choose your favourite shoe style that goes well with your dress.
Let's get inspired by the following Pakistani engagement shoes for bridals!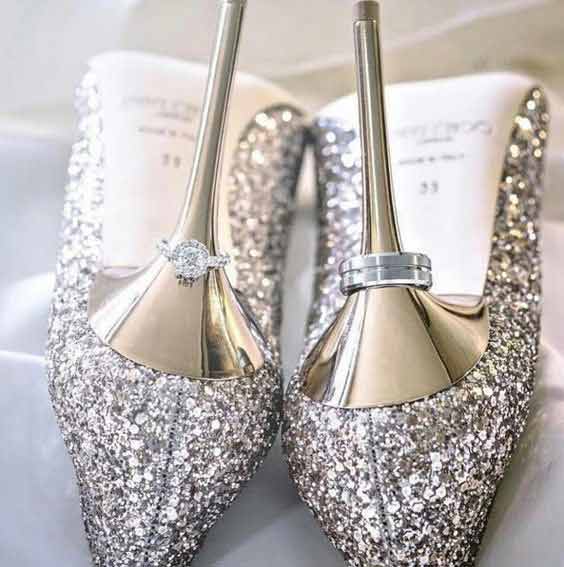 Pakistani Engagement Shoes For Bridals With Images
In order to achieve the best suitable Pakistani engagement shoes for bridals, start looking for your perfect pair of shoes and grab them as soon as possible. Carry out your engagement planning and preparation a few months before your ceremony. With this in mind, search the best inspirations for your dress, shoes, clutches or even get appointments for your engagement makeup!
If you want your bridal shoes to serve you flawlessly on the big day, grasp your shoes and wear them around the house to make sure that they are comfortable enough to feel relax all day long and glamorous enough to catch the attention of everyone around. Whether you are looking for fantastic high heels or a delicate bridal flat shoes, Weddingpace has got you covered! Today, you are sure to find the right pair for you.
Wedding Style Tip:

Wedding bridal shoes are as important as the engagement dress is meant to be in Pakistan! Do not forget to match your engagement shoes with your dress. There are certain color combination rules about fashion that you  always need to keep in mind.
For now, let's back to the above-mentioned three major categories of engagement shoes for bridals in Pakistan.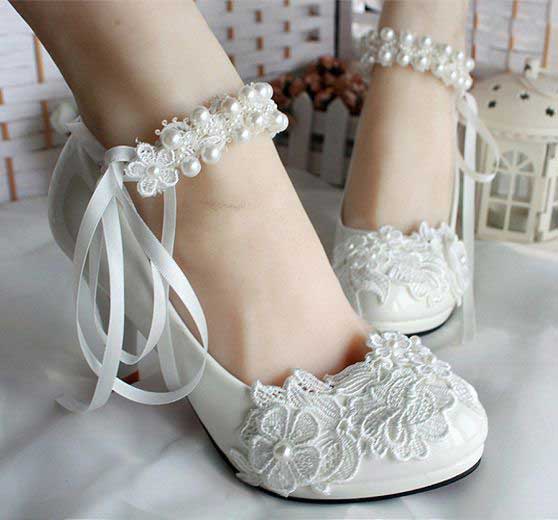 1) Engagement Bridal Heel Shoes
Let's get our eyes on the most popular Pakistani engagement shoes for bridals category. As far as the high heels are concerned, no bride would be able to get her eyes off these heels.
There come to the most fascinating shades and designs of this footwear collection. From pure gold to glittery silver, taste royal and fancy adornments sprinkled on these engagement heels for bridals in Pakistan. In this latest collection, designs and hues are fused together in such a balance that no bride can resist from trying them at least once! The entire new range of designs and hues has sparked up the whole assortment!
Wedding Style Tip:

If you are tall but you love to wear heels, then why not go for the low-heel bridal shoes?
If you are short, you should opt for the heels either high heels or low heels (at least on your engagement ceremony) as it will make you look taller and classy.
See how beautifully "Carrie Bradshaw" has to say about engagement bridal heels:
[su_quote cite="Carrie Bradshaw"]"I'm not afraid of heights, have you seen my shoes?"[/su_quote]
Without further do, let's check out the super glamorous Pakistani engagement shoes for bridals which include high and low-heels!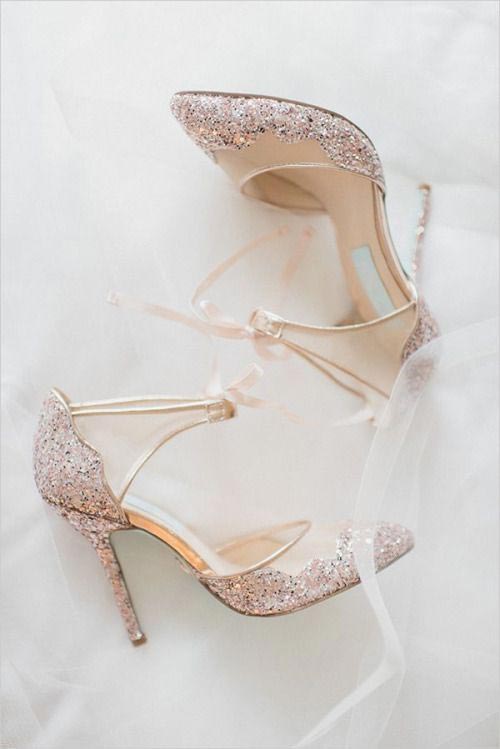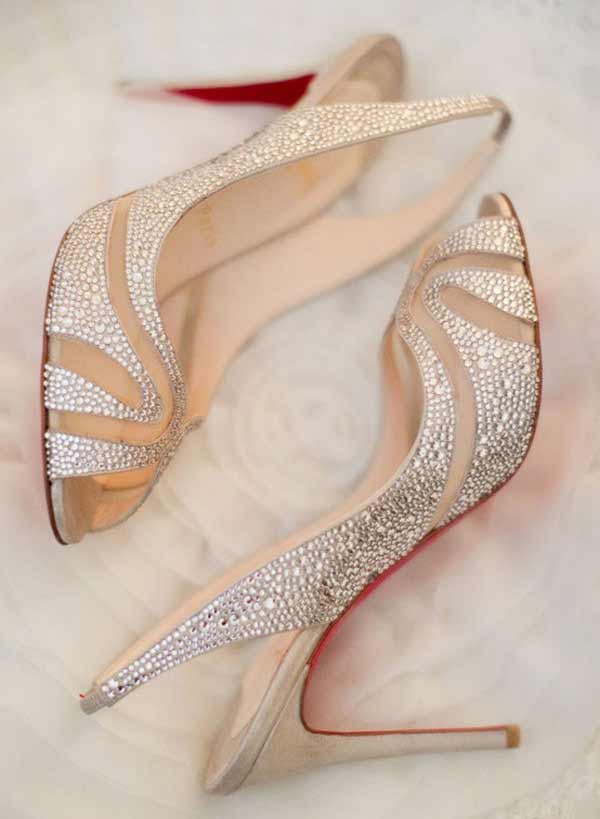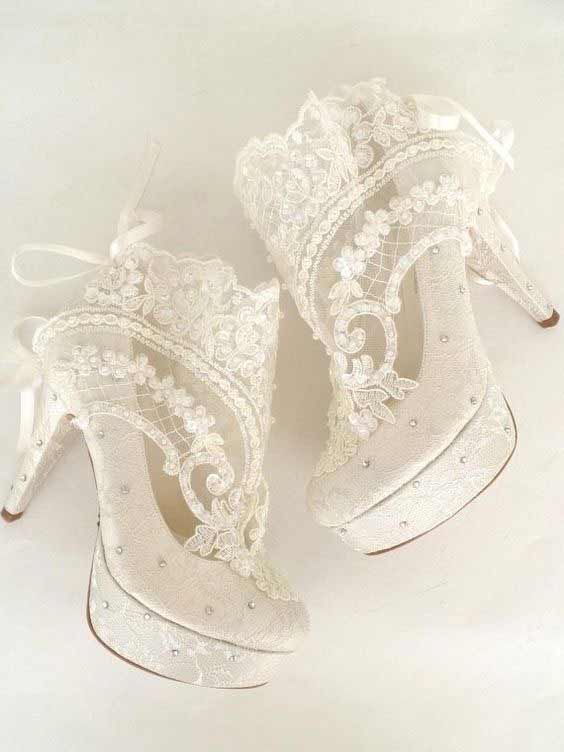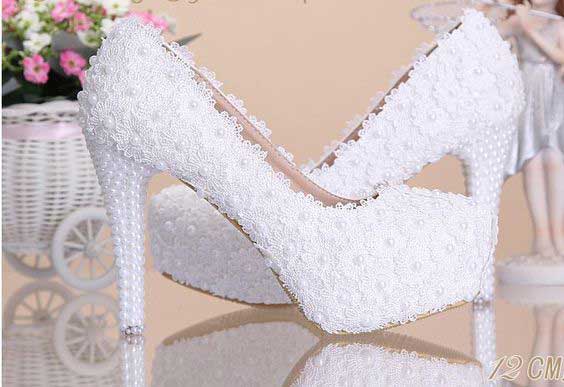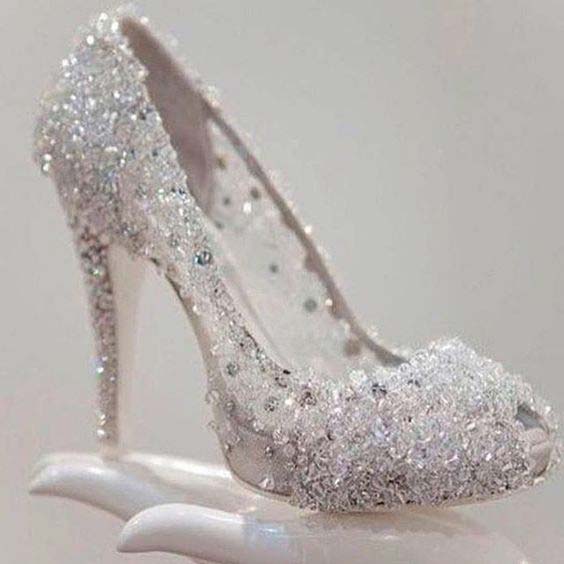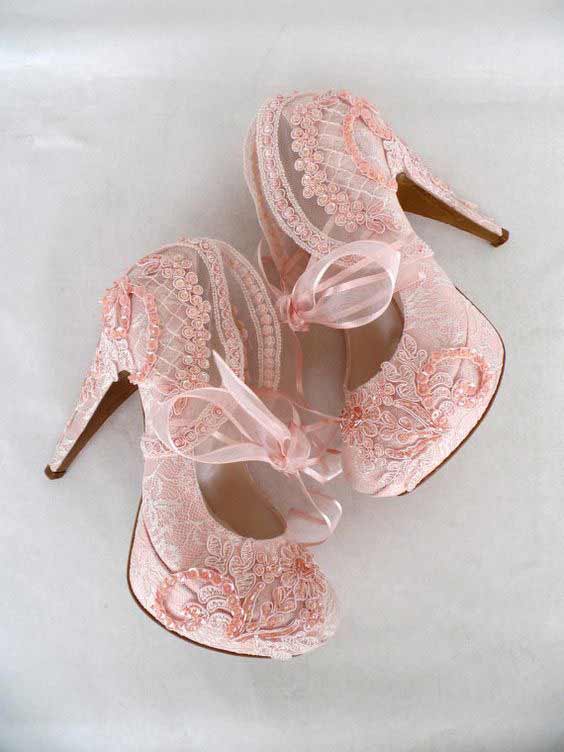 Read More:
Have you decided your makeup look for the engagement ceremony? If not yet, then you must check out the most recent Pakistani engagement makeup ideas that will perfectly match with your dress color combinations. Specifically, when you are about to wear ash grey, golden, pink or off-white bridal dress.
2) Engagement Bridal Wedges
One of my most favorite Pakistani engagement shoes for bridals are none other than the bridal wedges. Super comfortable and easy to carry! You won't feel any fear of fall with these super cute wedges shoes available for bridals. Although there comes the wide range of casual wedges for girls, the fashion industries are still working to introduce the new range of engagement wedges shoes for bridals.
For a bride to look stunning and adorable on her big day, it doesn't only require a heavily embroidered dress but a pair of perfectly matched bridal wedge shoes that will complement her dress.
Look at the following wedding fashion tip:
Wedding Style Tip

If you are afraid of wearing heels (either high or low) and would feel uncomfortable, then are you familiar with the bridal wedges? Wedges are not only comfortable to wear, but also super voguish in Pakistan. Shop around and find the most glamorous pair of bridal wedges shoes for you to stay elegant and classy.
Here are the most beautiful bridal wedges shoes for the engagement ceremony. Check out these wedges (shown below with images) that have brought more glam and glitz to the engagement bridal style.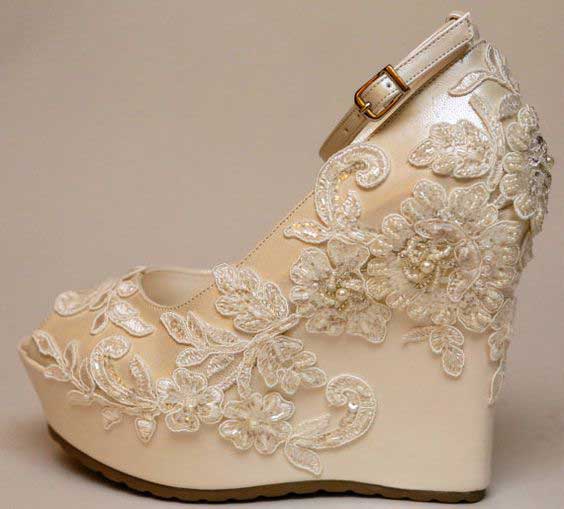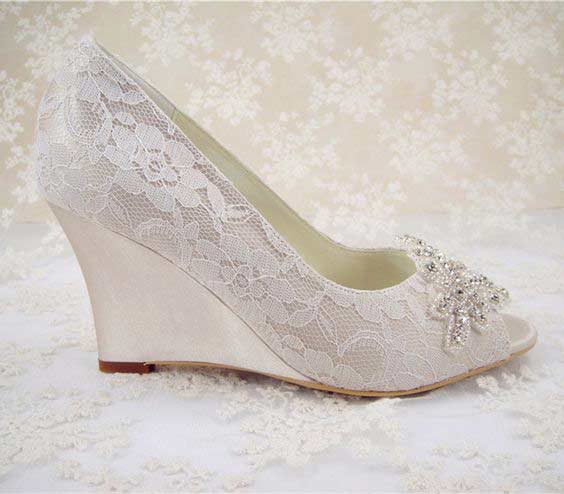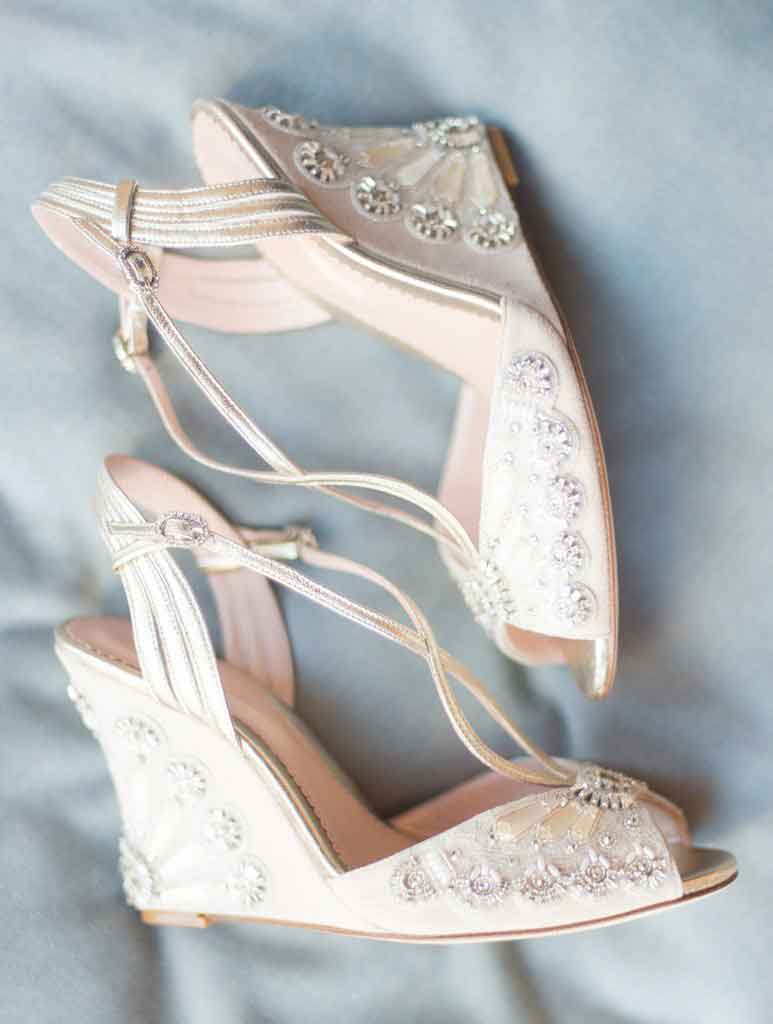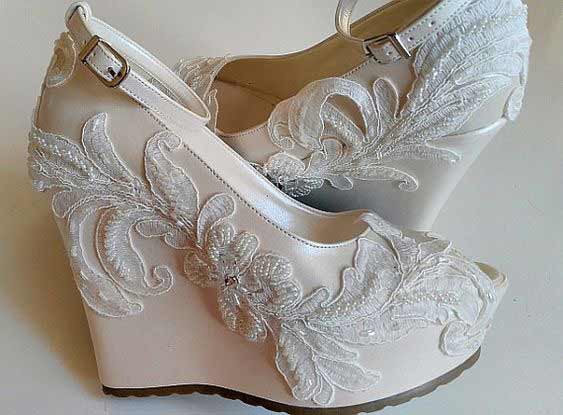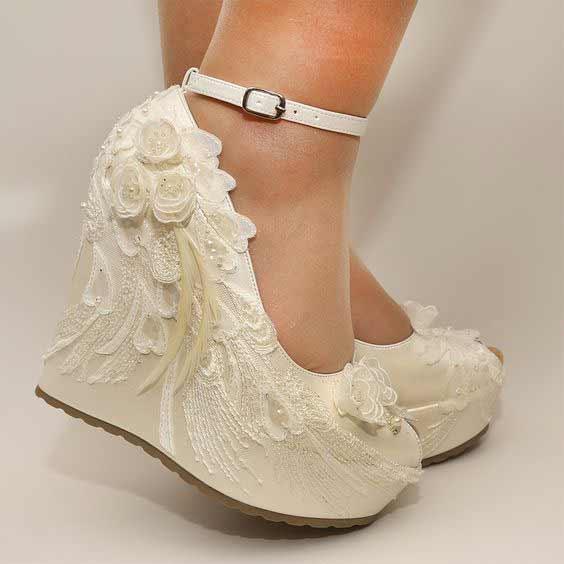 Read More:
Are you wondering to apply mehndi designs for engagement? Here I have got you the most tremendous and new styles of mehndi designs that will assuredly make your hand look more attractive. Let's check out the latest mehndi designs for engagement.
3) Engagement Bridal Flats
Another flats or sandals option for those engagement brides who want to keep them in the comfortable zone. For your big engagement day, you surely would not want to miss these ones! Engagement bridal flat shoes are one of the cutest shoes ever. It would not be wrong to say that most of us love to wear the flat footwear just because they are super comfy, easy to carry, and always in fashion.
Now the time has changed and those days are gone when no one prefers to wear flats as a bridal footwear. But this is the year 2019, no bridal can resist from wearing dazzlingly beautiful, posh, and well-situated bridal flat shoes! These flat shoes have been specifically added to the bridal footwear production category.
You will sense this when you will see the super tremendous Pakistani engagement shoes for bridals. Beautifully embellished and pearls adorned flat shoes for bridals are one of the most sought after shoes by Pakistani brides.
Wedding Style Tip

If you are tall, go for the fancy low heel or bridal flats to become the queen of your big day.
Check out the following images of Pakistani engagement bridal flats and you might not be able to shake it off your mind.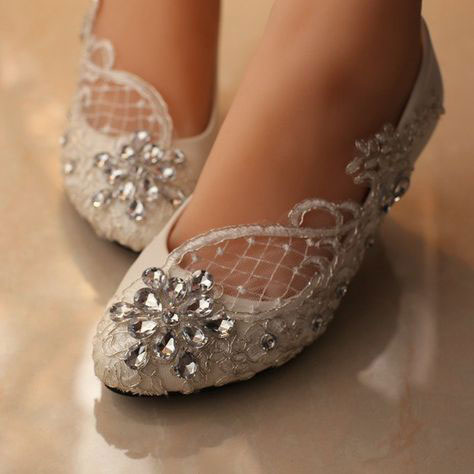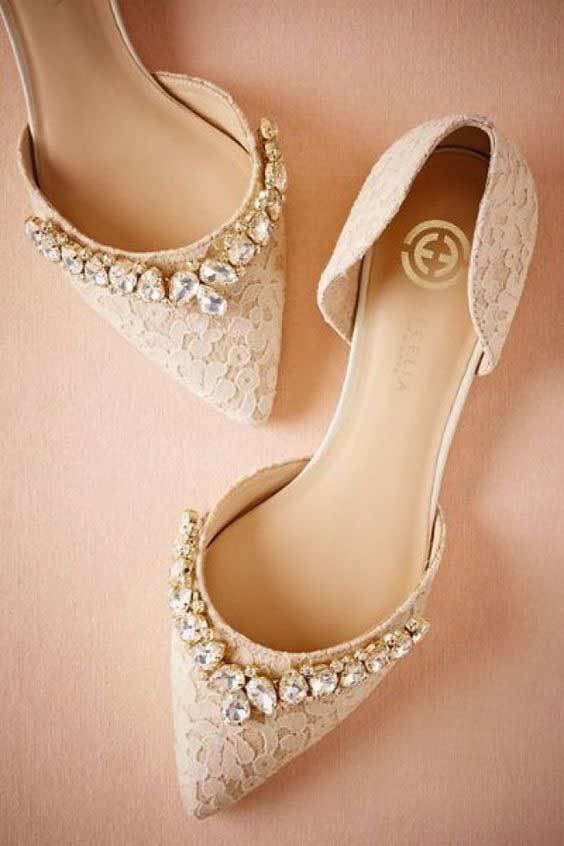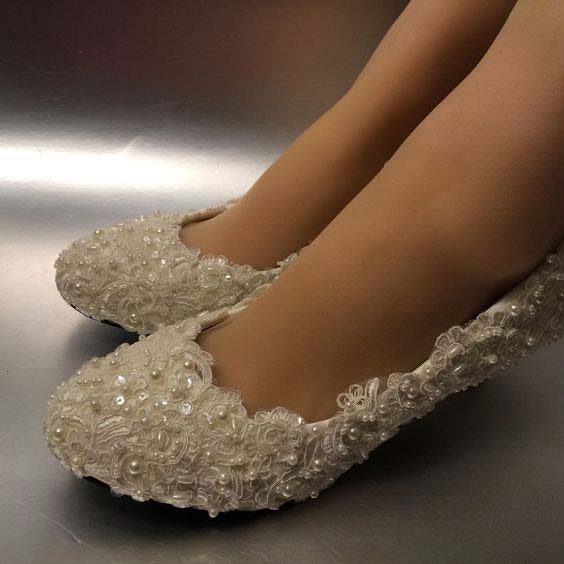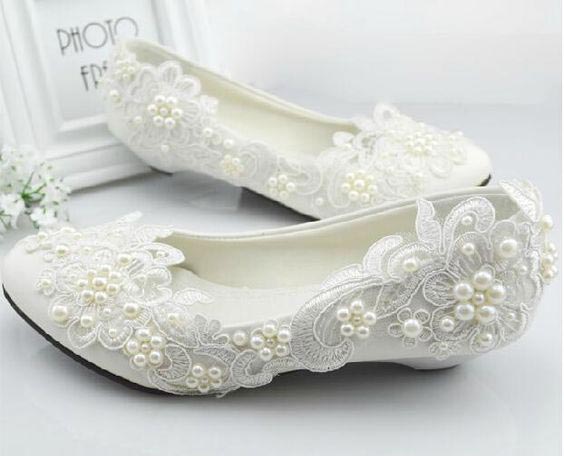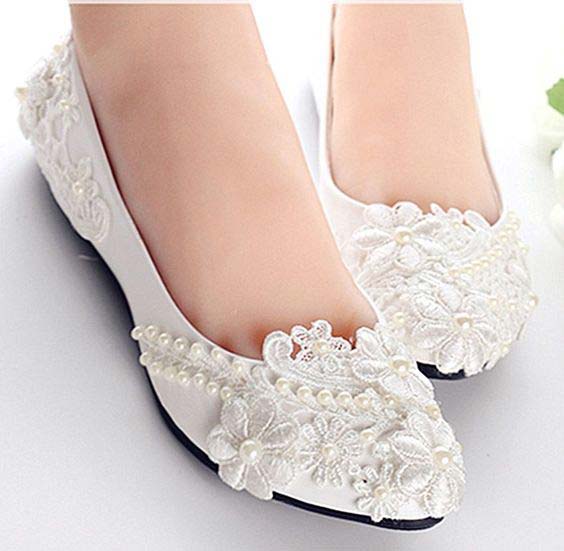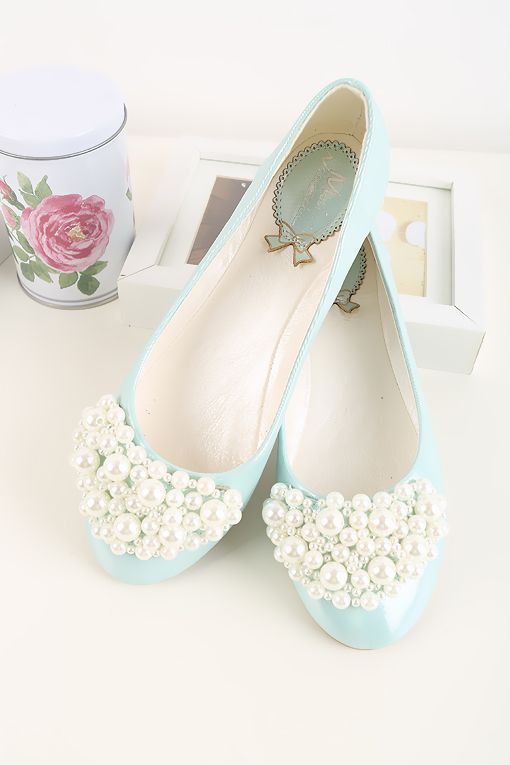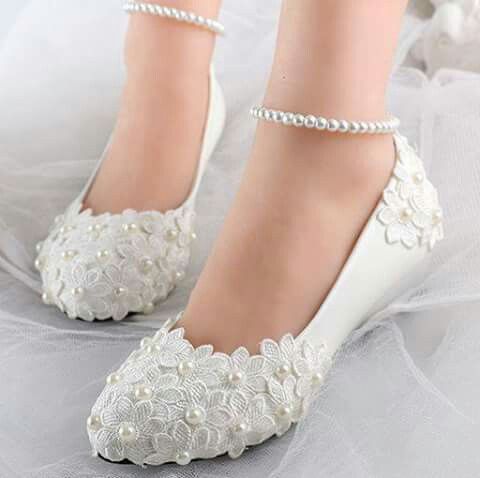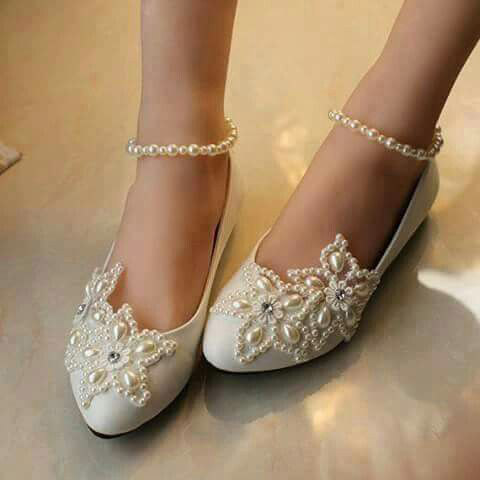 Pakistani Engagement Shoes Tips For Bridals
There are certain tips to be considered when choosing new bridal shoes. All the ladies love shoes! But still, it is interesting that when it comes to buying bridal shoes, it always seems like a less important task that is left at the end of the list of priorities.
Take notes brides-to-be!
Keep in mind the following valuable points regarding Pakistani engagement shoes for bridals:
When choosing the color of shoes, there are two best options:

Matching or contrasting the shoe color with your dress, or
Matching it with your handbag or bridal clutch.

There is no point in wearing the contrast statement shoes if your engagement dress is floor-length and going to cover them.
Choosing the bold and colourful pair of shoes can be a fun task but let me remind you, it's your engagement ceremony! Thus, soft and lighter hues will win the hearts of everyone.
Your engagement bridal shoes must be comfortable and provide relief. It is not the matter of color or how pretty they look, it is all about how comfortable they feel on the feet.
For a safe buy, ask yourself: Are they easy enough to move around for a long period of time? Only if the answer is yes, you are good to have them.
Engagement is not the time to be frugal but, if you are a practical person and do not like the idea of spending a lot of money on something you would wear only once, simply find the pair of shoes that could be worn even after the engagement ceremony or wedding events.
If the bride-to-be is not used to wear high heels, still it would be pretty and glamorous to have bridal flats or wedges. If you are uncomfortable with heels, consider the wedges instead.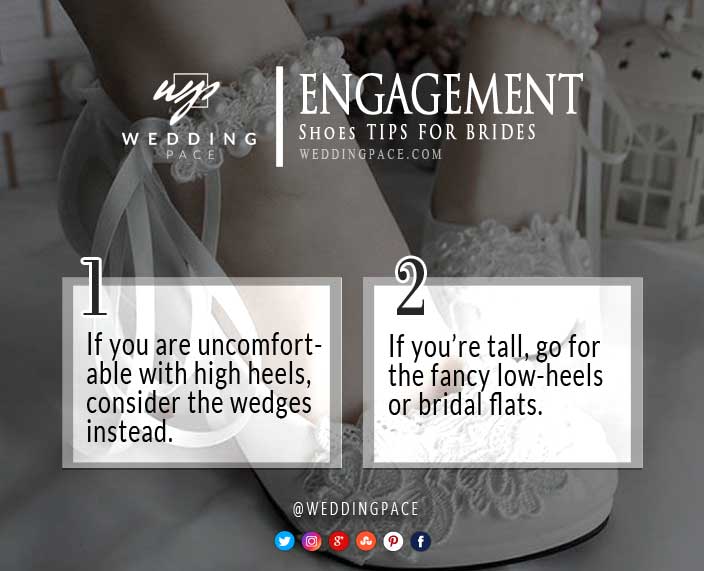 Bridal Shoe Brands In Pakistan
Do you face any difficulty when it's time to buy Pakistani engagement shoes for bridals? Numerous Pakistani shoe brands are available that provides the special services to match your shoes perfectly with your engagement dress.
Engagement shoes are an essential part of the ceremony. So keeping in mind the Pakistani bridal shoe brands, are they providing you with the right heel height for your dress? Will your shoes complement your handbag? Are they comfortable enough to stand in all day long?
After you have decided that which of the bridal engagement shoe style (whether heels, wedges,, or flats) you are going to wear, now this is the perfect time to let you know that there are several Pakistani shoe brands that are engaged in the manufacturing of prime quality and most voguish bridal shoes in Pakistan. They are providing superior quality bridal shoes that come in attractive hues from the palate and delicate embroidery or stonework.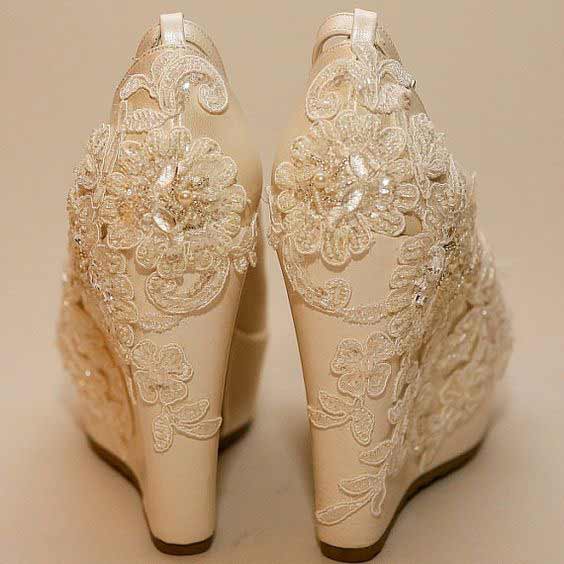 Read More:
If you liked my previous contribution to Pakistani engagement nail art designs, then please follow us @WEDDINGPACE for Facebook, Twitter, Instagram and Google Plus.
In a nutshell,
I strongly believe that all of the images shown above will help you somehow. I want, above all, to instil a sense of new ideas that can work for you. Choose your most suitable Pakistani engagement shoes for bridals and stand apart from the crowd.
I hope that you loved all of these engagement bridal shoes, embellished with lots of glitter and intricate sparkly designs. If I have missed any point or you want more information about any of the above-shown engagement shoes for bridals, then never feel hesitation to contact me at info@weddingpace.com or comment below.
What do you think about these Pakistani engagement shoes for bridals? If you want to get a complete article about each category separately in detail, then leave me a comment below. I express my deep appreciation to all of you if you inform or share the piece of content to those you love the most!
If you are wondering about engagement shoes with price, then make sure to contact us via contact form or comment below. Please subscribe to my blog for more wedding fashion stuff.