Are you looking for the best Pakistani engagement hairstyles for brides in 2023? Your wait comes to an end with this article which is all about the latest Pakistani bridal hairstyles. Find your best hairstyle today and win the hearts of everyone around you on your big day.
This article is having been paved with engagement bridal updos, side curls, hair buns, hairstyles for front hair, side braids, sleek hairstyles, and wavy hairstyles decorated with hair jewellery, accessories, and adorned with flowers.
Here I have classified this whole article into the following categories. Choose the most suitable and trendy engagement hairstyle for you and be the centre of attention. These specific categories will help you to choose one of the best Pakistani wedding hairstyles for you!
Pakistani engagement hairstyles for brides:
Side swept hairstyles
Long curly hairstyles
Hair updo or bun hairstyles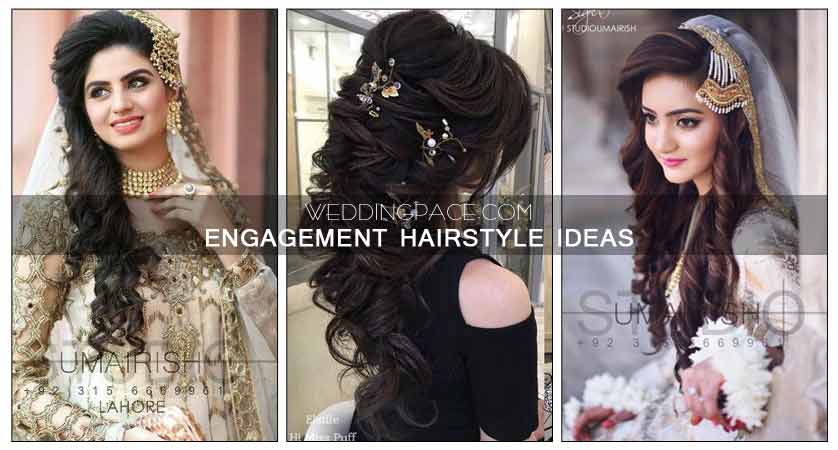 This post will help you to choose your best hairstyle for engagement ceremony, according to your face shape, hair length, hair type and hair texture. You will come to know the different hairstyles with names that you can carry with your engagement dress. At the end of this article, you will be able to decide that which hairstyle you must choose as a Pakistani bride.
Afterwards, you will come to know about the following engagement hairstyles:
According to your hair length (short, medium and long), and
According to your hair texture (thin or strong and healthy).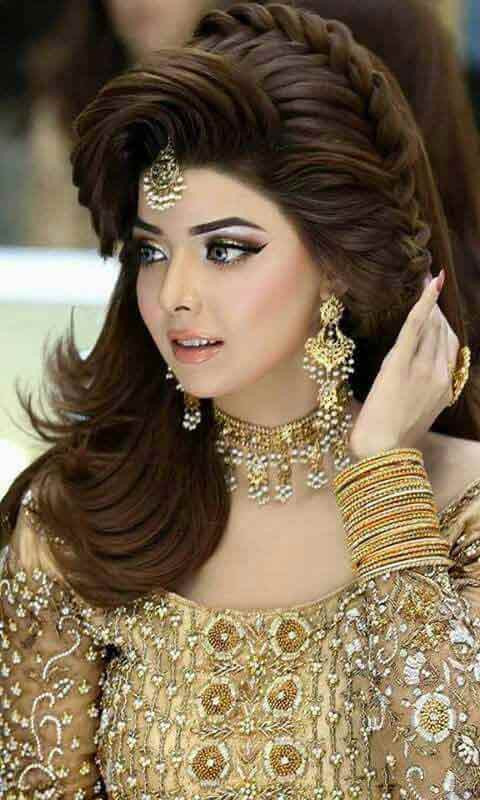 Best Pakistani Engagement Hairstyles In 2023
Now the main question arises, how can you choose your most suitable Pakistani engagement hairstyles? For that reason, first of all, you must know about your face shape, hair length, hair type and hair texture, right?
If you don't have any ideas, then don't fret at all! You can easily define these terms in a flash.
Stand straight in front of a mirror and look at your face shape, what type is it? An oval, round, square or heart face shape?
What is your hair length? Short, medium or long?
What is your natural hair texture? Curly, straight or normal hair?
And last but not least, what is your hair type? Do you have thin, rough hair or strong and healthy hair?
That's it.
Did you know that there are plenty of beautiful makeup ideas that can earn lots of compliments for you? Must check out these best Pakistani engagement makeup ideas to enhance the beauty of your hairstyle and dress.
Now come back to the point and choose from the latest Pakistani engagement hairstyles for you as a wedding bride. After you have decided all these main terms, now you are ready to know about the traditional hairstyles for engagement.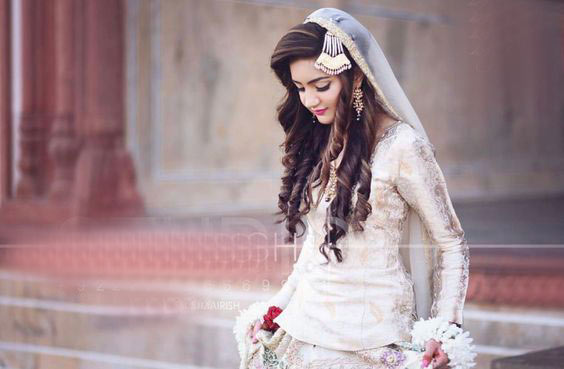 Latest Pakistani Engagement Hairstyles With Images
Here are the new ideas regarding Pakistani engagement hairstyles with images. Know about your hair type and texture that will help you to choose one of the best traditional Pakistani hairstyles for your big day. Plus, do not forget to consider the dupatta setting styles as well.
Must check out all of these new hairstyles for engagement brides and share your valuable comments below. Stay with me to know more about the party hairstyles that you can actually make to achieve the dazzlingly beautiful look on your big day.
Let's dive into the latest Pakistani engagement hairstyles with images as shown below!
1. SIDE SWEPT HAIRSTYLES
You must have set up all your dream Pakistani engagement dresses, hairstyles, flowers and inspirations at this point in time. Now it's time to actually bring your engagement ceremony vision to life with these beautiful side-swept hairstyle ideas.
Do you want to have all your hair on one side? It will definitely look nice and dapper and are comfy in wearing!
For more ideas, I have picked my favorite side-swept hairstyles for long hair and medium hair (shown below with images). Go for the most trendy hairstyle of 2023 and know how to do side hairstyles for wedding or an engagement.
Pro Tips:
Make a loose side-swept braid to get started.
Don't be excessive with hairpieces or hair accessories, add just a big one that is elegant enough to win the hearts.
You may add fresh flowers to enhance the alluring beauty.
Now let's have a look at the beautiful side-swept Pakistani engagement hairstyles with images.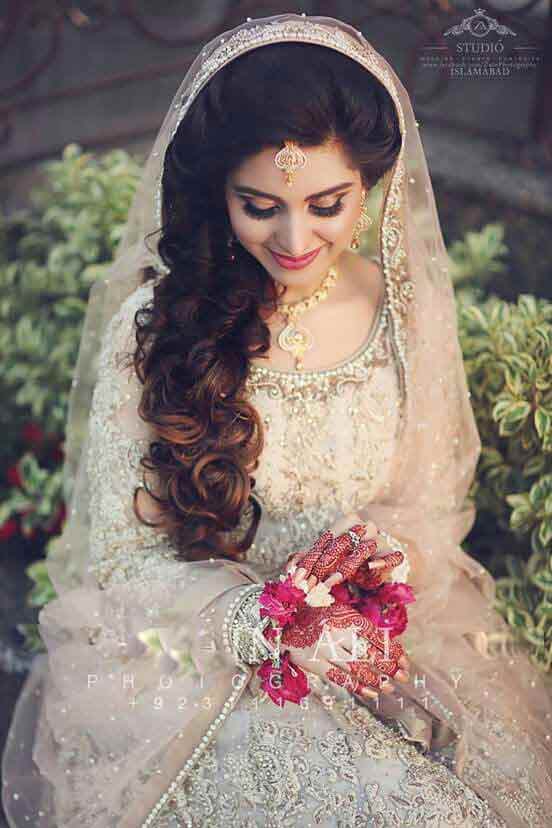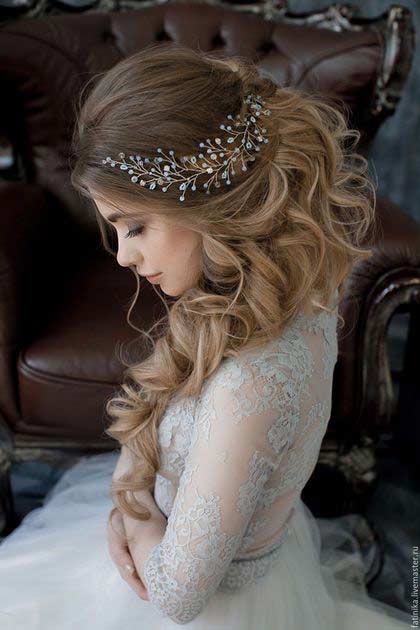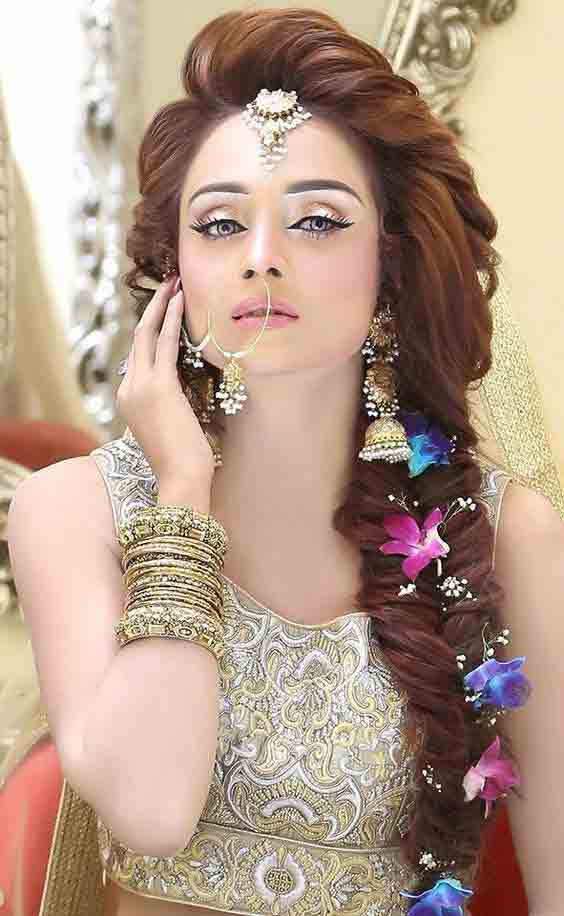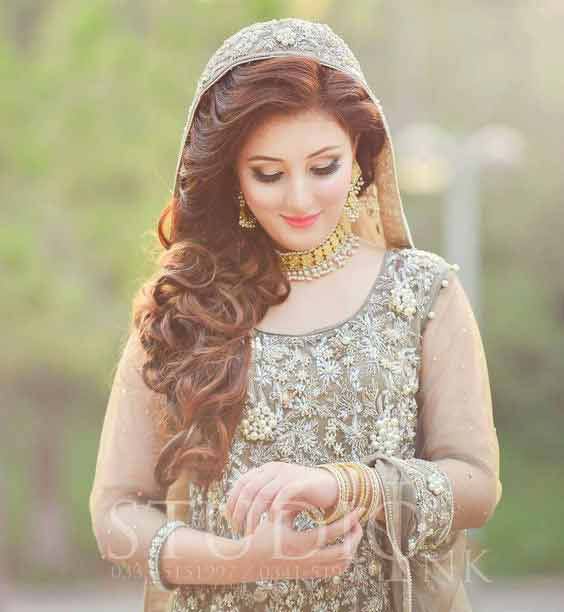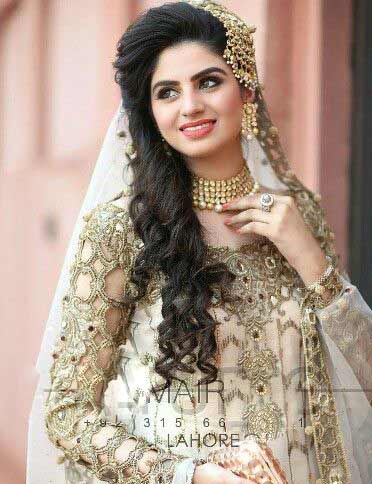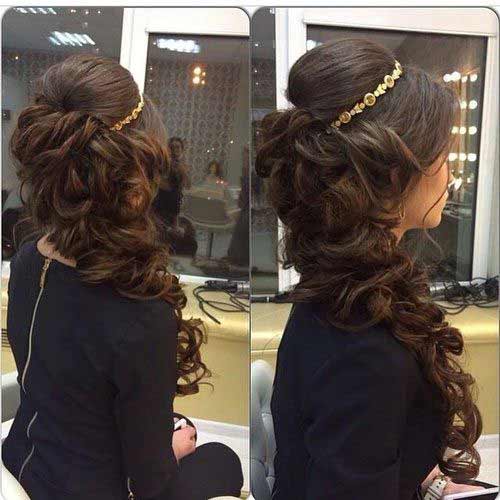 2. LONG CURLY HAIRSTYLES
Do you want to have loose curls? Do you want to wear it up with a crown? Get a curly wedding hair half up half down or carry a twisted braid adorned with pearls and hair accessories! Pakistani engagement hairstyle options are endless, and that can make you more confused as well! For that sake, I have picked the most gorgeous Pakistani long curly hairstyles that can be matched with any dress style.
Pro Tips:
To get any of the following looks, your hair length must be long enough to get super cute curls.
If your hair length is short or medium, consider attaching the hair extensions that are close to your natural hair color and comes in high quality.
In order to achieve the most beautiful Pakistani engagement hairstyle, have the idea for pearls, beads, artificial or fresh flowers and other hairpieces.
If you have planned to take dupatta on the head, then hold the point of side-swept hairstyles.
Go for the following super cute long curly hairstyles for engagement brides and get inspired from!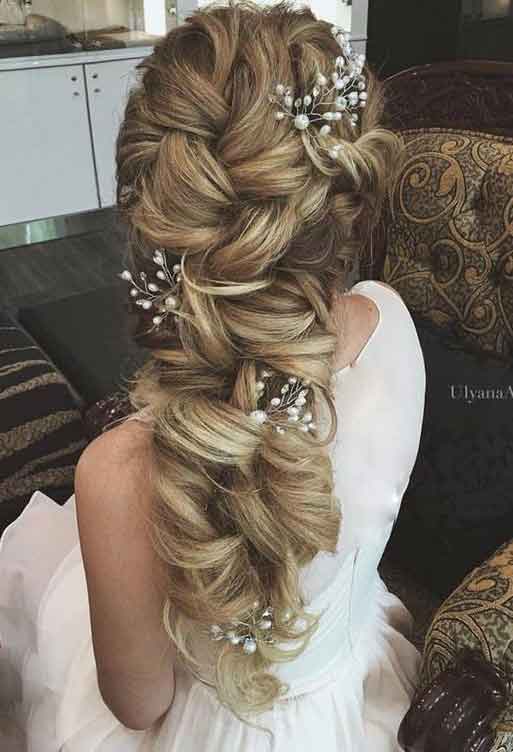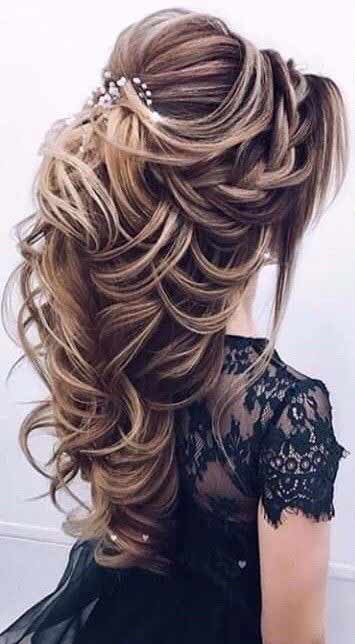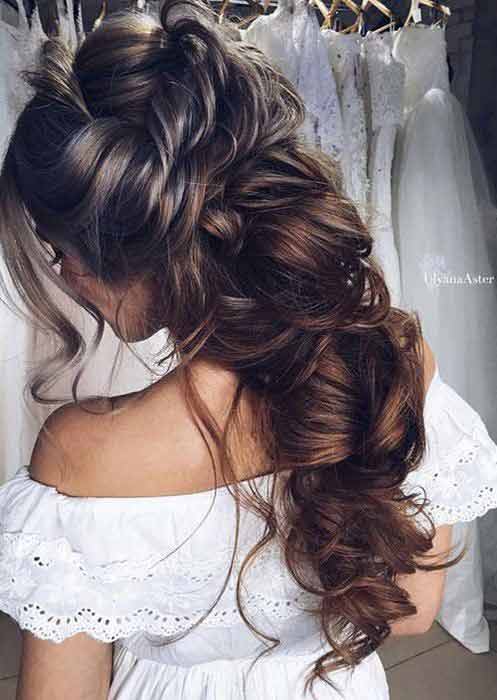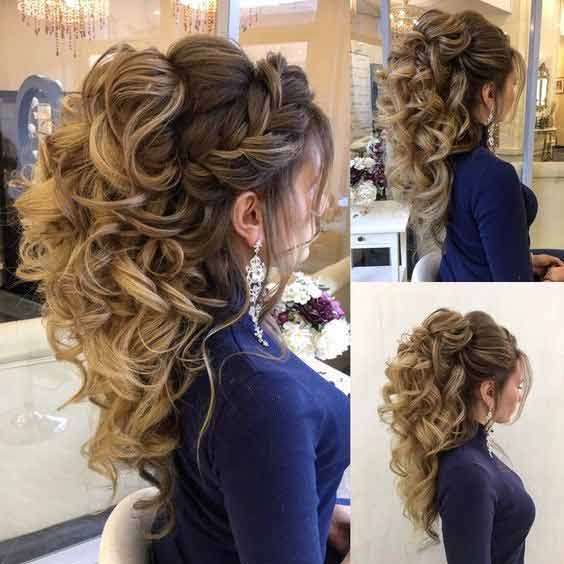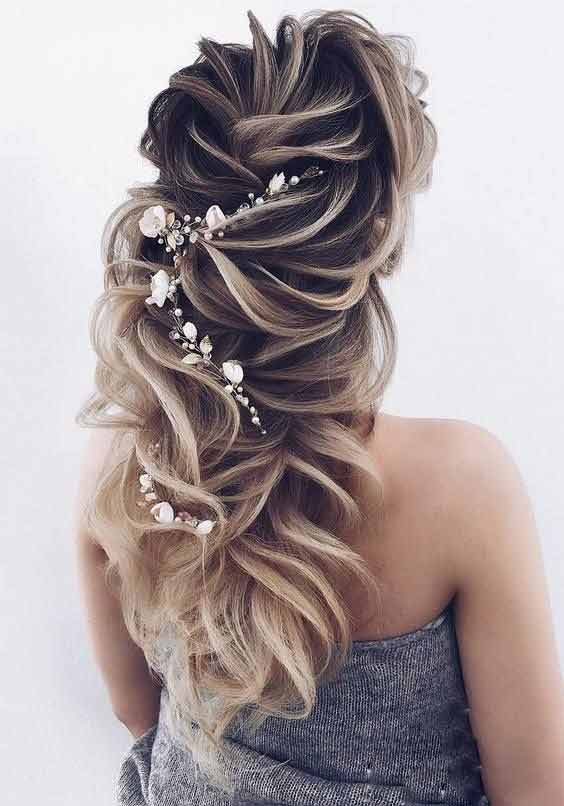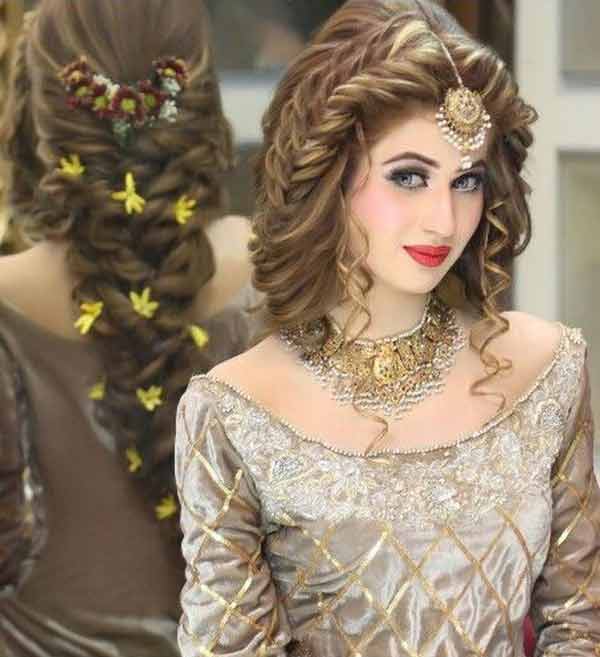 Read More:
You must be going to apply henna designs on your hands (either front or back side of hands). Aren't you? Have you decided your mehndi designs yet? Here are the most beautiful mehndi designs for engagement that will assuredly make you stand out from the crowd.
3. HAIR UPDO OR BUN HAIRSTYLES
Remember, your engagement function is Your day! You will decide what will make you feel happy and beautiful. That means if you want to have simple straight hairstyle or opt for the classic updo from the latest ideas of Pakistani engagement hairstyles, so be it! When you will feel happy and beautiful from the inside, you will be the comfiest and lovely bride-to-be on the planet.
Pro Tips:
Saying 'yes' to the curly hairstyle can be easy, but deciding on wedding updo hairstyle for your engagement can be harder. Because in Pakistan, hair updos are less adapted for a bride-to-be. Choose your curly hairdo adorned with fresh flowers or hairpieces, and be the trendsetter for everyone else.
Hot rollers are key to creating loose, natural-looking curls, so make sure to use them.
Don't brush your curly hair and try to create hair updo using your fingers and light hold spray.

"When you're ready to create the updo, put away your comb and brush."

Give yourself the once-over from all angles and make sure the use of hair setting spray for the long lasting hairstyle.
Following I have shown some of the most tremendous and endearing Pakistani engagement hairstyles with curls or messy updos for brides. Choose your deary one and be the queen of your engagement ceremony with style and glamour.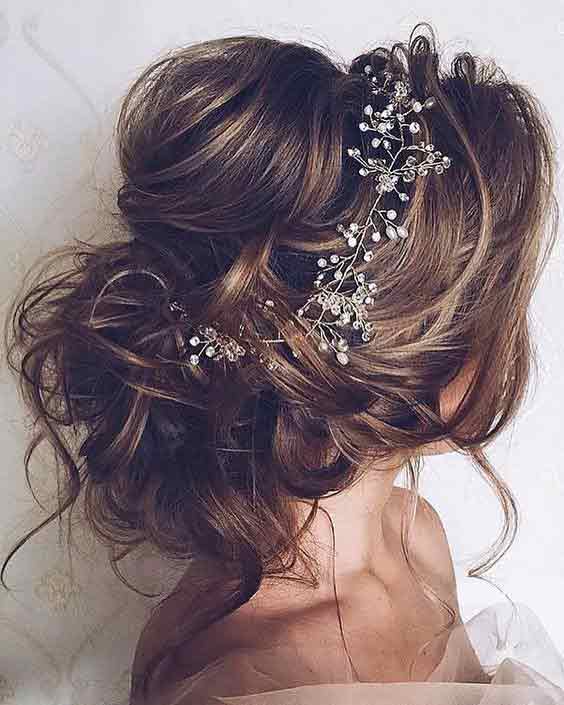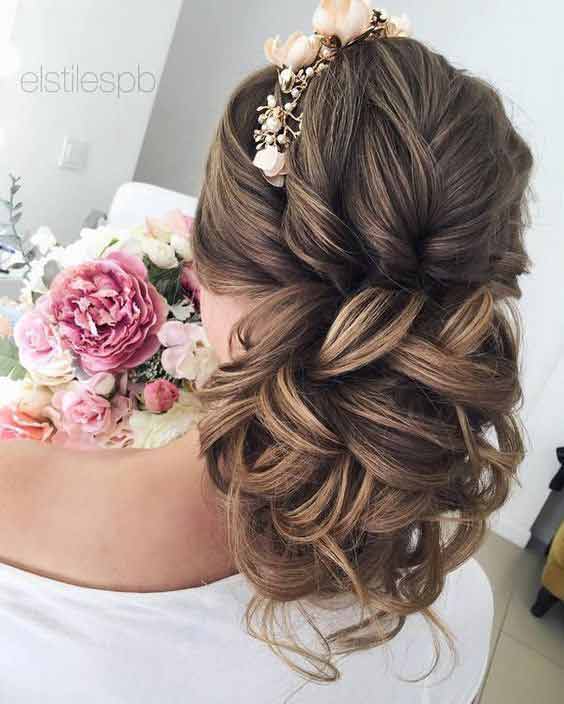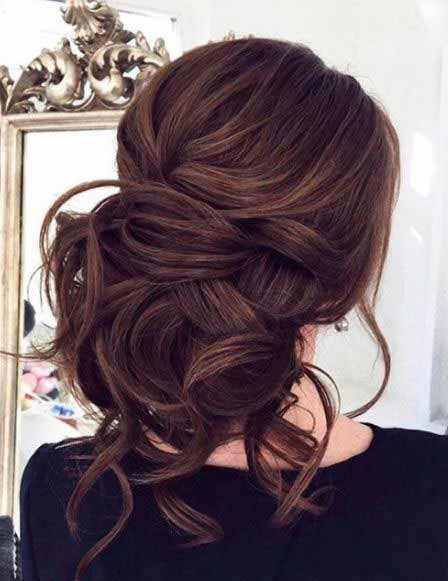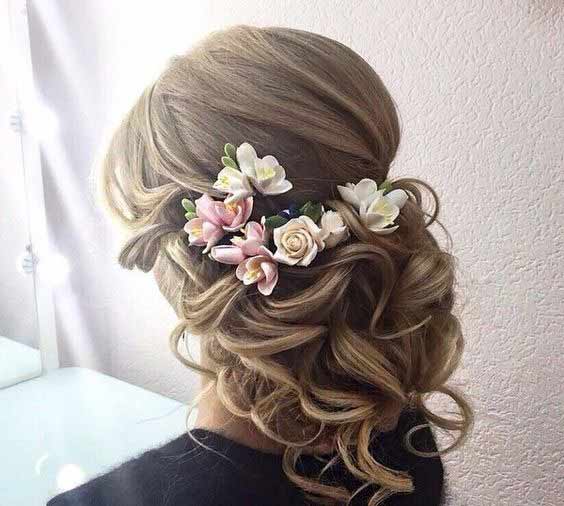 Each bride wishes to look more adorable and ravishing on her all of the wedding events (such as engagement ceremony, nikah function, mehndi, bridal shower, barat, Walima and so forth). So, what hits your mind when you think about wedding hairstyles for engagement function?
This article will help you to choose the best engagement hairstyles for you as follows:
Pakistani engagement hairstyles for different hair lengths:
Short hair length
Medium hair length
Long hair length
1. Hairstyle for short hair length
Do you have short or medium hair? No worries, there are multiple options for you to choose from Pakistani engagement hairstyles!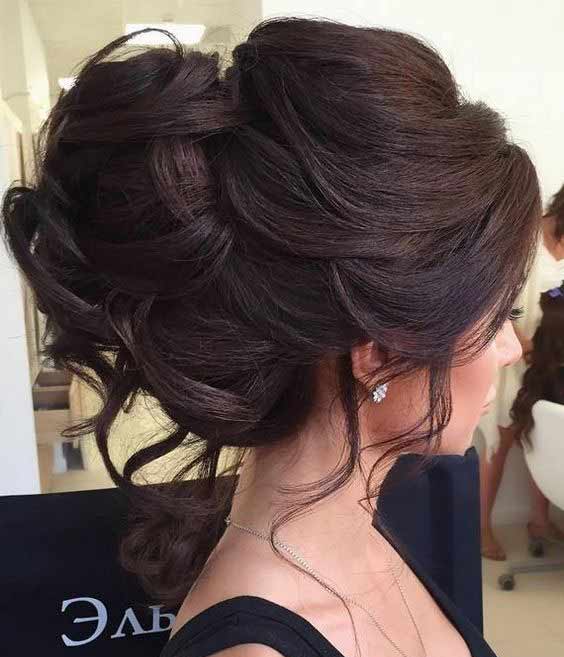 2. Pakistani wedding hairstyles for medium hair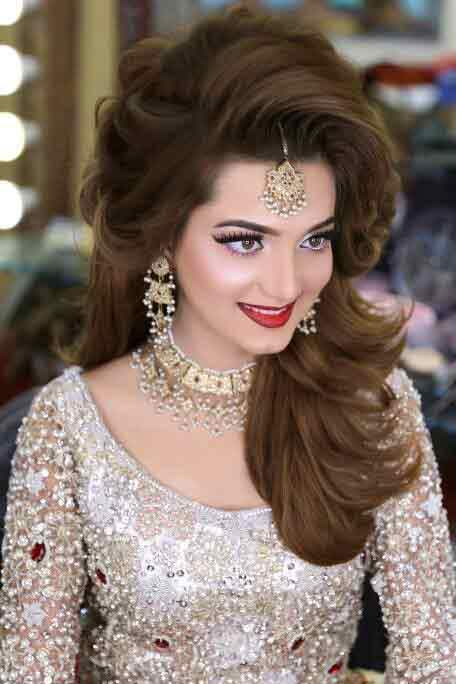 3. Hairstyle for long hair length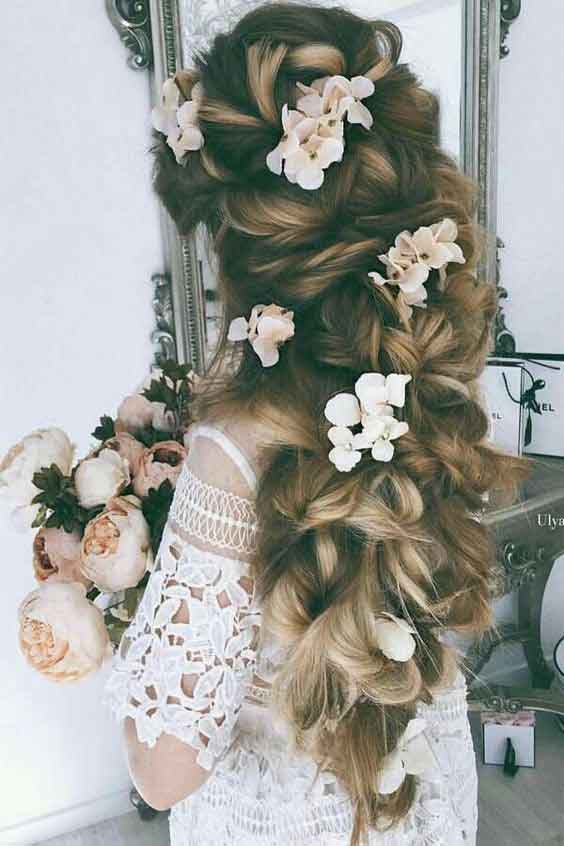 Pakistani engagement hairstyles for different hair types:
Thin hair
Strong or healthy hair
1. Hairstyle for thin hair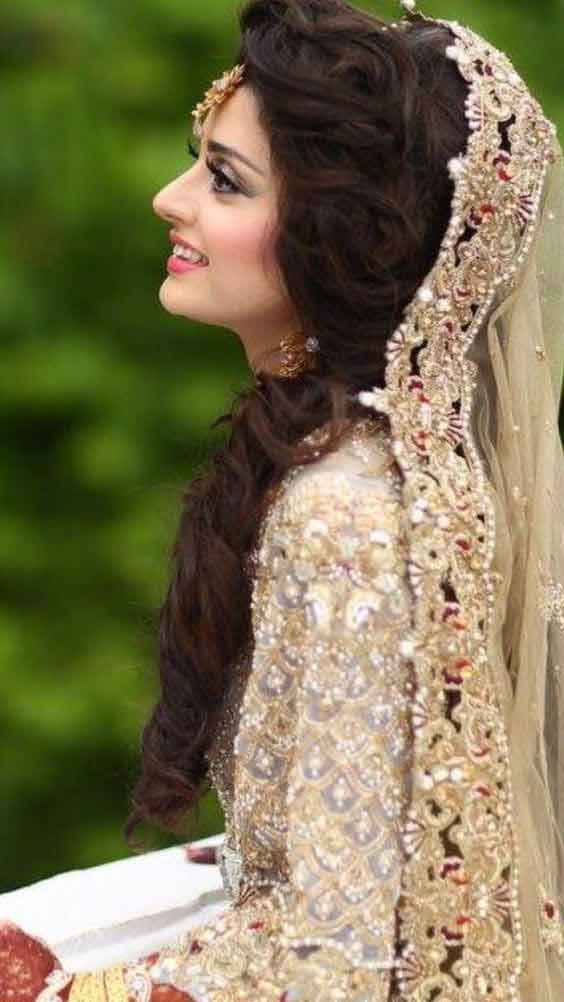 2. Hairstyle for strong and healthy hair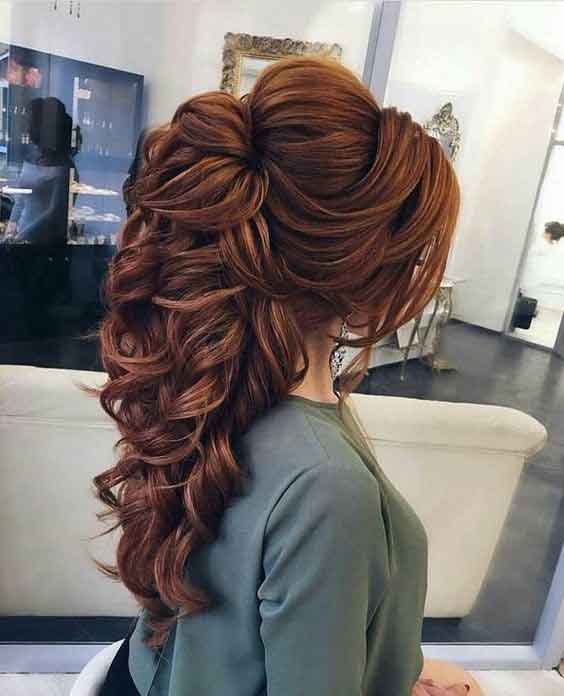 Find the best hair salon/hairdresser for bridal hairstyles:
In order to achieve the best Pakistani engagement hairstyles, do not take the risk of salons that are lacking professional experience or training. Choose the best hairdresser in your town, who is an expert in hairstyling. You can probably pay more for the perfect engagement hairstyle rather than a bad hair day especially when you are the centre of everyone's attention.
Here is a well saying:
[su_quote]Invest in your hair, it is the crown you never take off.[/su_quote]
Thus, find the best hair salon before a couple of months of your engagement ceremony, take an appointment and show any of these hairstyles to your hairdresser, in order to become the queen of your big memorable day.
There are several superb hair salons available in Lahore, Islamabad, Karachi, Multan and other major cities of Pakistan, who are providing there tremendous bridal services all over the country.
Do you want to try at home?
If you are good at hair styling then well and good! You can certainly have your desired hairstyle which is traditional yet trendy as well. Choose your favorite on from the above shown Pakistani engagement hairstyles, practice that hairstyle two to three times before your engagement day and there you go! You will surely have the best hairstyle for you.
Pakistani Engagement hairstyles Tips For Brides:
[su_note note_color="#e1f5f6″ text_color="#000000″]Do you want to have traditional yet trendy engagement hairstyle? Some of the Pakistani brides do not care about their hairstyles which can make them look dull, stressful, unhappy and unsatisfying. Then, which one is the best hairstyle to choose from? Ideally, choose the latest side-swept hairstyle with curls (you can make an aesthetic loose side braid), add some fresh small sized flowers, pearls or beads![/su_note]
Pakistani Engagement Hairstyle Tips:
You may usually have a bad hair day, but your engagement day should NOT be that day to have rough hair! Right? Here I am going to suggest the most useful and stress-free hairstyling tips that can do wonders for you. If you are a bride, bridesmaid, sister or friend of the bride, a wedding guest or a mother of bride or groom, keep reading these tips because it will be going to help you a lot.
Your hairstyle shouldn't be competing for your dress, it should complement it!
If your dress is full of intricate embroidery, choose a loose braid or curly hairstyle.
If your dress is simple then try to get a hairstyle that is adorned with pearls or flowers to add glamour to your appearance.
If you have short hair, consider wearing extensions that match your natural hair color.
Don't afraid to do a trial with your hairstylist. It can reduce your fear of bad hair and you will feel relaxed and comfortable throughout the ceremony.
Do not get a haircut right before your engagement day. It can go wrong!
Consider trimming your ends and make sure to keep your locks nourished.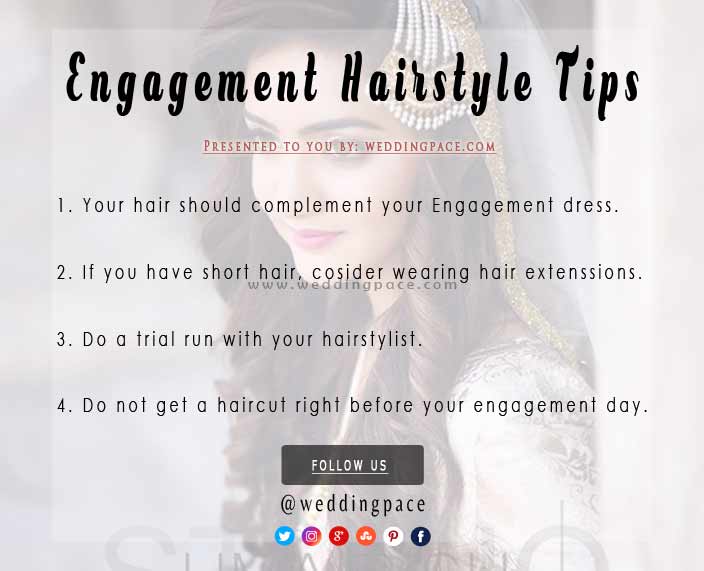 Above you have seen the traditional styles of best Pakistani engagement hairstyles for brides in 2023. Let us know if this article helped you to choose your hairstyle for your big day.
There will be definitely more beautiful engagement hairstyles that you know. So, which hairstyle you loved the most? Which one are you thinking of to have for your engagement? Are you going to get it from the salon or you have enough expertise to try it by yourself at home?
I would love to hear from you. Feel free to share your stories via comment below and share these hairstyle ideas with your friends or sisters who are going be engaged in near future. If you like my previous contribution to Pakistani engagement nail art designs, then please like and subscribe to my wedding blog.
If you liked any of these Pakistani engagement hairstyles then please share your valuable thoughts and stay connected with us by following us on social media, use @weddingpace for Facebook, Twitter, Pinterest and Instagram.