What's more flattering than a super gorgeous and the most voguish nail art when getting engaged? In this article, you will be able to match the latest Pakistani engagement nail art designs with any color of your ring or dress. Here you will see a variety of most recent nail designs from simple white manicure to bright red, golden, and shimmery nail art ideas to be inspired from.
There are plenty of french manicures to spice up your engagement ring or engagement dress that is adorned with stones, pearls or beads to complement tremendously.
Check out the following nail patterns to show off your engagement dress and ring!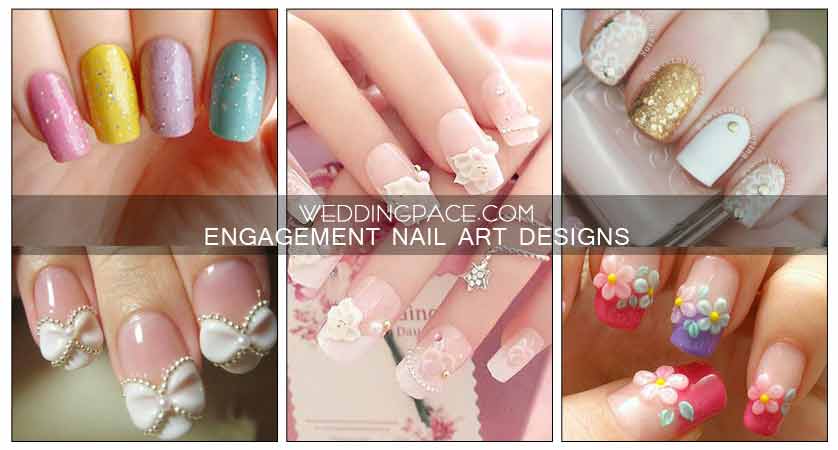 Imagine that you are having a dazzlingly beautiful salon-worthy nail art on your big engagement day and everyone around you is curious to look at your hands when it's time for the ring ceremony. Wow! That sounds cool, right? Hence, it needs to be remembered that as an engagement bride, just try to get a perfect manicure, that's all!
Here are the following questions that may arise in your mind right now:
Which nail art designs (plain, floral, shimmery, or pearls adorned) are trendy in Pakistan for the year 2021?
Which nail colors are best suitable for your engagement dress?
Which fingernail designs are in vogue for the different length of nails (short, medium or long)?
Which nail colors are best suitable for your engagement ring?
Today, you will get the answers of all of these above-asked questions, scroll down to sparkle up your big engagement ceremony with style and get different ideas of Pakistani engagement nail art designs!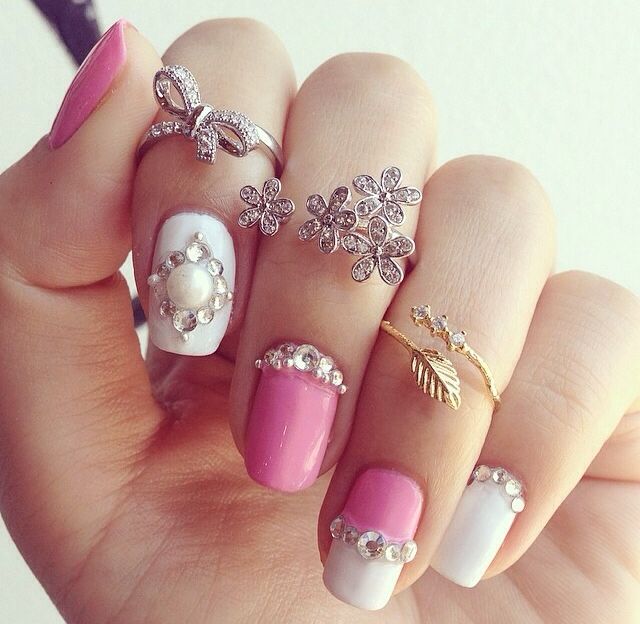 Read More:
Have you got your engagement dress? If not yet, then before you buy, must check out these Pakistani engagement dresses for brides-to-be! Because Pakistani engagement nail art and dress color combinations should complement each other. So, do not miss to see what's trendy nowadays and how to perfectly match your bridal dress with nail art!
Pakistani Engagement Nail Art Ideas For Brides
Do you really want your engagement ring to sparkle? If yes then get a perfect Pakistani engagement nail art! The right nail design and best nail color will certainly add gleam to your favorite engagement ring. As a bride-to-be, it needs to be remembered that you should try to choose pastel or lighter hues from the palette for your engagement function.
You are definitely going to brilliantly smash on your all other wedding events, so try to be decent and elegant on your engagement ceremony as possible as you can. That's also flattering, rest assured!
But, do your fingernails seems to be dull or muffled? Do you want to leave your hands as it is for your engagement function? Of course not at all! That is why you are here to choose one of the best Pakistani engagement nail art and color when getting engaged. Always try to match (or contrast) your nail paint color combinations with your dress.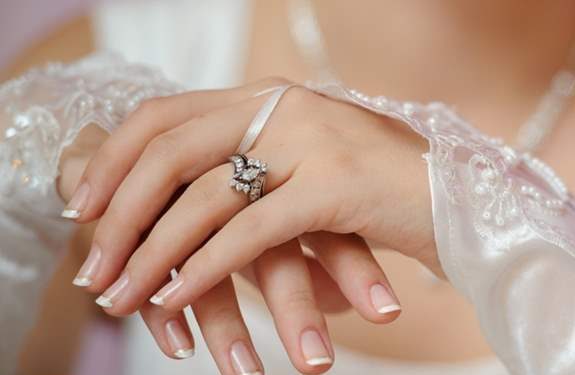 In reality, women can dress up quite tremendously that can influence anyone around her. But when it comes to her hands and fingernails, make sure to get a perfect manicure to stand apart from the crowd. See how beautifully "Tammy Taylor" has to say about it as follows:
[su_quote cite="Tammy Taylor"]Any women can wear a great outfit, but it is her nails that make the statement.[/su_quote]
Pakistani Engagement Nail Art With Images
Hey Engagement brides! Get ready for the latest and best Pakistani engagement nail art ideas to choose from. As your engagement ring will reflect the lights of the ceremony, your nail art color combinations will too, when twinned in a right way or adorned with shiny pearls.
There are numerous ways to show off your engagement ring, especially for those who are eager to flash it immediately (either live or on social media).
Check out the following designs.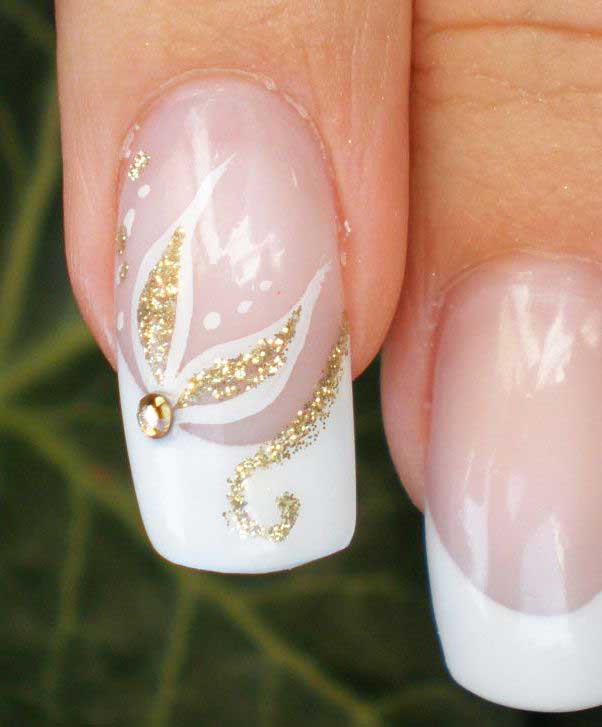 1. Which nail art designs are trendy in Pakistan?
(French Manicure, Floral, Glittering, or Pearls Adorned)
When it comes to the manicure, you might ask a question about which nail art designs are trendy for engagement, such as plain, floral, glittering, or pearls adorned? Are the gemstones/beads decorated nail art still in fashion for engagement day or one should consider French manicure instead?
For a Pakistani bride, best engagement nail art design includes elegant yet stylish nail art for the year 2021! Go for a simple design that has at least two of your fingernails (most of the time ring-finger and thumbnail) fully covered with pearls, shimmer or floral art.
Have a look at the following Pakistani engagement nail art designs that are easy to do but voguish to appear.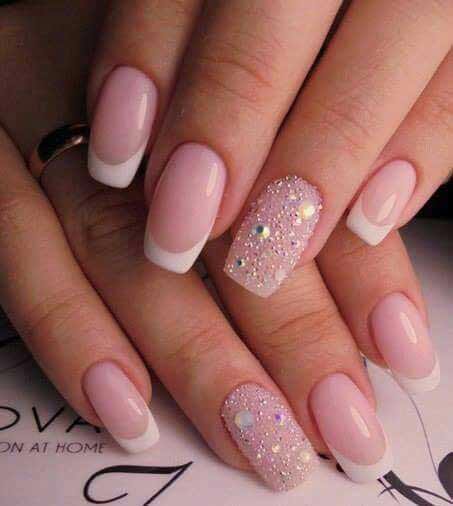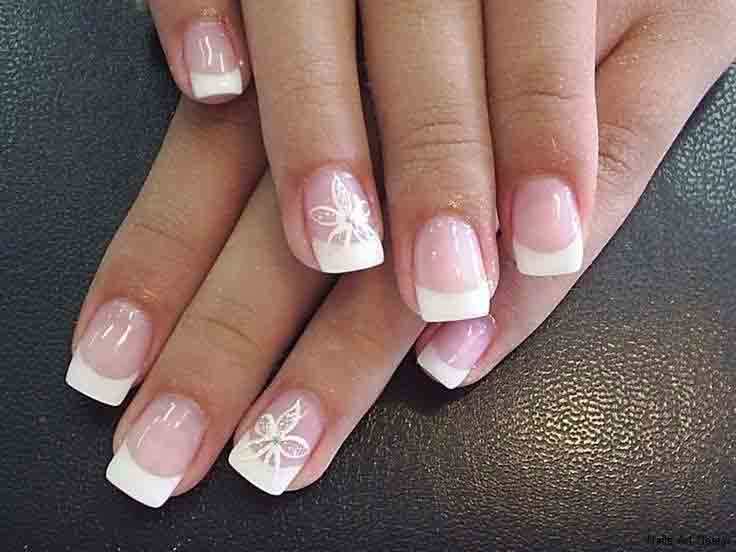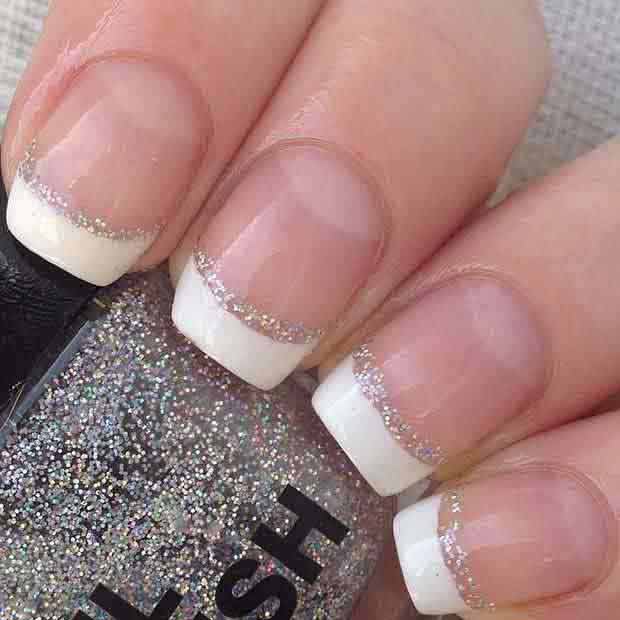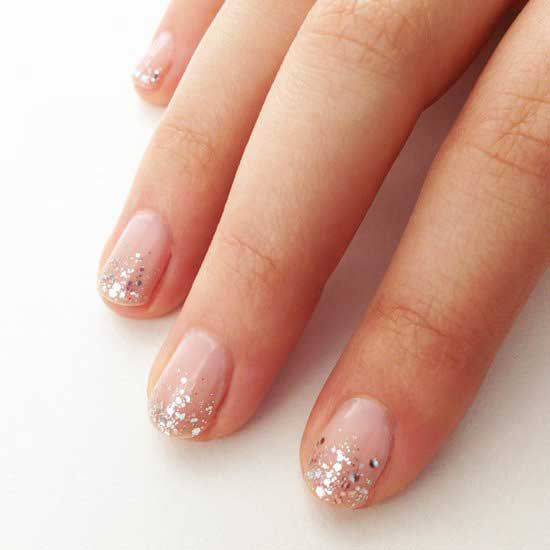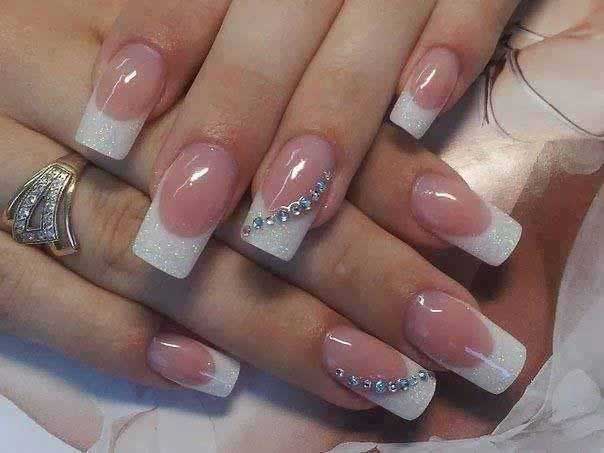 2. Which nail colors are best suitable for engagement dress?
If I talk about the best nail color for proposal, then there arises a question that which nail polish colors are best to choose that are compatible with your bridal dress color scheme?
Pakistani engagement nail art is the perfect way to express yourself. You can even show your deep love by having super cute floral patterns, red flowers, shimmery embellishments, heart nail art designs and so on. Engagement brides want to pair their engagement rings with nail art as eye-catching as their sparkling dress.
Which one is the best-matched nail color for a rose gold dress?

Lily or peony nail colors are most suitable from the following. Try to choose a lighter shade with a rose gold dress as it will give a tremendous effect when combined with the pinkish hues in your rose gold ring.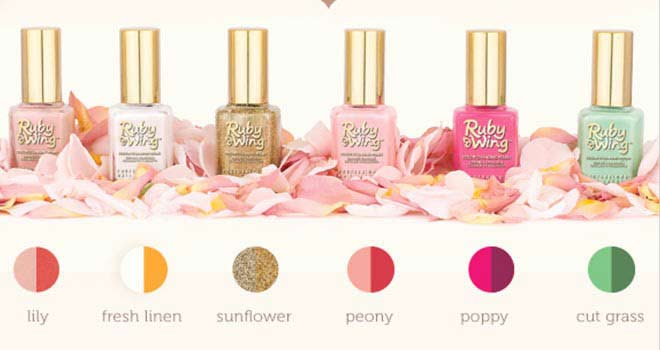 3. Best Engagement Nail Art Designs For Different Nails Length
(Short, Medium or Long)
No matter which nail length you have, you can still get any nail art design from the daring and quirky to the minimalist and geometric. The decidedly unique and marvellously awe-inspiring designs will certainly grab the attention of everyone around you.
Remember: It's not being about nail art, it is being about ART!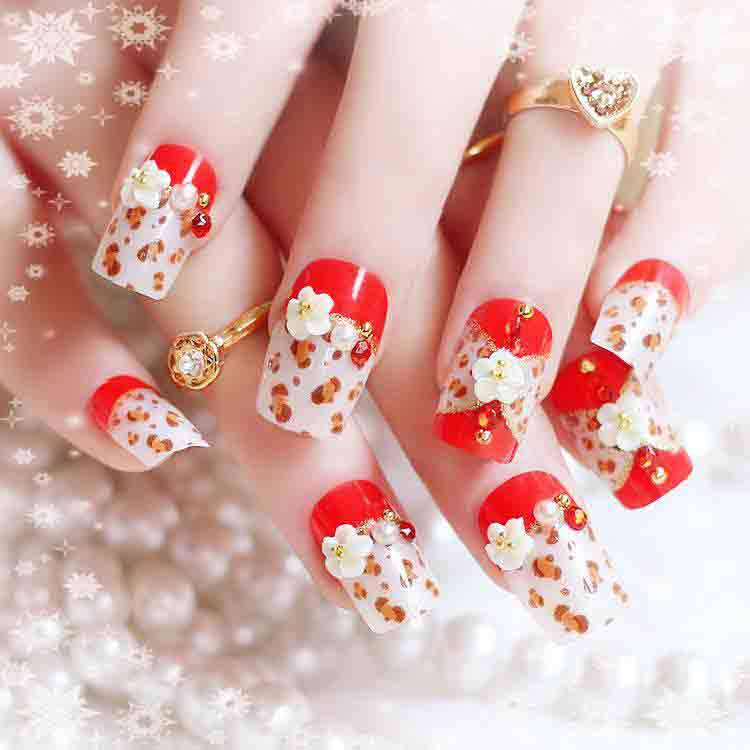 Pakistani Engagement Nail Art For Short Nails:
If you do not want an acrylic nail art, then you may opt to stick with your short nails! There are tons of short nail art ideas that can add glamour to your overall style.
There are certain tips to be remembered when painting your short nails:
Try not to use gemstones, pearls or beads as it will make them look shorter.
You may choose to draw a vertical or horizontal line so that they will have an illusion of wide or lengthy nails.
Darker shades will appear as unfavorable so make sure to use lighter nail colors as it will look blandishing and clean.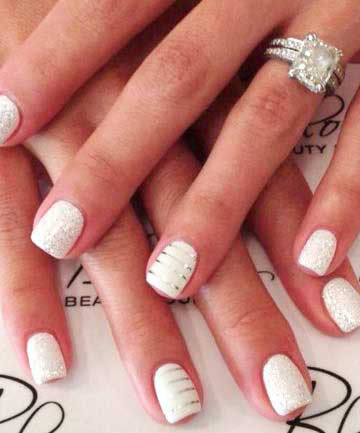 Pakistani Engagement Nail Art For Medium Nails:
Get ready to paint your medium length nails to add some shine and style!
Neutral nail paint looks always sophisticated, but hitting the golden glitter on the middle finger, and white floral design with gemstones on an index plus little finger, while leaving the ring finger and thumb painted simple with white nail color. And Voila, you are done!
TIP: If you find floral design difficult to create, you can use stickers instead.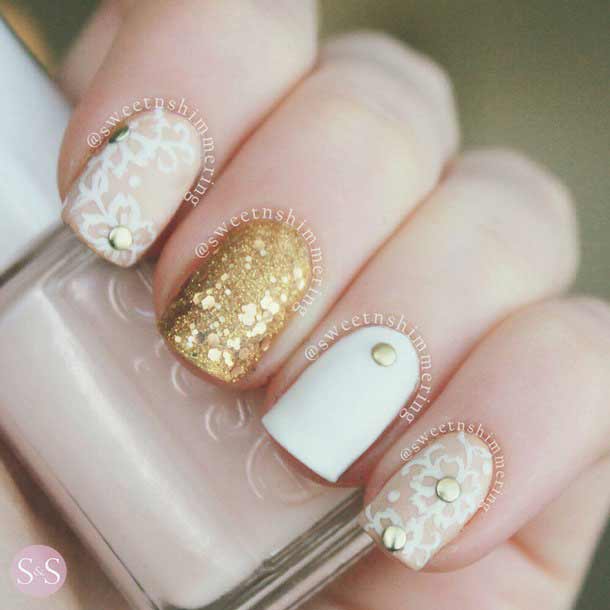 Pakistani Engagement Nail Art For Long Nails:
If you have long nails then you can use gemstones, pearls, artificial flowers, rhinestones and so on. There are certain nail care tips for long nails to make them healthier and stronger:
Maintain and hydrate your cuticles by gently pushing them back instead of trimming so that it will not irritate or infect the nail.
Don't use "nail hardener products" as it can do more damage than good.
Moisturize more.
To help prevent breakage make sure to file properly.
Before you apply any nail paint, always wear a base coat.
Exfoliate regularly to get rid of the dead cells.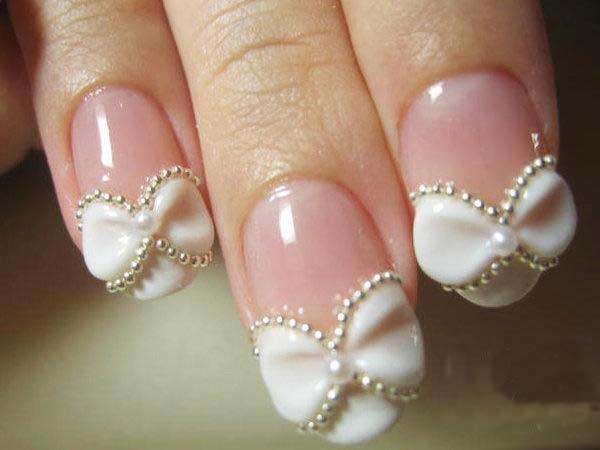 4. Best Matched Nail Color With Engagement Rings
Choose your engagement ring first, then go for the respective nail color or nail art design to reflect the lights of your ring. Keep in mind the following color combinations that go well together and learn how to play with different colors!
Rose gold engagement ring with red nail color:
A red nail art design with pearls (or just a red nail paint) will complement the pink accents in your rose gold engagement ring.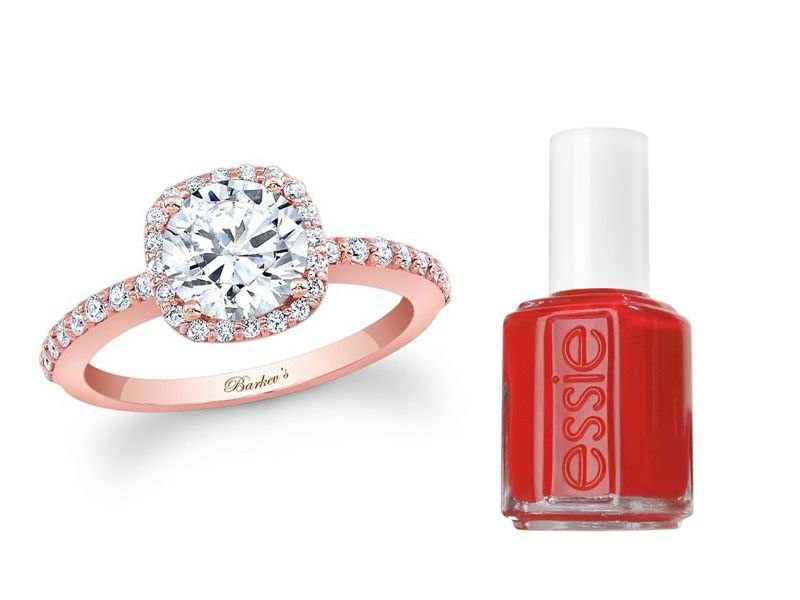 Shimmery yellow engagement ring with pink nail color:
A classic pink nail art design is perfect if paired with the timeless yellow engagement ring.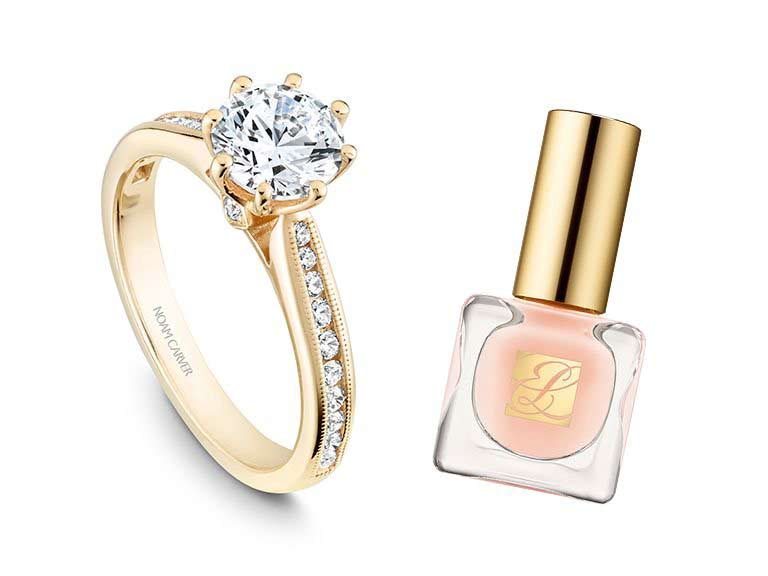 Pure gold engagement ring with the following nail art designs

Let your gold engagement ring shine along with the new style of floral white nail art designs.
A creamy pink or metallic tone can also bring sparkle to those carats of a gold engagement ring.
A gold engagement ring with full of crystals all round is already going to turn heads, so choose pure red and gold nail art design for engagement and attract more attention.
Choose a shimmery nail paint which is full of little flecks of silver/gold that will add sparkle to your engagement ring.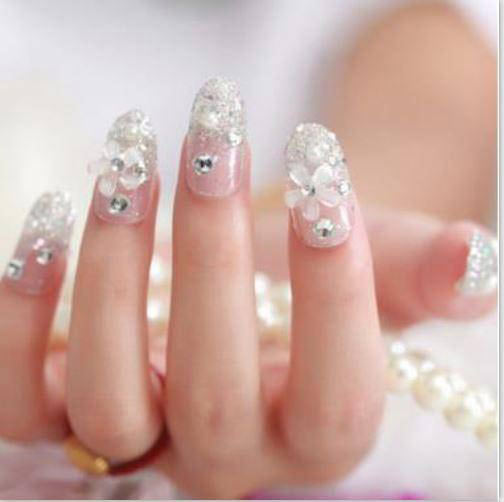 Sapphire ring with blue nail color:
Enhance the deep hues of your sapphire ring with equally rich, jewel-toned royal blue nail polish or nail art design.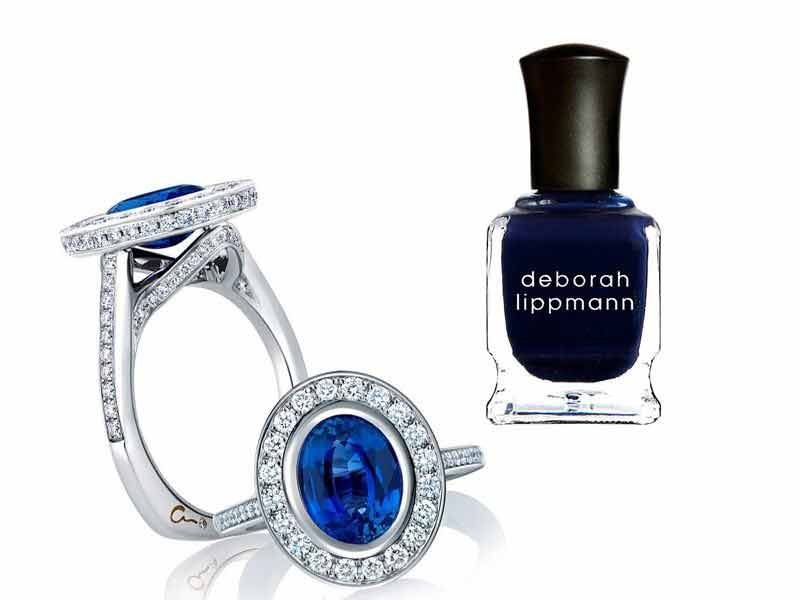 Multi-coloured engagement ring with peachy pink or white nail color:
A peachy pink or floral white nail art design goes perfectly with multiring with blue nail paint colored engagement ring or dress.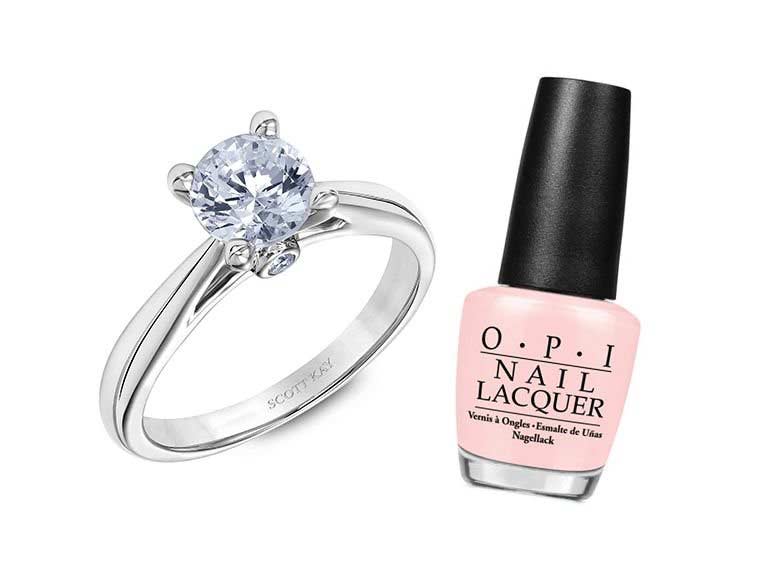 There are tons of most beautiful options available online to come upon the best Pakistani engagement nail art designs. This article will help you to find out one of your dream nail art for your function. You can show off your engagement ring when complemented with a perfect nail color and designs.
A secret to an enviable engagement photography isn't just about the background or the engagement ring itself, at least not entirely! In fact, most of the time your perfect manicure having tremendous nail art could become the reason to envy the people around you.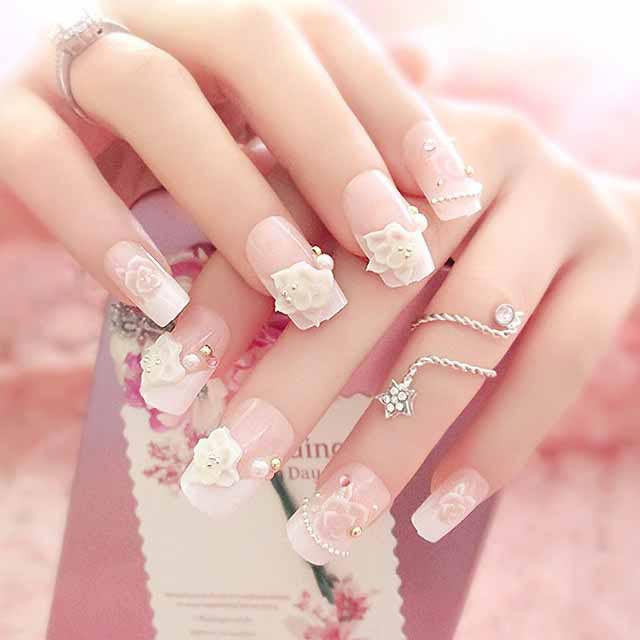 Read more:
As a Pakistani bride-to-be, you must be going to apply henna designs on your hands (either front or back side of hands). Aren't you? If yes, then have you decided your mehndi designs yet? Here are the most beautiful mehndi designs for engagement that will assuredly make you stand out from the crowd.
The daintiness, fineness and delicacy of all of these Pakistani engagement nail art ideas will certainly leave us all awe-inspiring. Rest Assured!
Have a look at the nail art images shown below!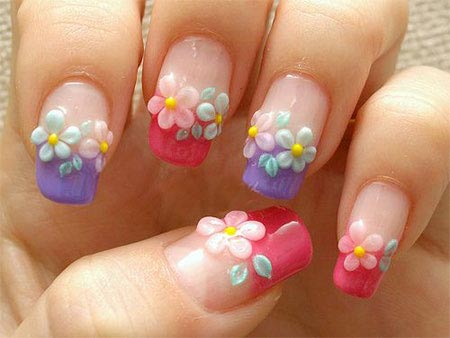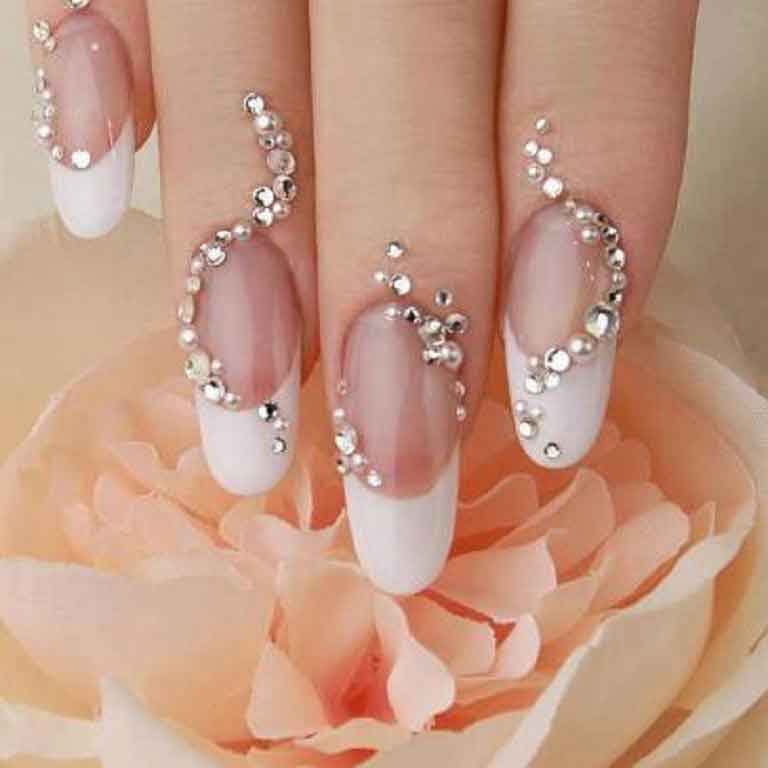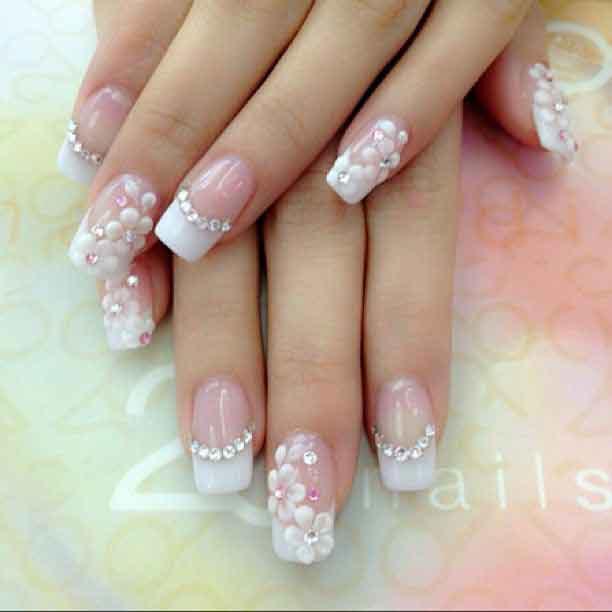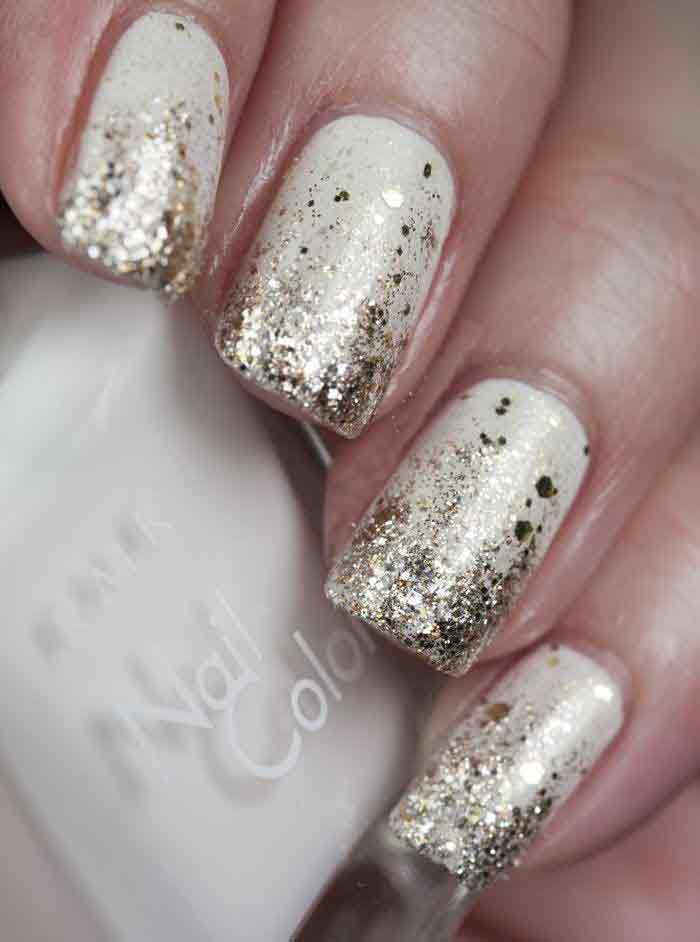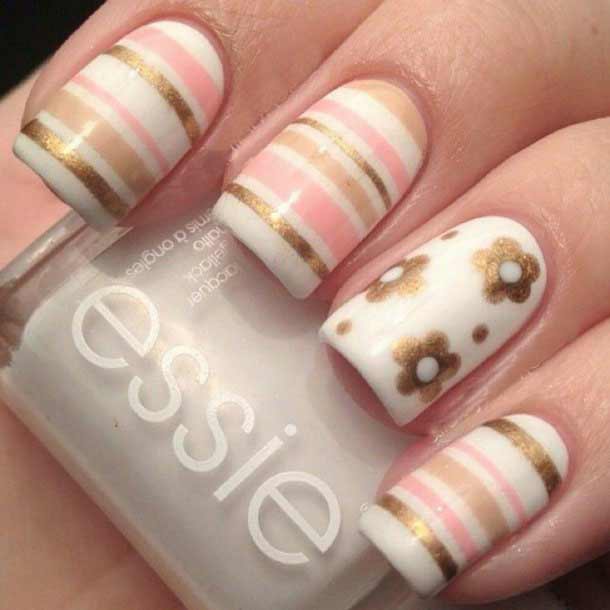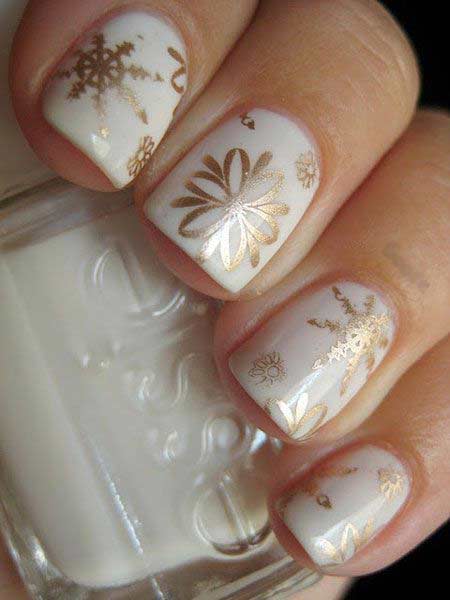 Are you excited to get a perfect manicure from professional nail artist?
You've seen their work in magazines, on runways, red carpets, and — of course — on social media. There are numerous beauty salons (including nail artists) available in different cities of Pakistan, such as Lahore, Karachi, Islamabad, Multan and so on. These salons are engaged not only in other professional salon-worthy services but also have got much popularity in the area of "manicure like never before".
As in other countries, professional nail artists can also be found easily in Pakistan. These masters have pure talent and an insane work ethic to back it up.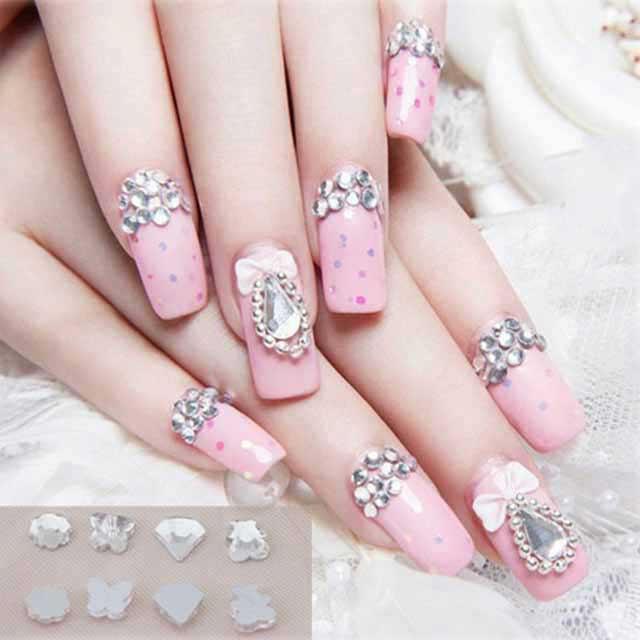 Pakistani Engagement Nail Art Tips For Brides
There are certain tips and tricks that every bride must remember before creating any design on her fingernails.
Embellished nail art: Use the tip of a toothpick to place tiny nail art accessories such as rhinestones, gemstones, flowers and pearls on your nails.
Ombre or gradient nails art: Line the skin around your nails with petroleum jelly or white craft glue before painting them so that when you will peel off, it will leave no stains at all.
Pop up nail color: Apply white nail polish as your basecoat to make your nail color pop.
How to dry nail paint fast? In order to dry your nail paint fast, soak your nails in ice water after painting them.
How to avoid air bubbles in nail paint: In order to avoid air bubbles, roll your nail polish bottle instead of shaking it.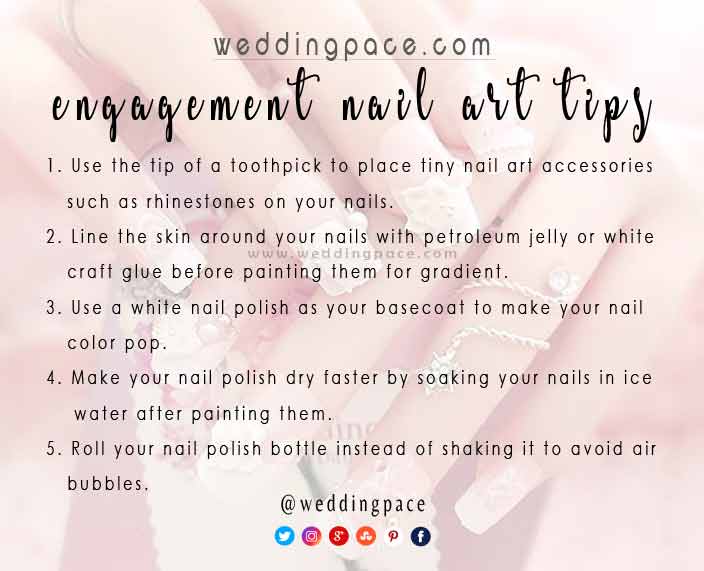 White Lace Nail Art Video Tutorial At Home
Do you want to create a beautiful and salon-worthy white lace nail art design at home? If yes, then you can save your money as you can use it for another meaningful wedding preparation.
This white lace nail art is best suitable for engagement ceremony and most importantly, it is not only easy to do but it will also look tremendously adorable that is quite lovely to make you stand apart from the crowd.
In all,
If you like my contribution for Pakistani engagement nail art designs, then please like and subscribe to my wedding blog. Whenever your cousin, friend or sister is going to become an engagement bride then share this piece of information to them as well. So they can also get splendid ideas about engagement nail designs and can easily take decisions for their big ceremony.
I hope you enjoyed these manicure for a proposal which are the most recent Pakistani nail art ideas for brides-to-be.
Make sure to follow Wedding Pace on social media:
Use @weddingpace for Facebook, Twitter, Instagram, Pinterest, Tumblr, Google+ and Stumbleupon.