Hello Brides! Are you looking for the most popular mehndi designs for engagement? If yes, then this article is certainly for you, because it features the most recent engagement mehndi designs that you should try in 2023-24.
If you are going to be the engagement bride, did you think that every eye will be at your hands when it's the time of the ring ceremony?
Most importantly, your hands and nails must look adorable at your big engagement day. Get a manicure, paint your nails well and now it's the perfect time to apply beautiful mehndi designs for engagement.
The henna application is one of the most beautiful traditions of Asian countries including Pakistan, India, Bangladesh, Turkey, Malaysia, Saudi Arabia and so forth.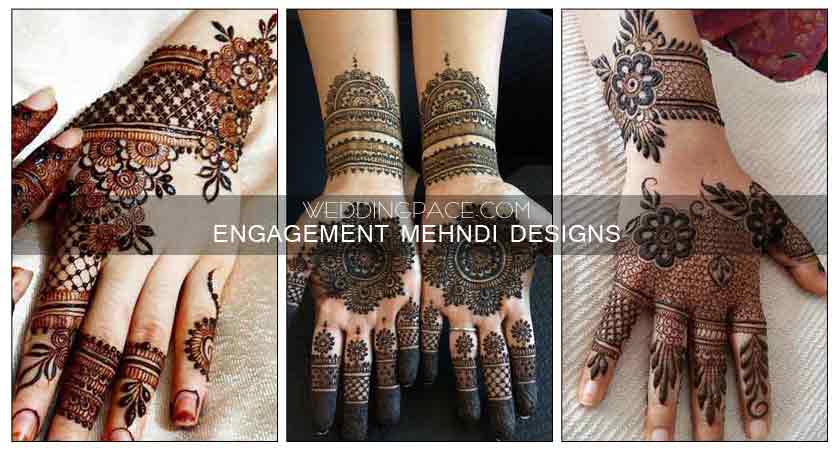 Without the application of classy yet voguish mehndi patterns; no Asian wedding is complete! Yes, when it comes to the engagement mehndi designs, then no bride can resist applying henna on her hands, arms and even feet.
Nowadays there are plenty of styles available throughout the internet, and most of these are rich with intricate patterns (thick, shaded, pearls adorned, glittered or sparse) that is attention to details and extravagance.
In this article, I have cracked the tough nut for you and brought you a wide range of admirable and beautiful mehndi designs for engagement ceremony.
If you are going to get engaged and eager to apply new styles on hands, then must read out this article till last. It will help you to choose your most desired style and at the end of this post, I will show you that how to apply beautiful full hand mehndi designs with step by step video tutorial.
You will learn the following important things about bridal mehndi designs for engagement:
New henna designs with images; that you must try in 2023.
Video tutorial about "How to apply full hand henna designs?" (a step by step complete guide).
Important tips to remember when you are about to apply henna designs.
Read More:
Have you decided your makeup look for the engagement ceremony? If not yet, then you must check out the most recent Pakistani engagement makeup ideas that will perfectly match with your dress color combinations. Specifically, when you are about to wear ash grey, golden, pink or off-white bridal dress.
Check out the latest engagement mehndi photo shown below: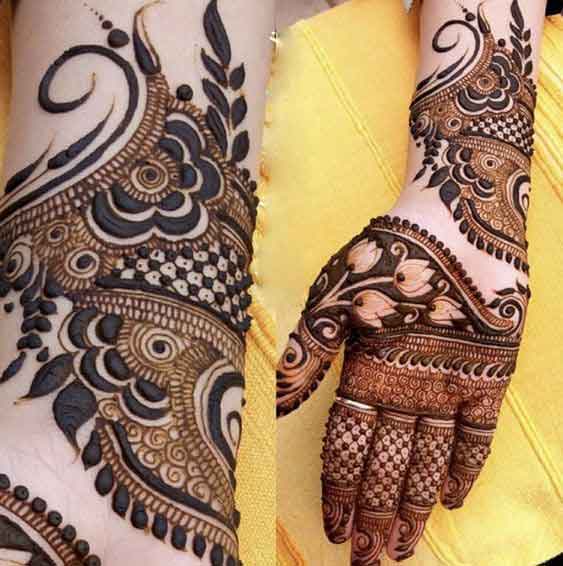 Best Mehndi Designs For Engagement Ceremony
Every bride wishes to have a beautiful dark color mehndi design on her hands. That is why I have shown the new styles of spectacular patterns specifically for front hand, back hand, full hand plus arms.
If you love intricate patterns, thick or shaded styles or even simple mehndi design for engagement, then scroll down to get unique henna design ideas to stand out from the crowd.
Since there are uncountable mehndi designs for engagement and it seems impossible to gather everything just in one article, but it is quite possible to showcase all new styles.
Plus, every bride has one's own choices and likings; so from the following images, you can choose according to your choice.
Rising mehndi trend for wedding ceremonies significantly appeals to everyone. Check out the following engagement mehendi pictures that will certainly leave you awe-inspiring.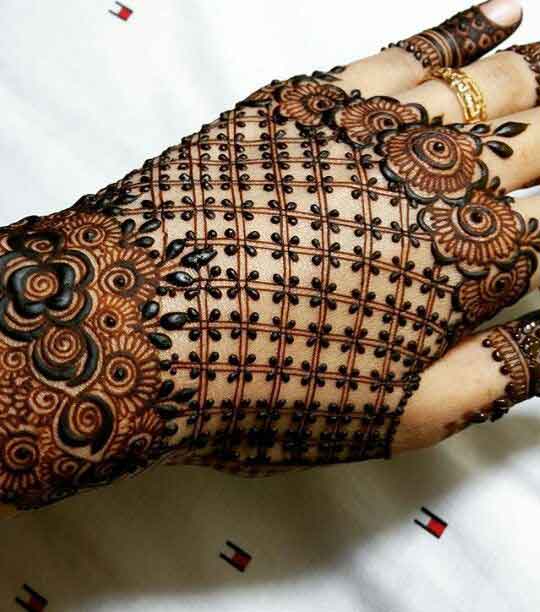 When it comes to bridal wedding events, it is not only about Pakistani engagement dresses, makeup, nail art, shoes, or jewellery that play an important role in making the bride-to-be look like princes. There is another missing part of the puzzle, and that is, of course, mehndi or henna application!
Beautiful mehndi motifs on your hands will assuredly add glamour to your overall appearance on engagement ceremony.
Hand Mehndi Designs For Engagement Bride
Here come the most popular and best mehndi designs for engagement! Choose your favourite from any of the following designs and grab the attention of everyone around. All of these designs will surely make your hands and your ring look more adorable and ravishing.
Engagement style mehndi designs are similar to any other occasional henna patterns, but what make them identical? Basic peacock feather patterns, flowers, leaves, swirls, lines, dots, ornaments and other henna patterns will be the same yet modified in a unique way.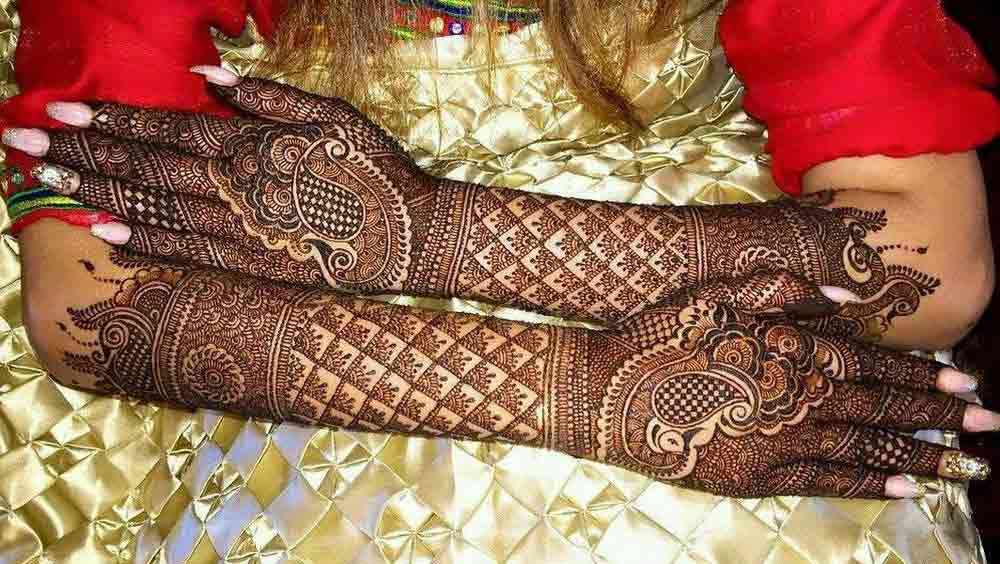 Below you will see the most beautiful engagement mehndi designs with images. These will surely make your hands look stunningly beautiful and captivating.
Thus, in this article you will find different mehndi designs for engagement:
Front hand,
Back hand,
Full hands plus arms,
Rounded (gol tikka), and
Pearls adorned designs.
Either you are the bridal or sister of the bride, just a colleague or a friend, all of these styles are best suitable for everyone. Make sure to give a try and let me know about the results.
Now let's dive into each of the above-mentioned mehndi styles!
Front Hand Mehndi Designs For Engagement
Most of the time, wedding brides love to apply henna only on palms or front hands. Because sometimes when henna is about to lighter, more or fewer girls get irritated (especially when it is the case of back hand). Thus applying mehndi on your palms will not only make you feel comfortable and respite but it will also not blot out your engagement ring.
Go over the following beautiful mehndi designs for front hands or palms.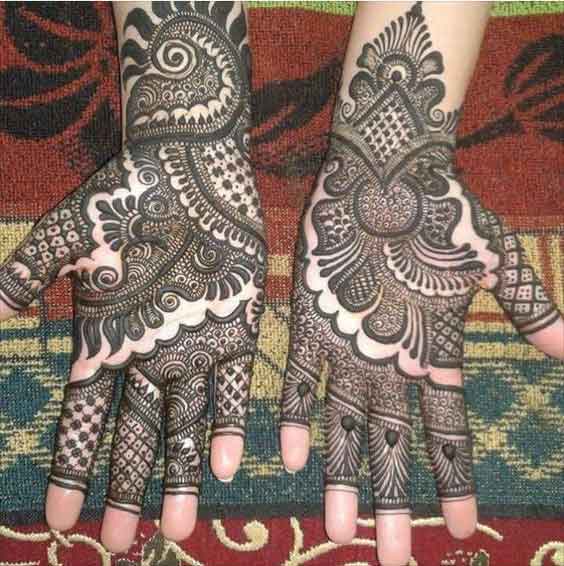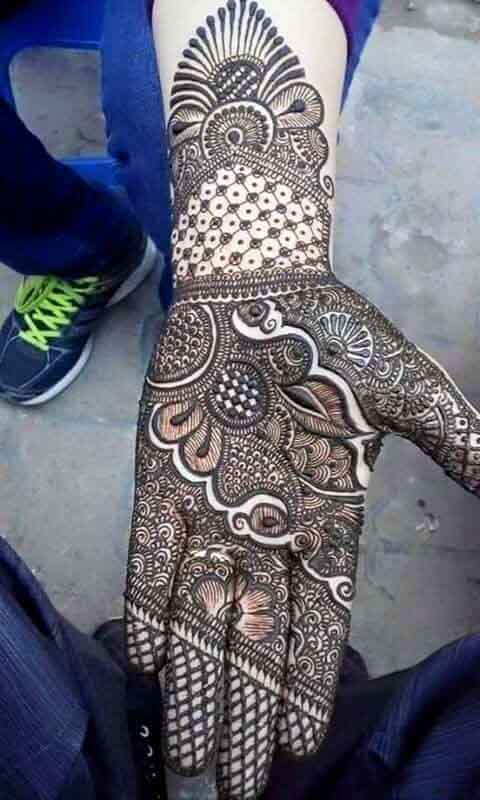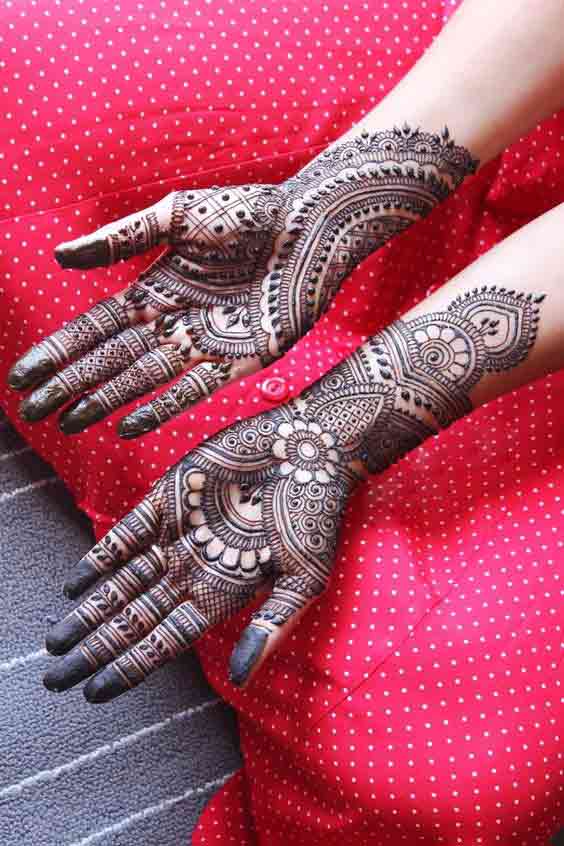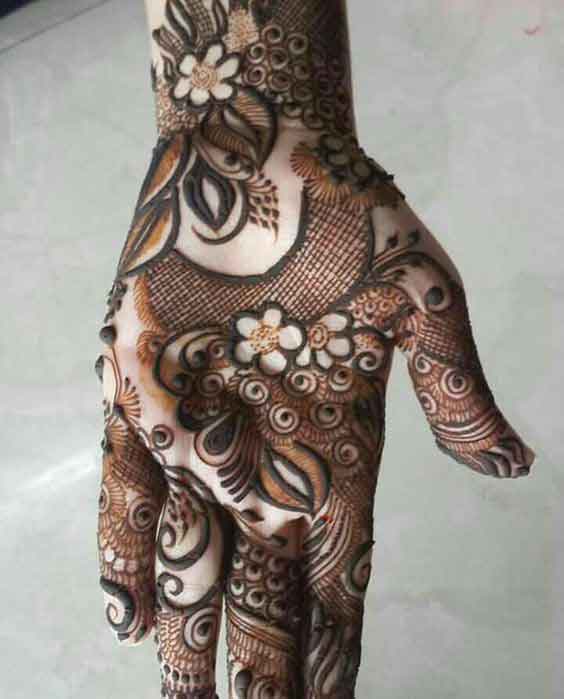 Back Hand Mehndi Designs
Most of these styles include engagement Arabic mehndi designs for back hands. Super classy Arabic styles are most sought after by not only Pakistani girls, but also loved by the Indian beauties as well. Swirls, floral and leafy patterns make these styles more appealing and pleasing.
Back hand henna patterns are perfect to show off your engagement ring during the ceremony. You just need to ascertain the right mehndi designs for engagement that helps to flaunt the ring tremendously.
Tip:
You are going to be the bride, why not you try out something valuable this time? Apply your desired mehndi design on hands and write the name of your spouse-to-be. You can place alphabets in an order (or disorder) them for more puzzle solving fun. Voila! The cute handwritten name will certainly make your groom feel like a prince.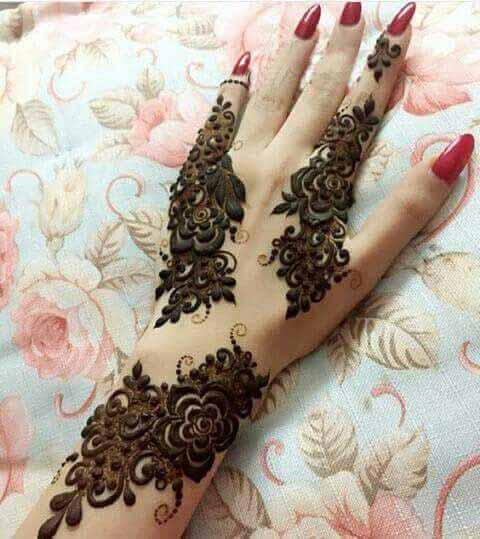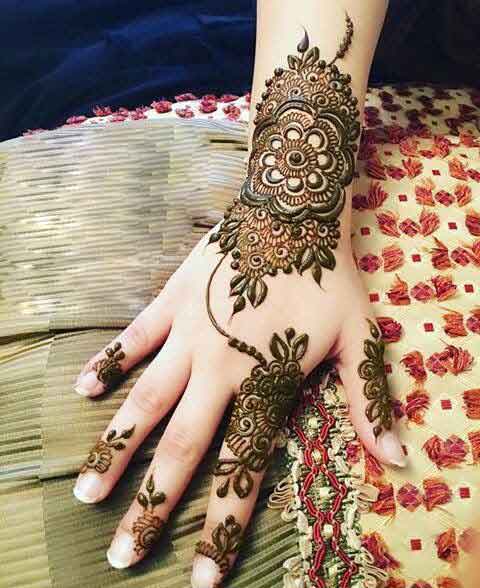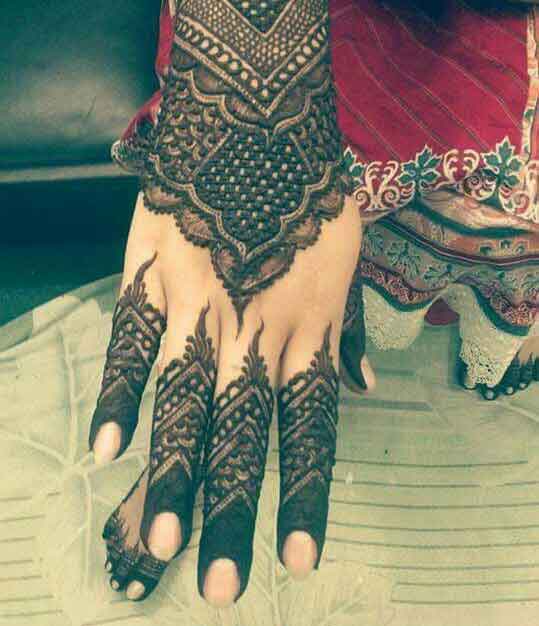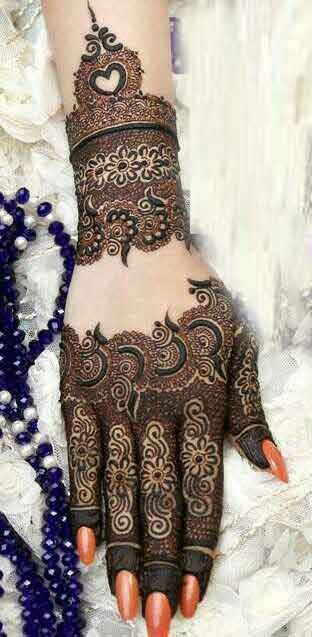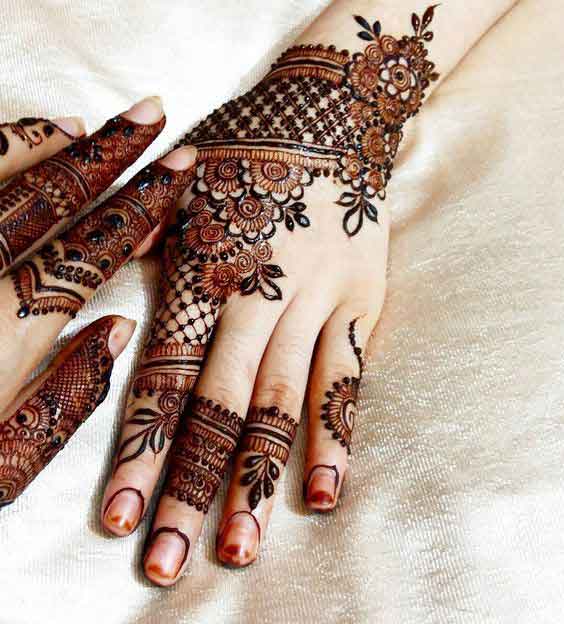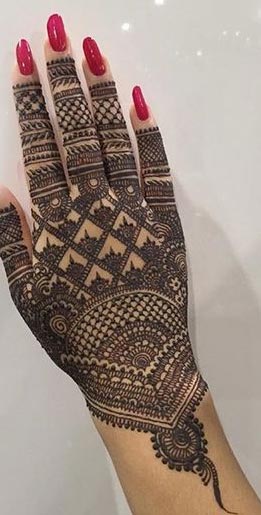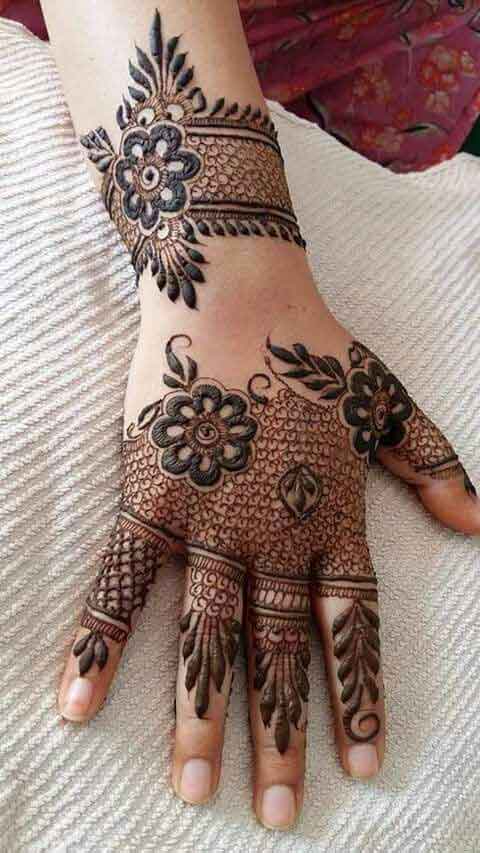 Full Hands And Arms Mehndi Designs
Here comes the total voguish and dense mehndi designs for hands and arms! Most demanding full mehndi patterns are absolutely attention gaining. If you are a mehndi lover and want to look adorable chic on your engagement ceremony, then go for any of the following mehndi styles.
Dense mehndi style is just similar to intricate embroidery and embellishments. Look at these designs and you will fall in love with each of these. I promise!
Tip:
If you are about to apply dense mehndi patterns, then make sure the designs are groovy and neat enough; so that it will not give a soiled look.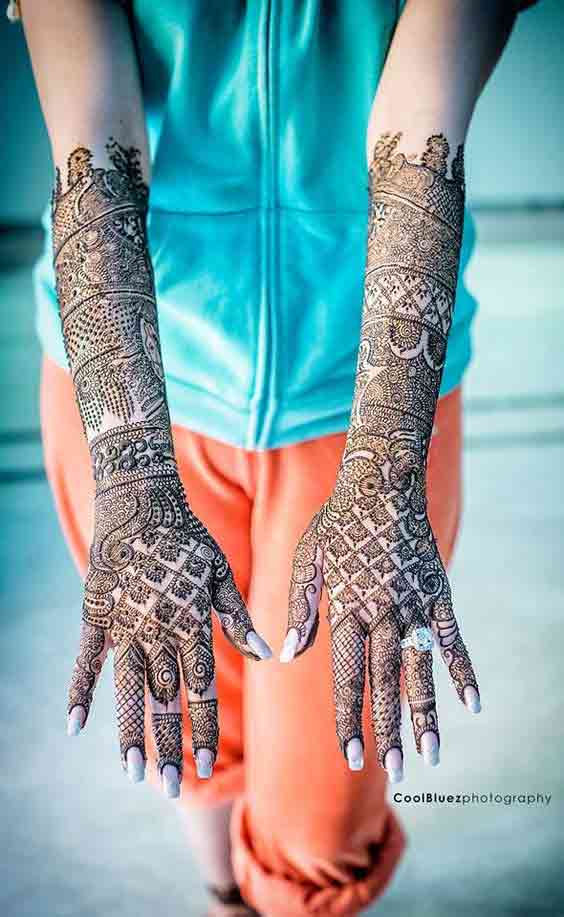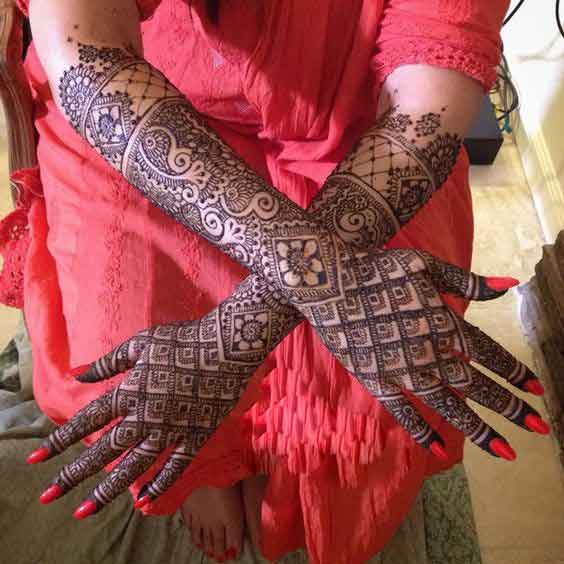 Rounded or Gol Tikka Mehndi Style
Go simple yet significant with gol tikka mehndi designs for engagement!
One of my most favorite henna patterns is none other than the rounded or gol tikka mehndi motifs on hands. The beauty of this style speaks louder than any other. Simple yet stylish rounded mehndi designs will certainly appeal everyone invited in your engagement function.
Nowadays, there is also a rising fashion for simple red gol tikki designs for hands. That needs no style, pattern or motif! Plain gol tikki in blood red color enhance the alluring beauty of a bride.
Have a look at the following mehndi designs for engagement!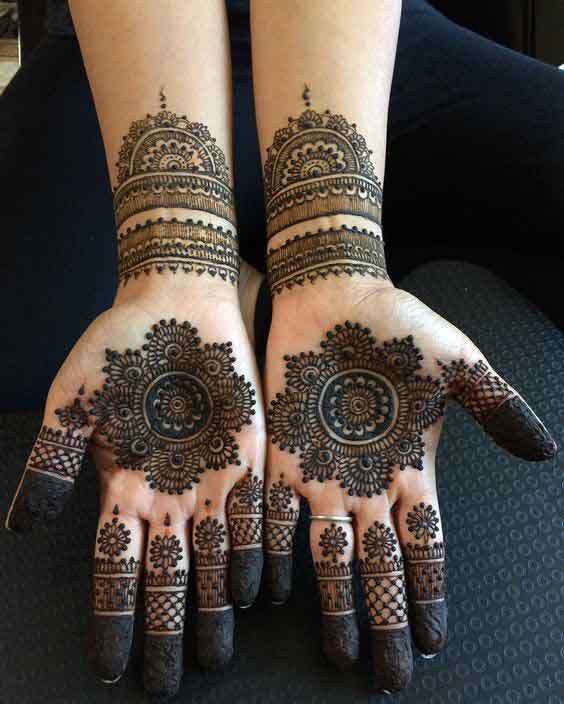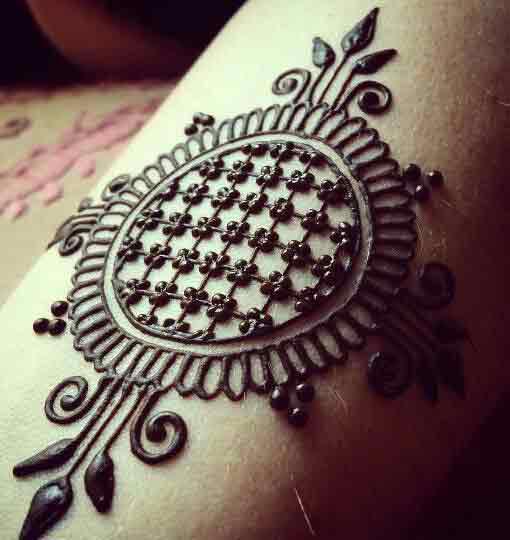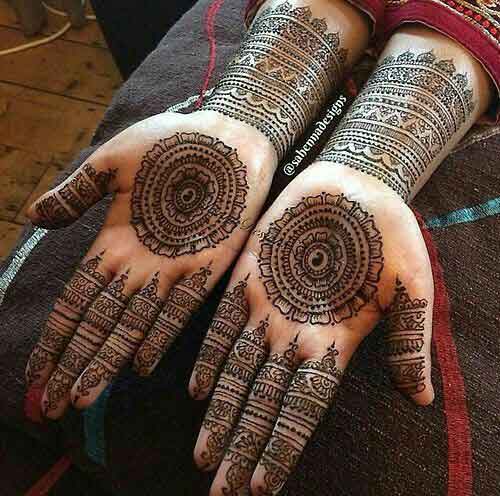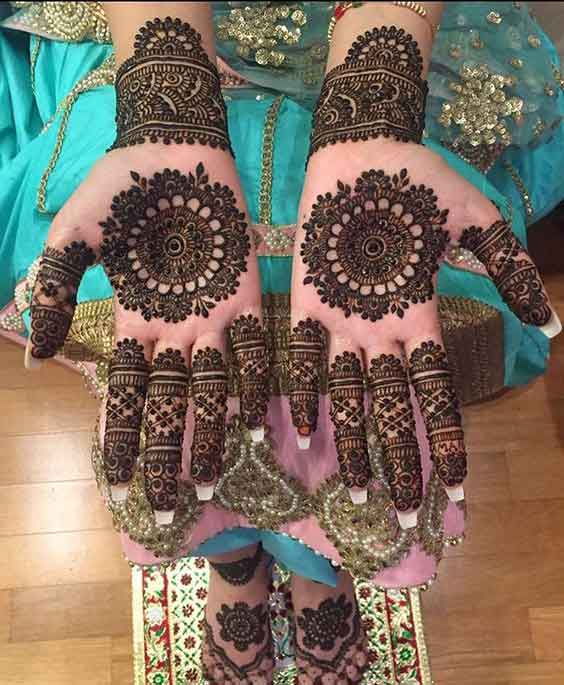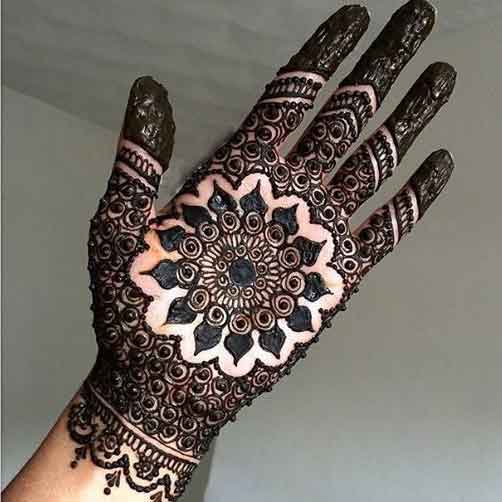 Pearls Adorned Mehndi Designs
Because you are the bride, and going to be the centre of attention of the wedding event; your hands must be rich with some glitter, pearls and embellishments. It will surely give your hands' most charismatic look throughout the ceremony.
Try to use super small size beads or pearls (so that you do not feel any kind of irritation or nuisance). You can proudly flaunt your engagement ring and you will definitely not be able to get your eyes off!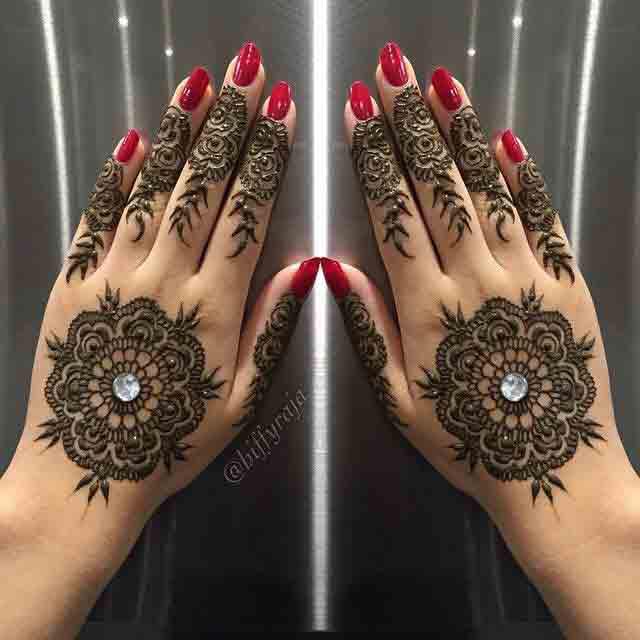 Important Tip:
Here is one of the most important tips to be remembered always!
Mehndi or henna cone contains some grievous chemicals, so if you are allergic or your skin is sensitive, then check a little amount of henna on your palm and leave for fifteen to twenty minutes.
If it gives you itchy or burning feeling, do not use it!
Sometimes it happens when the henna is expired so make sure to use the fresh one.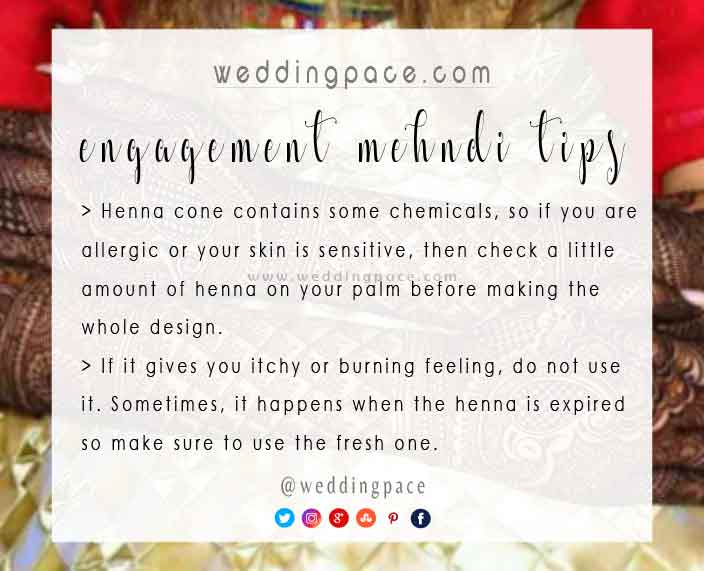 Additional tips about mehndi designs for engagement:
You always have the option to match the color of your engagement dress with your henna design. Make a good color combination of ornaments (stones, pearls, beads and so forth) used for mehndi design and plan your day in your own way!
Try to use pearls or stones only on the back side of your hand. Because most of the time everyone will see your back hand side, rather your palm. Plus it will keep your palms clean from beads and you will not feel any kind of a nuisance.
There are certain mehndi patterns (shown in this article) that are specifically designed for engagement bride.
Are you thinking about palm decoration?
Use tattoos instead!
Surely, you can use mehndi tattoos on your palm or opt for glitter mehndi style instead of pearls adornments! Tattoos are temporary and are the best option for those girls who do not like the smell of henna. Glitter mehndi or tattoos are easily available in the market and most importantly, you can match the color of mehndi with your dress.
Are you wondering to apply mehndi designs on your own?
That's corking!
You can make different henna designs by yourself. It's really not a big deal. If you're an expert then you know very well, but if you are a beginner then you just need to consider the following two tactics of applying mehndi patterns.
Certainly, these two are the only ways to get expert in apply henna. I promise, after some time you will master this just like professional.
Choose two to three mehndi styles and practice the identical designs side by side.
Go rough and dirty.
After some time you will see yourself as an artist.
Basically, everyone is an artist, see how beautifully "Ananda Coomaraswamy" has to say about this:
[su_quote cite="Ananda Coomaraswamy"]"The artist is not a special kind of person; rather each person is a special kind of artist."[/su_quote]
Professional Mehndi Artists In Pakistan
What if you love to have professional mehndi designs for your big day?
Don't fret at all!
There are numerous professional mehndi experts available in Pakistan. Most of them provide services 24/7 and can be contacted at any time.
I express my deep appreciation to them because of their tireless, wholehearted and unique contributions in the specific field of henna application. Charismatic, bewitching and groovy mehndi designs can be made just in a couple of minutes and voila! You will definitely fall in love not only with the henna style but also the artist expertise will leave you awe-inspiring.
Video Tutorial For Step By Step Full Hand Mehndi Designs
When I was writing about mehndi designs for engagement, the first thought that flashed into my mind was, "I must have to show my readers that, how to apply henna on hands step by step?"
It was because most of us love to apply mehndi on our own. And if anyone of you has got an idea about the application of mehndi designs, then you must know about the basic skills that are needed to make designs.
Basically, there are cute little designs that are used as building blocks for mehndi patterns. For every artist, it is essential to know about; how to connect basic small mehndi patterns to form a beautiful intricate mehndi designs either on front or back of hands, arms, feet or even back.
Whether you are an expert or just a beginner, this video tutorial will guide you properly and you can learn plenty of significant tips and tricks within a few minutes!
So, let's watch a video!
I firmly believe that most of these popular mehndi designs must have helped you in any way! Even if you found a single image that you think it can work for you, and you will be going to apply that mehndi design on your big engagement day; then my purpose of writing this article will be completed.
I want, above all, to instil new ideas that can work for you.
Do not hesitate to ask me questions that arise in your mind regarding any of these mehndi designs for engagement ceremony.
If you want to know about the engagement tips and advice for brides-to-be, then do leave me a comment below or contact me. I will contact you back as soon as possible. I wholeheartedly appreciate your further recommendations, suggestions and feedback!
Subscribe my blog for latest updates about engagement and other wedding events not only for brides but I write plenty of content for grooms as well.
I hope you loved all of the mehndi designs for engagement shown above with images.