Are you excited for the latest Pakistani peplum dresses for bridals?
Brides today aren't those typical brides any longer, they need something luxurious yet quirky and funky for their big day. For now, you must have made up your mind to wear a bridal short frock, but have you decided on the bottom style? What do you love the most, short frock with lehenga, or Pakistani peplum tops with sharara/gharara? Or would you love the idea of short frocks with bell bottom or Q-lots?
If you are going to be a bride and looking for a peplum dress in Pakistan, you must pay attention to the following Pakistani peplum style dresses and get inspired to choose for your big day!
Wait, and what about the hues of fancy short frock designs? Which colour combinations would you prefer to wear on your wedding event? Either shrill shades having sharp tones of Pakistani peplum dresses to grab the attention or do you want to go all pastels that are delicate and glamorous enough to draw the interest of everyone around you?
Go for the following Pakistani bridal peplum frocks to collect your wedding inspirations!
We believe that dress you choose is the base upon which you can build your whole look!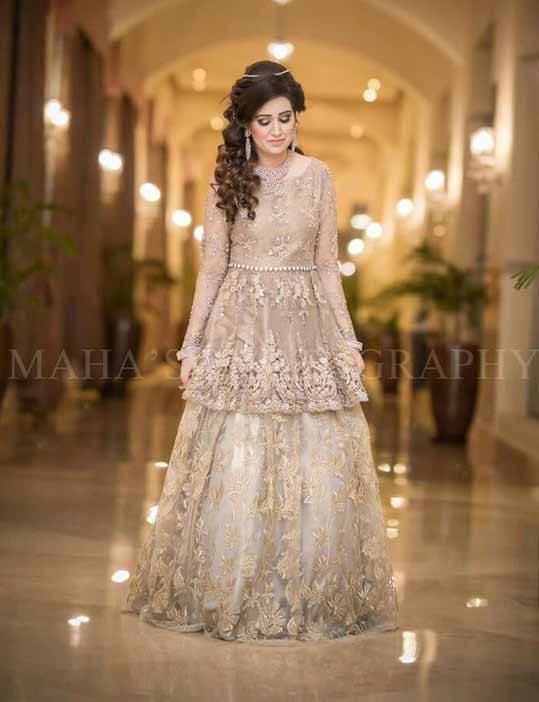 Latest Pakistani Peplum Dresses For Bridals
Asian weddings are known as one of the most exciting and enthusiastic events, especially in Pakistan. Wedding days are full of attractive hues and festivity that brings happiness and felicity. But what about your shopping agitation? Meanwhile, shopping for weddings are the toughest ever task to tackle particularly for a bride. But why always the mainstream long kurti with lehenga? Don't you think it's quite tedious and tiresome?
Here comes the new trends and styles of Pakistani peplum dresses for wedding brides!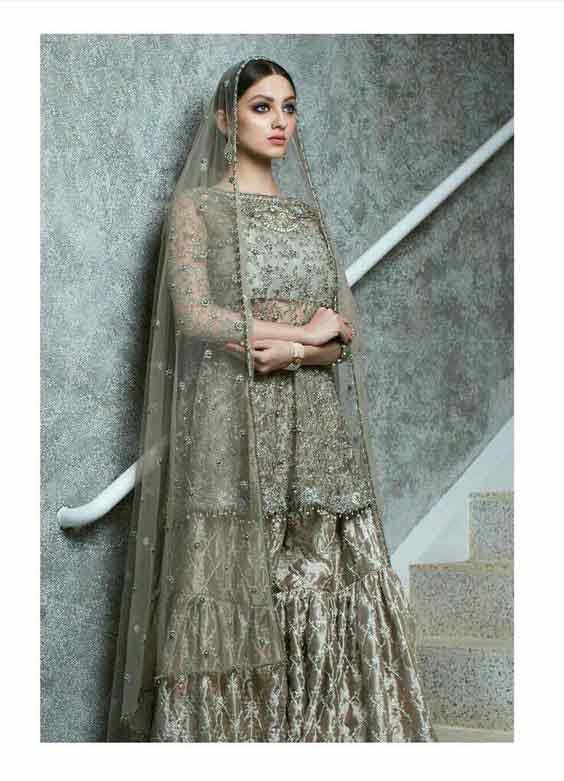 Thanks to our designer fraternity and fashion industry for providing us with a vast range of varieties in styles and designs of peplum (Pakistani wedding dresses), that are rich with prime fabric quality, intricate thread and stonework that are breaking the outdated trends. it's so old school to pair the certain top with certain bottoms. Who doesn't like trying out new things like peplum wedding dress (short frocks), and people now adore those who do experiments on their looks.
When it comes to the trendy bridal dresses, you better not miss any of these most beautiful peplum frocks in Pakistan, that will surely win the heart of every attendant! Have a look at the following peplum tops by Pakistani designers.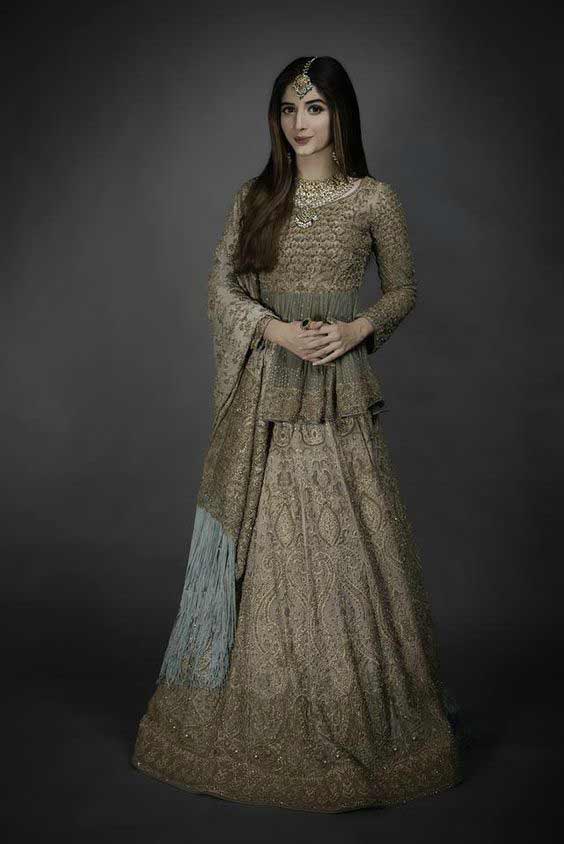 Pakistani Peplum Dresses With Images
When it comes to peplum designs images, this era is all about creativity and solitariness. We have a lot of options for the Big Day outfit. Crop top style blouses, slant choli, and the Pakistani short frocks or peplums are clearly the rulers of the trends now. Be a fashion arbiter by playing with hues and working up with attractive fusions of Pakistani peplum dresses. The best thing about these short frocks is that they can be paired up with anything and fit nicely on all the body types.
Peplum tops can be modified according to choices, you can make it plain single frock, or a layered one and make it more trendy by making a fusion with angrakha and peplum. Let's see how can these be paired with the different bottom styles.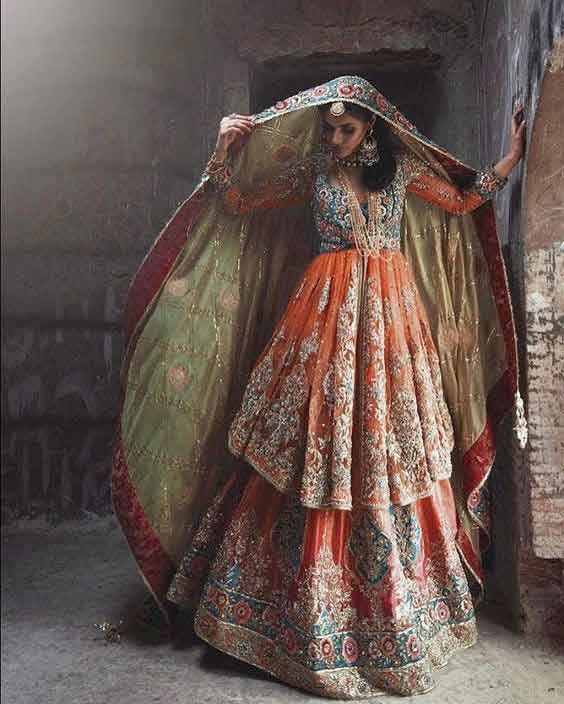 Different Styles of Pakistani Peplum Wedding Dresses
You must be aware of the lawn peplum frocks, but this article will stick to the heavy bridal wear collection of Pakistani peplum dresses full of delicate embroideries and attractive stonework for special wedding events in Pakistan. Bride-to-be must consider her body type when she is about to wear a peplum dress.
There are numerous frock styles specifically designed for a specific body type such as pear body shape, apple, hourglass or rectangle body type. You must be aware of the peplum wedding dress for plus size or a skinny one.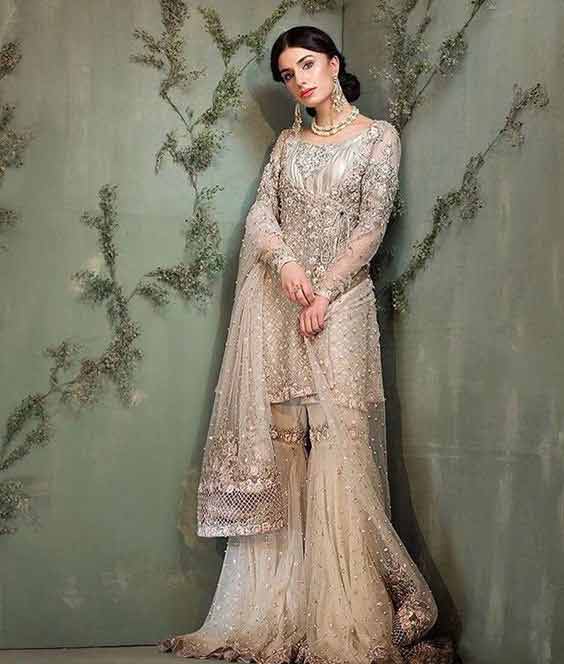 When we talk about the peplum frock cutting style, these frock comes in a variety of designs including:
Angrakha peplum with sharara
Peplum with palazzo
Peplum with flared bell bottom or culottes
Wedding peplum with fishtail lehnga
Peplum wedding dress with lace sleeves
Now let's discuss these different styles of Pakistani peplum dresses individually!
1. Angrakha Peplum With Sharara or Gharara
Among all the matches and fusions, angrakha style peplum tops with sharara or gharara are the hottest pick of most of the eminent designers of the fashion industry. Also, normal short frocks with single and multiple flares are also super trendy because when it gets too prototypical layers, cuts and flares can be modified according to styles and choices.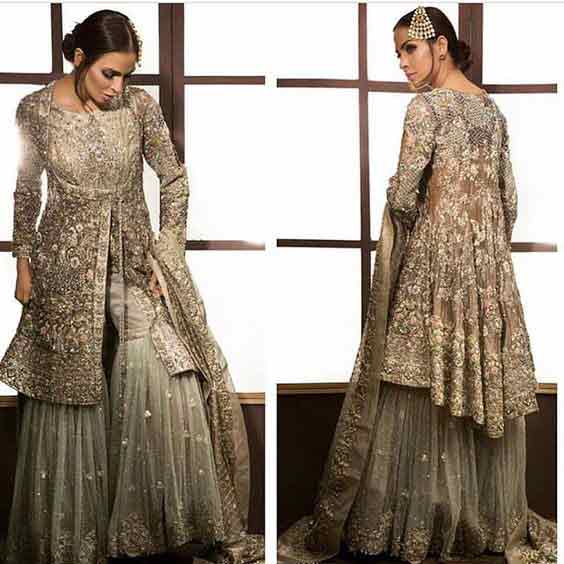 2. Peplum Frocks With Trousers or Palazzo:
Pakistani peplum dresses with palazzo are considered to be as the super chic style. Heavily adorned frocks with lightly embroidered palazzo or heavily embroidered bottom will make you look dazzlingly beautiful. You can always play with heavy and light embellishment on dupatta, bottom or top.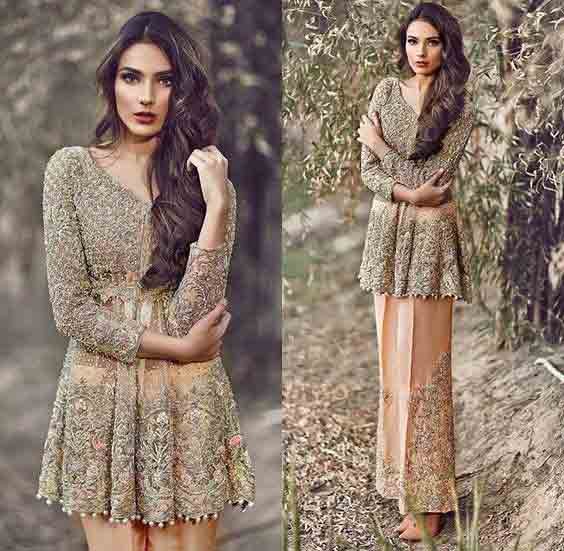 3. Peplum With Flared Bell Bottom or Culottes:
Peplum with flared bell bottom is hitting this season. Straight trousers with embellished flares is also a prodigious style. sometimes when brides don't really want a voluminous bottom can go with this style.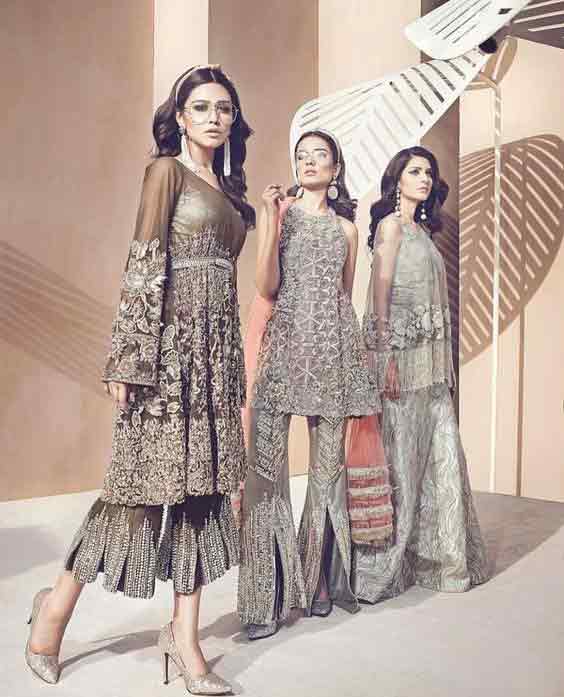 4. Peplum Short Frocks With Fishtail Lehnga:
The most regal combination ever is a heavy embroidered, sequenced Pakistani peplum dresses with a long heavily embroidered fishtail lehnga. This combo is ethereal. And the favourite pick of those who want royal looks on the big day.
Go for the following style!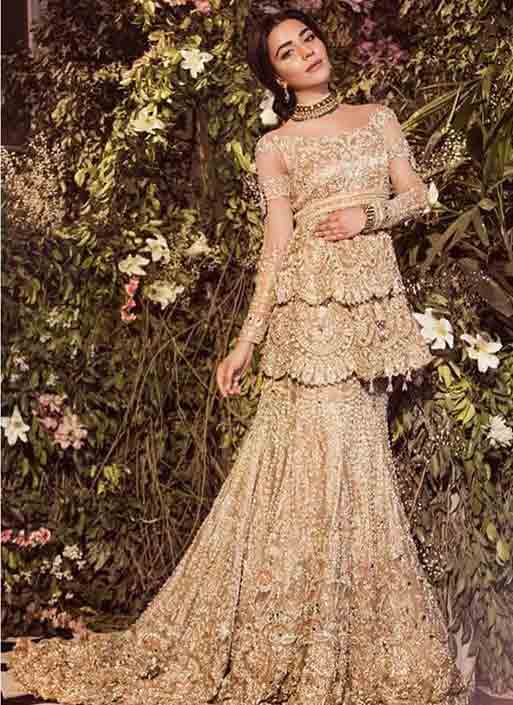 5. Peplum/Short Frocks With Formed Lehenga:
Another hot pick of the season is a formed lehnga, that includes layers of frills inside, gives a glorious look when paired with a short frock. These Pakistani peplum dresses are basically inspired by the princess attires which are modelled to give a royal feel. They make an awe-inspiring mix and match together.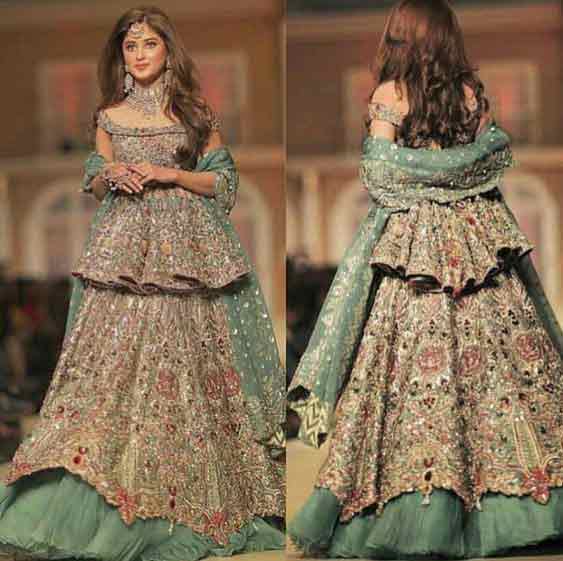 [su_highlight background="#fbf7d2″]Another ponderable point is if the bride is carrying a heavy dupatta then she should not go with angrakha style frocks because it may look mismatched over a worked dress. So instead go for a straight style peplum with cut works or tassels on the border. Adding frills to the sleeves also makes it more attractive and funky.[/su_highlight]
Last but not the least question is, which day is the best to carry a beautifully embellished short frock, Mehndi, Barat, or Walima? So the answer is, you may wear it to any event as you like! You can adorn it even at Mayon with some traditional colour combinations in coalition with tulip shalwars or plain bell bottoms with a balanced volume of the ghera of the frock.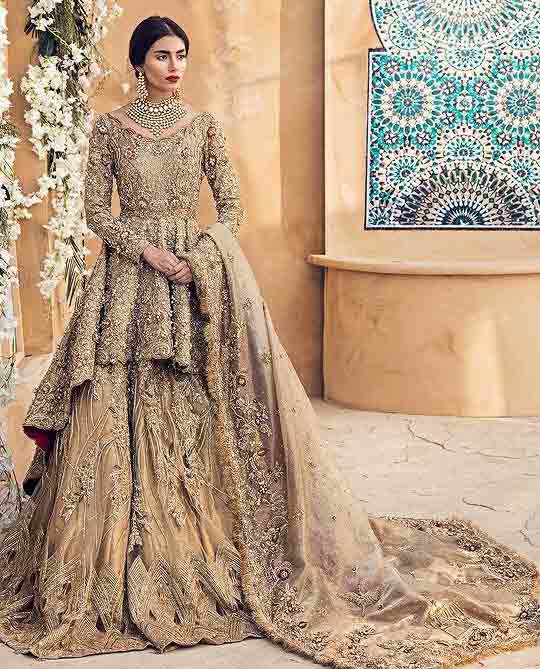 Read more:
Do you want to see more Pakistani wedding dresses for bridals? Do not miss to check out these Pakistani engagement dresses that will certainly inspire you.
You can mingle a short frock or peplum top with the following bottom wears according to your choice.
With embellishing tulip pants.
Bell Bottoms.
Pakistani peplum pants
Short frock with capri
Cigarette pants or pencil trousers,
Gharara, and
stated last but not listed least, straight trousers or culottes.
[su_box title="PEPLUM DRESS STYLING TIPS"]If you are tall, then a knee-length moderately catastrophe frock, paired with anything heavily elaborated at the bottom will make you look breathtaking. Contrarily if you are a medium or short heighten person, then exaggeratedly sequined peplum with a moderate bottom will make you look taller and magnificent. You can pair it up with lehnga, fishtail bottoms, and the top-notch trend of short frocks with sharara or gharara.[/su_box]
Colour Combinations of Pakistani Peplum dresses
What about the colour combinations?
We have some more interesting ideas regarding the colour combinations of peplum traditional dress in Pakistan, that are flaming hot this season especially the frocks.
1. Pastels
Who doesn't like experimenting with the pastel Pakistani peplum dresses! Take the event with you by choosing some gorgeous pastel shades. These colors are very subtle and subdued but look tremendous. These are not only the hot trend in bridal wears but also in casuals and semi-formal attires that are clearly ruling the fashion game.
Pick something like teal, beige, peach, or anything with some popping out 3D or any other heavy glamorous frock. One can also go with lime, yellow or green shades if she wants it for mehandi or Mayun events.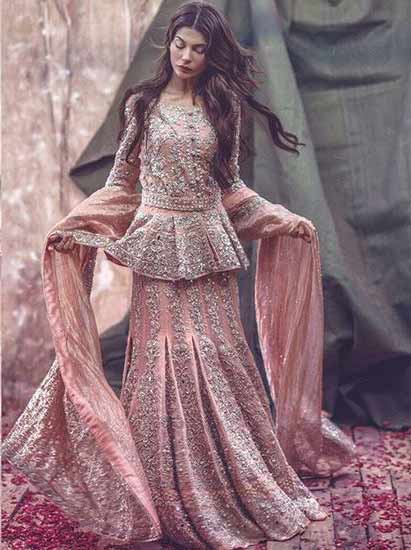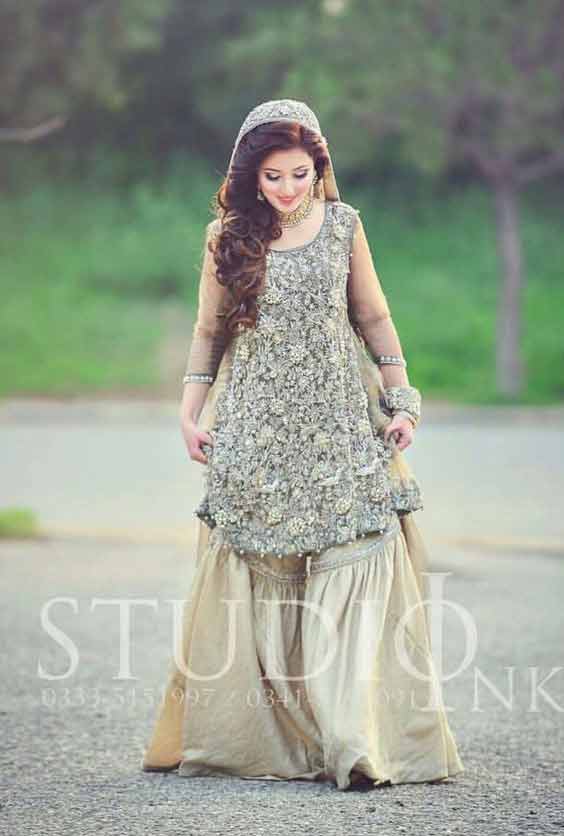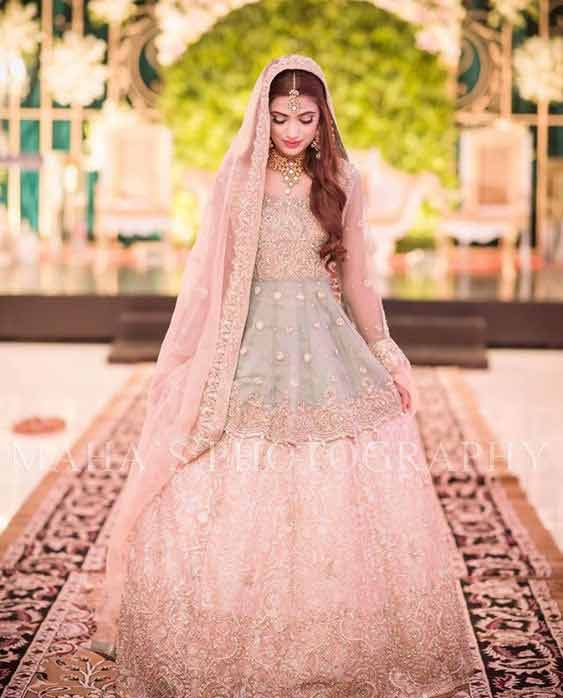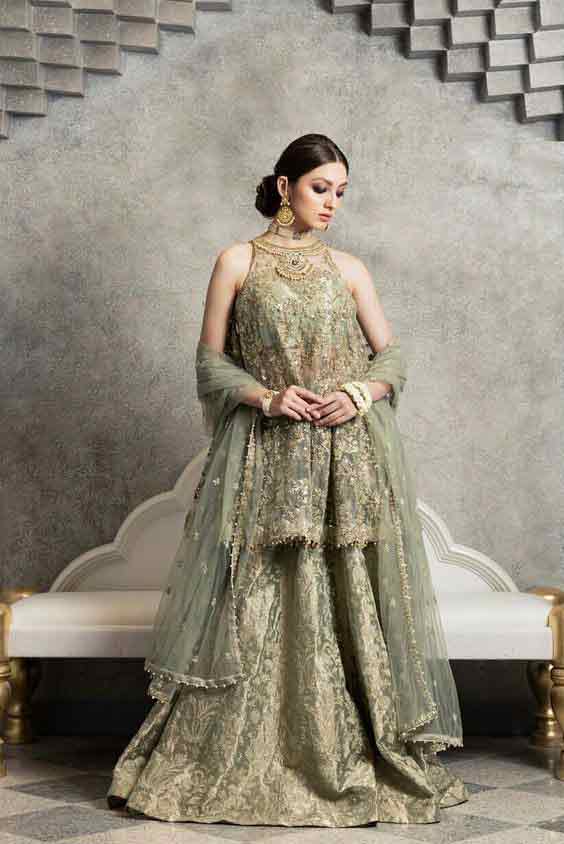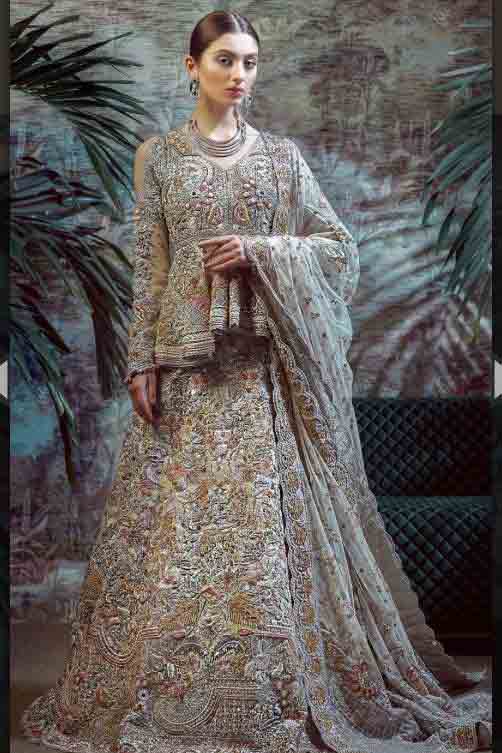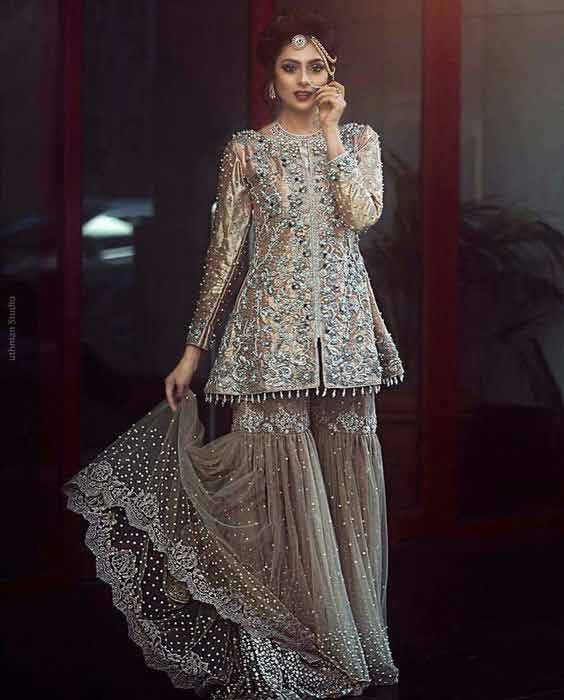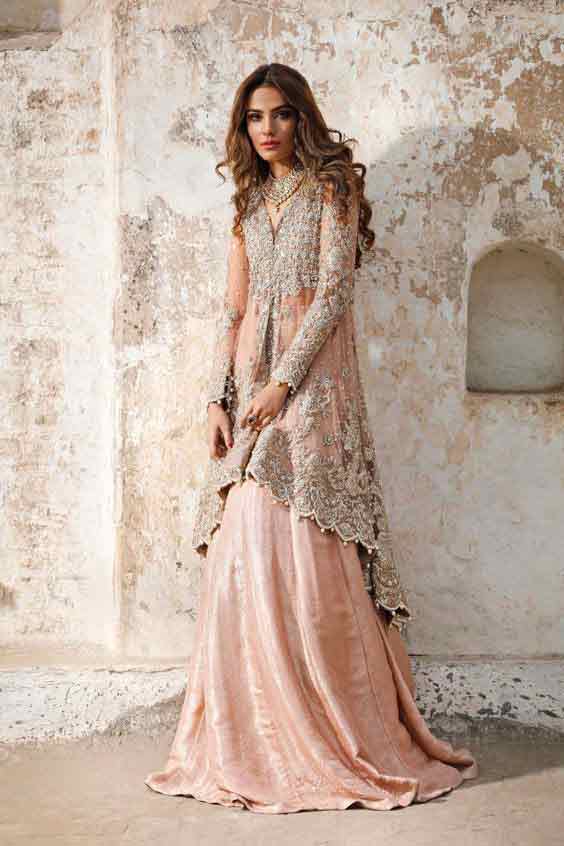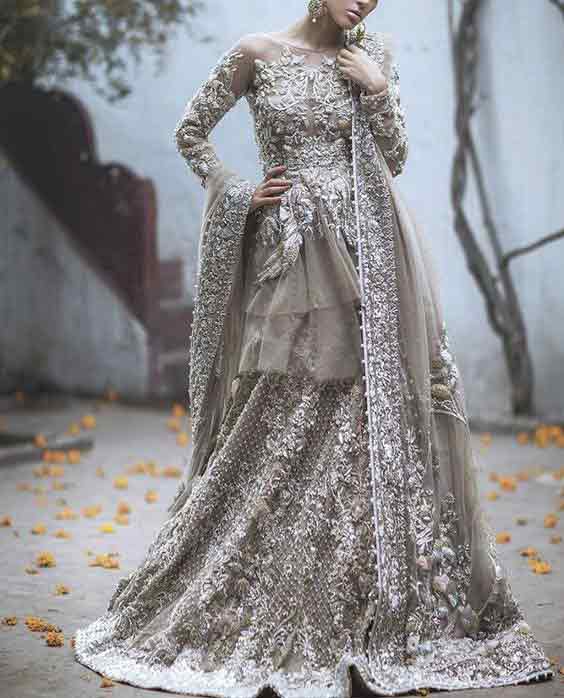 2. Blue or turquoise:
Are you afraid of ditching red Pakistani peplum dresses? Playing with the shades of blue or turquoise in plain or ombre shades look dope with some multicoloured and gold embroidery.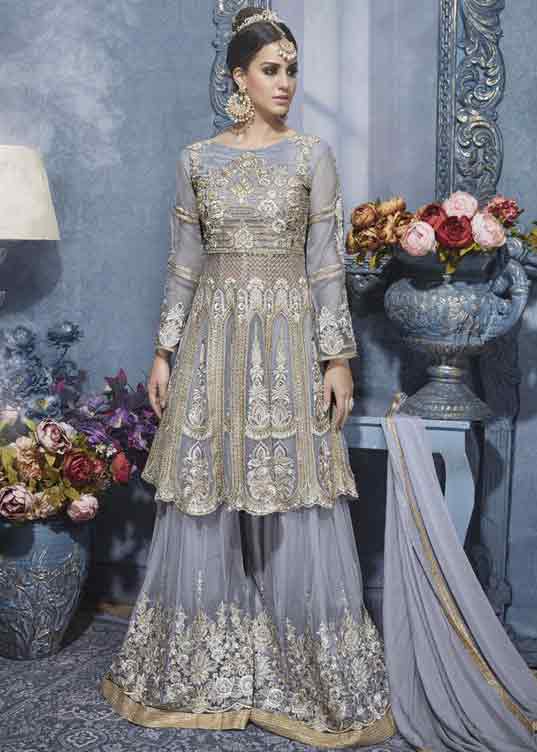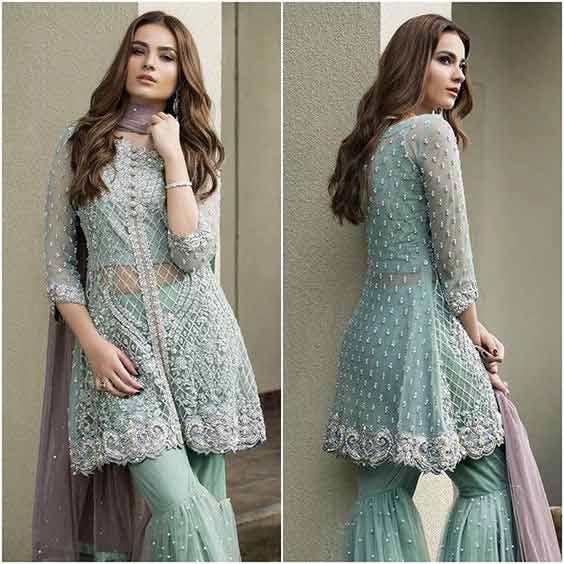 3. White hues:
White is always in vogue, it never ever goes out. You can definitely pick white hues for Walima event, with white or transparent embroidery, also with gold and any other colour just beautify the look even more.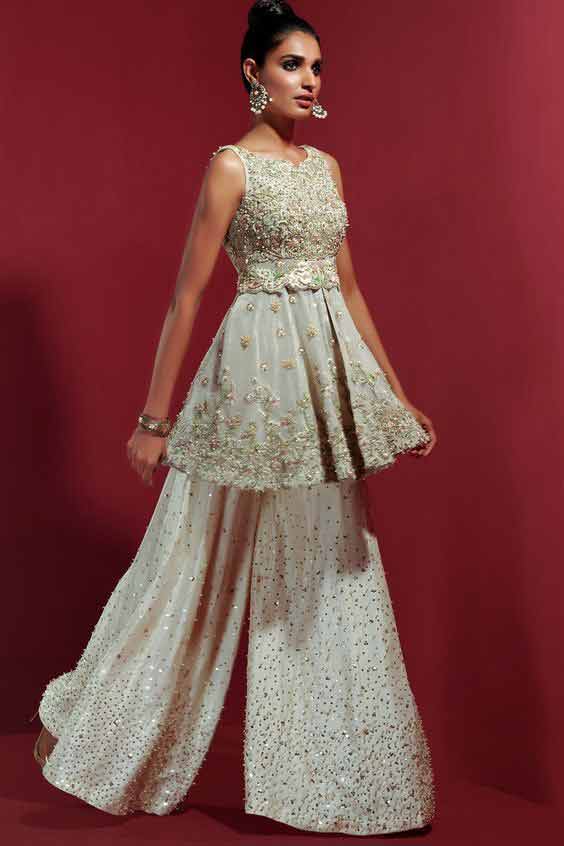 4. Golden:
These Pakistani peplum dresses are a bit tricky one's but always a noteworthy option to choose. Not only colours and bottoms but you can also alter the designs in sewing, just as cutwork and applique work is leading the race of embroidery these days. You can do it with clothe or beads, motifs, tassels and cold shoulders or anything you like in your garment. Peplum tops in tail shape are also an eccentric style if you find the typical shape boring.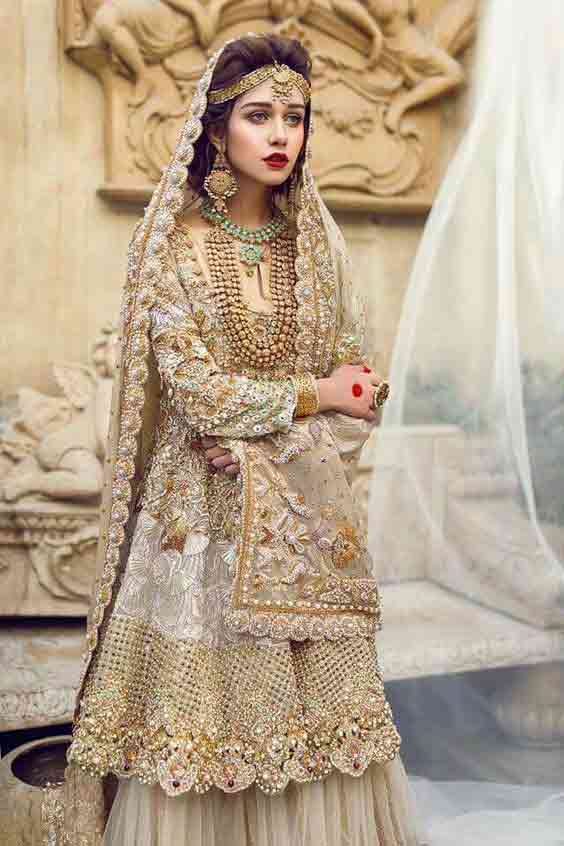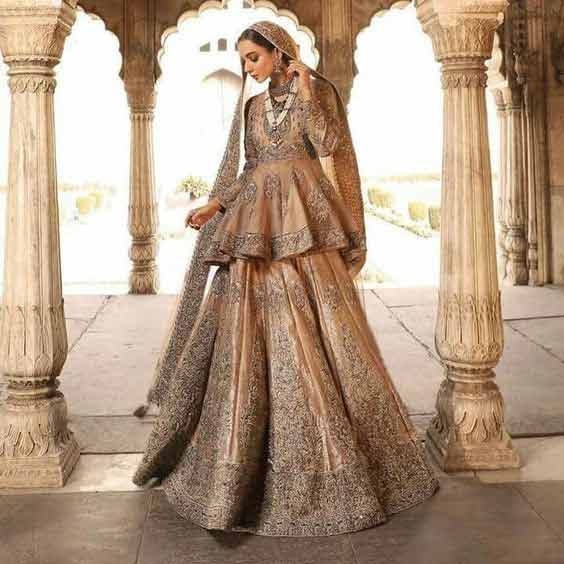 Pakistani Peplum Dresses Tips And Guide For Bride:
It's all about the styling tips to wear peplum wedding dress in Pakistan. Must read out these certain tips and guide to wearing wedding peplum dress properly that will make you look dapper:
A wedding bride should pick a peplum dress according to her body type – pear shape, apple body type, rectangle, diamond, square, inverted triangle, oval or hourglass.
If you really want to become the queen of your big day, get dressed in peplum choli and team it up with heavily embellished raw silk formed lehenga! A peplum with lehnga is an outstanding option for any wedding event.
You must consider the peplum colour combinations that complement your skin tone.
You may opt for a peplum frock with sharara or palazzo pants for several other occasions such as Maayon, bridal shower and so on.
Choose from the variety of gorgeous bridal jewellery options such as maang tikka, jhumka, earrings and statement necklaces to pair it up with your beautiful Pakistani peplum dresses.
Heavily embellished dupattas should rather be combined with the comparatively lighter ensemble, and lighter dupattas should definitely go with the heavier apparel.
In order to spunk up your look, make sure your makeup, hairstyle, shoes, mehndi designs and even your nail art is as perfect as your peplum dress!
If you are tall, you may opt for khussa shoes because that is an excellent way to look traditional as well as to feel comfortable.
Pastel hues are trendy in 2019, for that reason, pick up your favourite one and get glamorized in supper dazzling wedding attire to leave everyone awe-inspiring.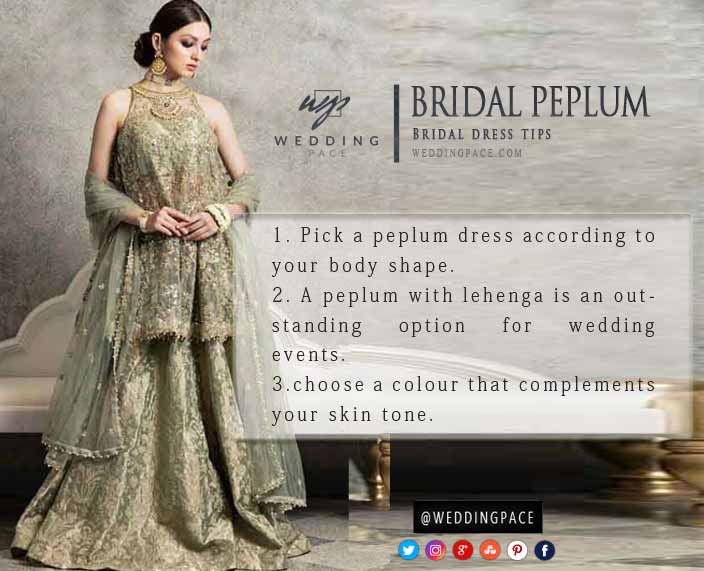 We hope this article covered most possible queries and confusions of yours, in accordance with choosing a perfect wedding dress. So all the beauties rush to your designer or market and dazzle in a stunning outfit on your Big Day. Don't let your prototypical apparel dim your sparkle and make your day memorable, also make the stares of people worth their while by wearing any of these new short frock designs for bridals.
[su_note note_color="#f1f1f1″]On her wedding day, a woman should be certain that she has found a dress that makes her feel comfortable and above all else, beautiful![/su_note]
If you like these Pakistani peplum dresses for wedding brides, please do share this article with your loved ones, like us of social media for latest wedding updates in Pakistan and share your valuable comments below.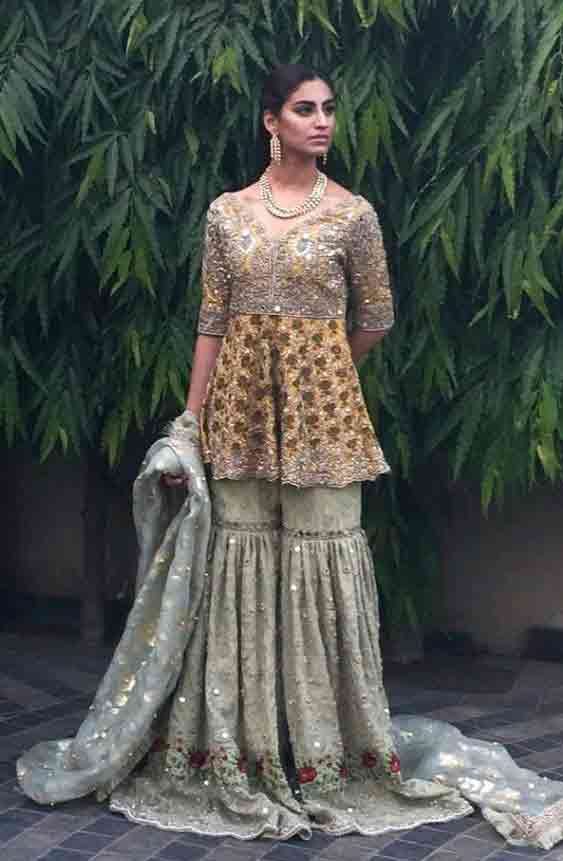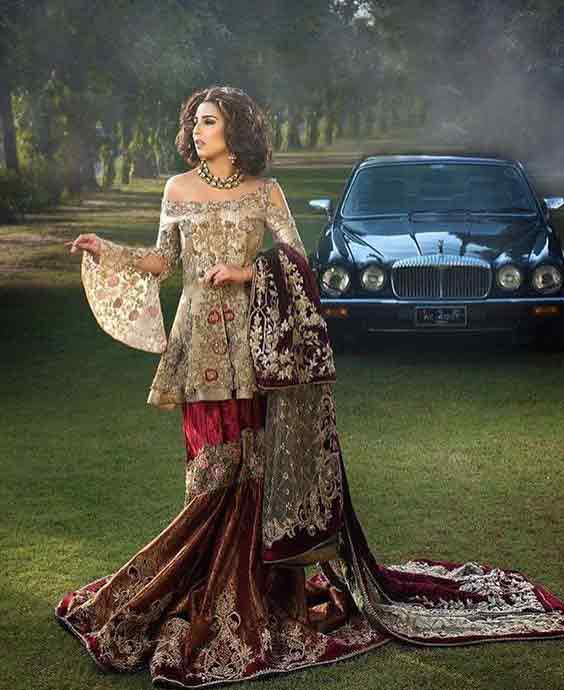 Above you have seen the most beautiful wedding bridal short frock designs in Pakistan. As these frocks come in different designs or styles, attractive hues from the palette and use of prime fabric quality make this bridal wear most coveted in Pakistan.
In coming articles, we will certainly write about the Pakistani peplum dresses with price, so stay with us and subscribe to our newsletter for latest wedding fashion updates.