Are you ready for the latest Pakistani bridal mehndi designs 2019? Weddings bells all the way! Brides everywhere, and everyone is looking for doing it better than the others. If someone don't think of making it better then she definitely want her bridal mehndi style to be something unique and modern. Something out of all the stereotypical and most conventional styles streaming all over the wedding events season.
This article is all about the following Pakistani bridal mehndi designs with latest images:
Mehndi designs for full hands and arms
Fully filled designs
One side booti designs
Mandalas or gol tikka/tikki mehndi designs
Feet mehndi designs
 Best Pakistani Bridal Mehndi Designs And Style
When it comes to the wedding preparations, while paying keen attention to the bridal dress, shoes, jewelry, here is a key thing which we totally ignore through out all the preparations and plannings of the wedding ceremony! And that is Pakistani Bridal Mehndi Designs for hands and feet. We take it for granted! We described it right, huh? The most ignored and yet the one of the most basic things in a bridal look.
Here are the new styles including peacock patterns, floral patterns, squirrels, petals, twists, shaded mehndi designs, lines and so on.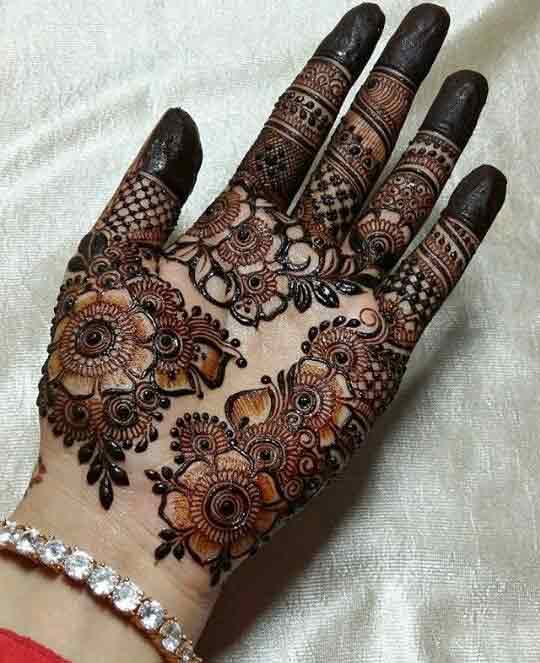 Pakistani Bridal Mehndi Designs With Latest Images
Some brides don't like mehndi designs to be all filled over with several patterns, instead they like it lighter and minimalist. Some brides love mandalas (round tikki or tikka), and others do love an all over design for hands and feet. In today's article, brides will find every kind of Pakistani bridal mehndi designs trendy in 2019. We have tried to gather all the designs for everyone so that it covers all the appropriate stuff for people of all tastes.
Mostly brides rush to parlors, hand books and Internet surfing for looking out a nice Pakistani mehndi design for them in the eleventh hour. Here we are for solving this issue. we are listing some unique and trending Pakistani mehndi designs for brides, for both hands and feet.
Let's start this awesome and creativity filled topic.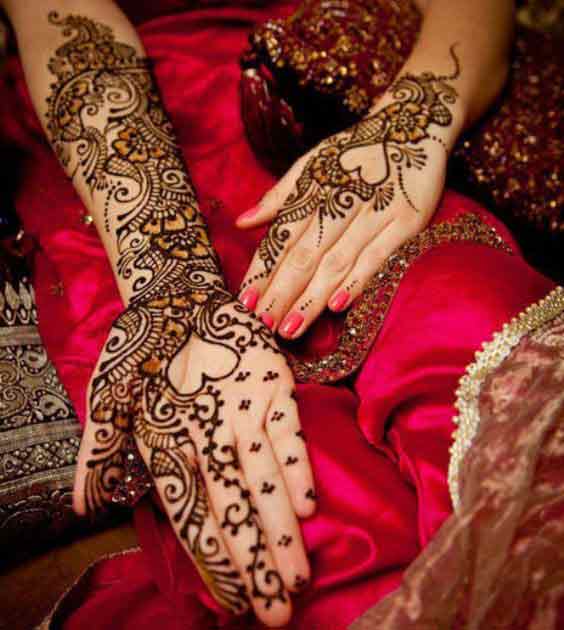 MEHNDI DESIGNS FOR FULL HANDS AND ARMS
Most of our brides love to have full hands and arms mehndi designs so this the one we start with! And off course, when it's about bride, everything should be elegant, and it never looks over or exaggerated, plus it looks perfect. Not only perfect but luxurious as well!
This is one of the most wide range of bridal mehndi designs to be discussed all around. Go for the following designs and choose your favorite one.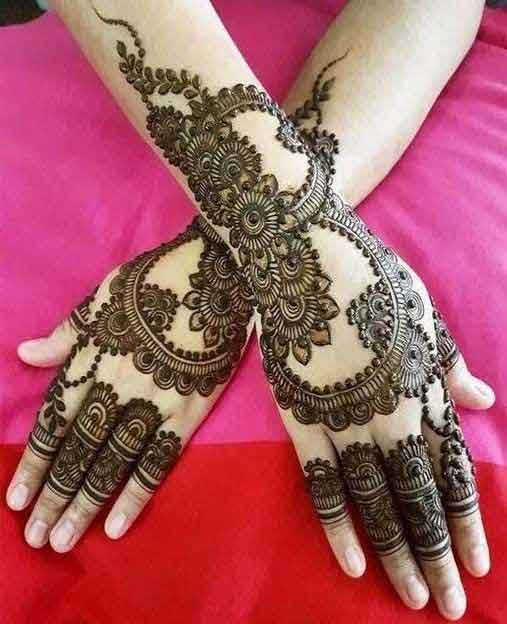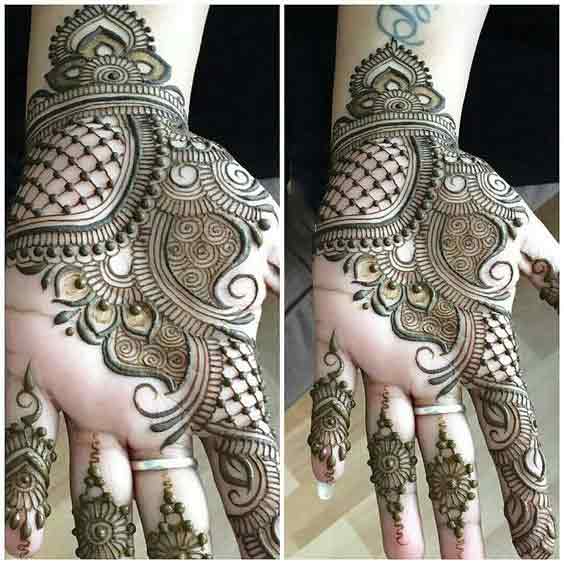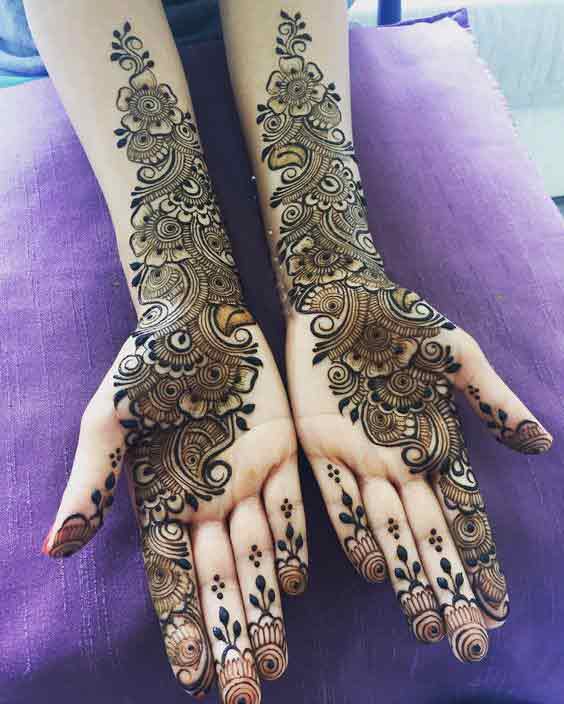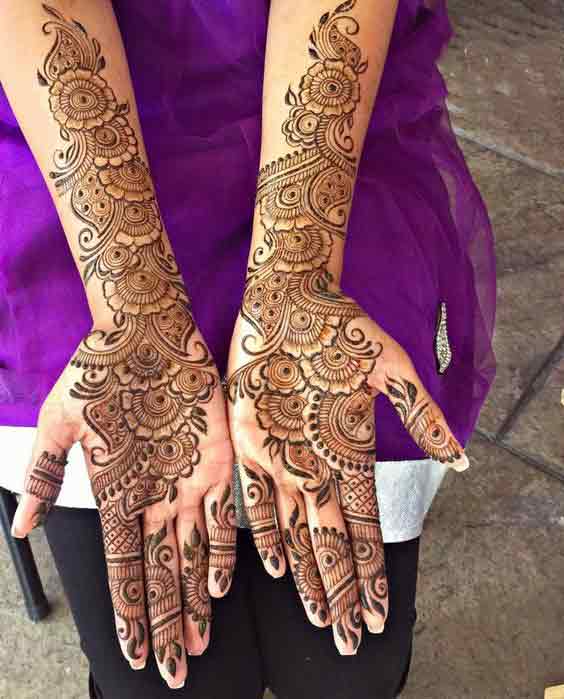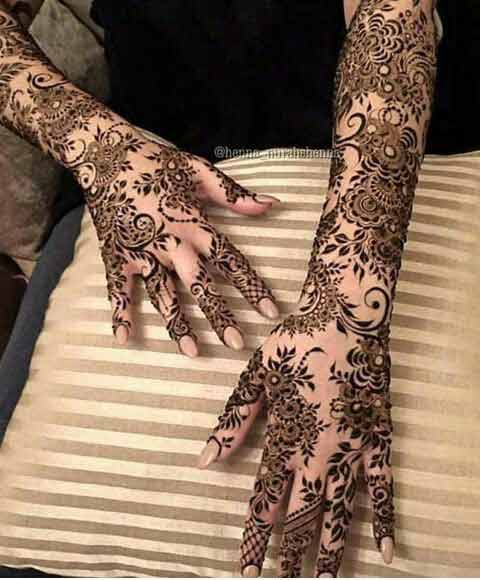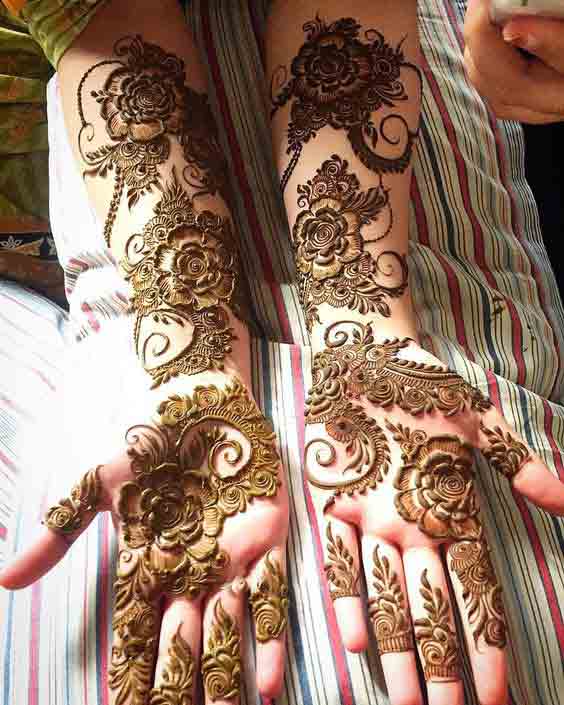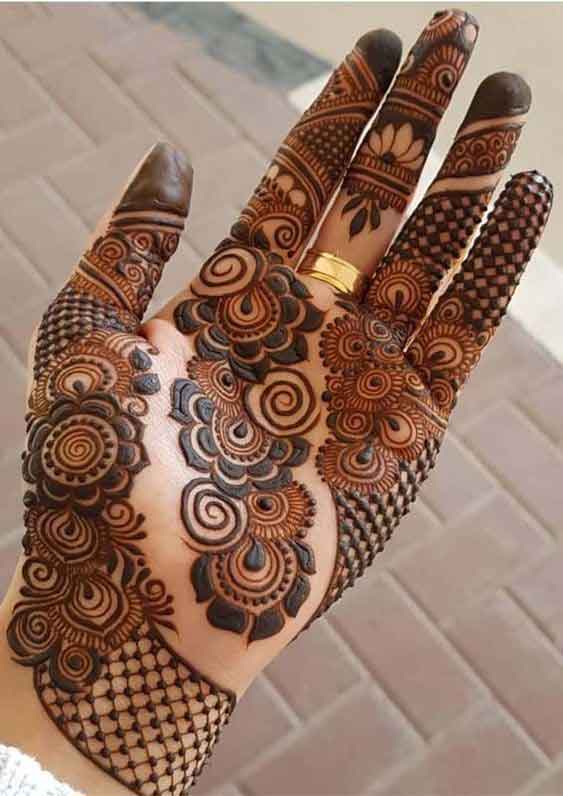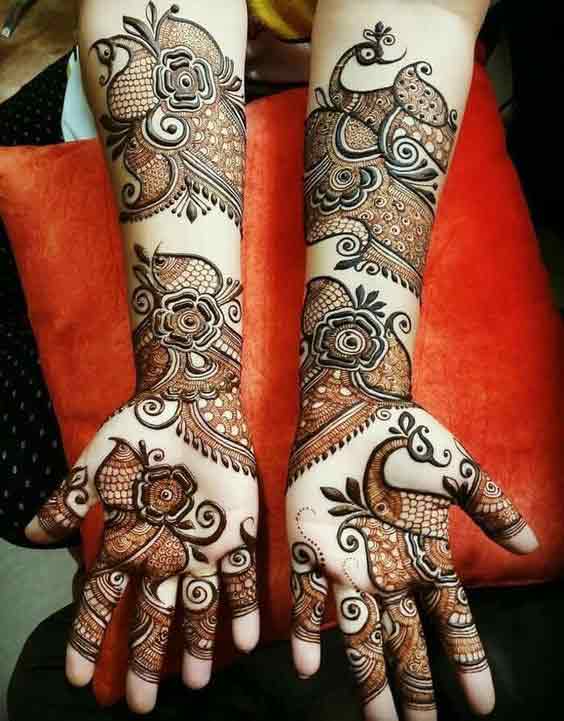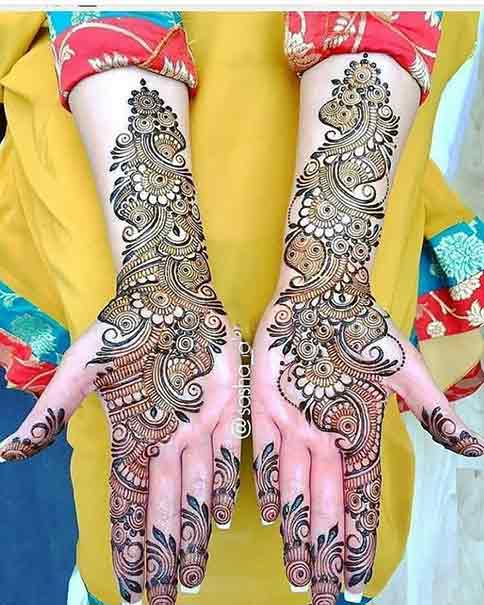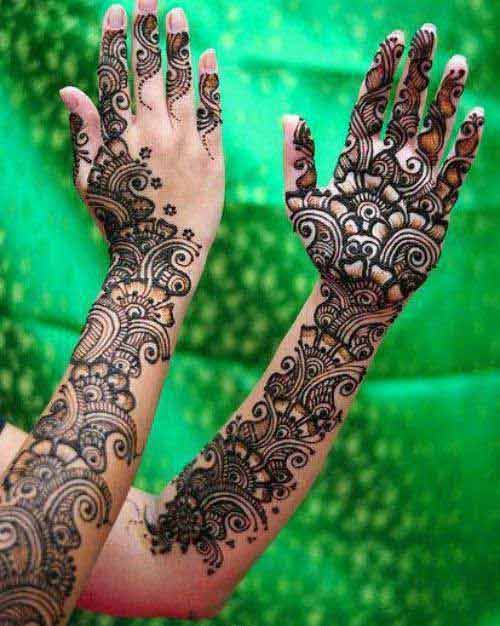 2. FULLY FILLED MEHNDI DESIGNS:
Now here comes the fully filled new mehndi designs for bridals. This is something that is completely, and wholly filled style which doesn't leave any gap or spaces between the patterns or designs. It is mostly made with flowers, circles, or dots, twists. Check out the Pakistani bridal mehndi designs below that are completely filled with intricate mehndi styles.
If you are looking for the mehndi designs for engagement, then we have got you covered!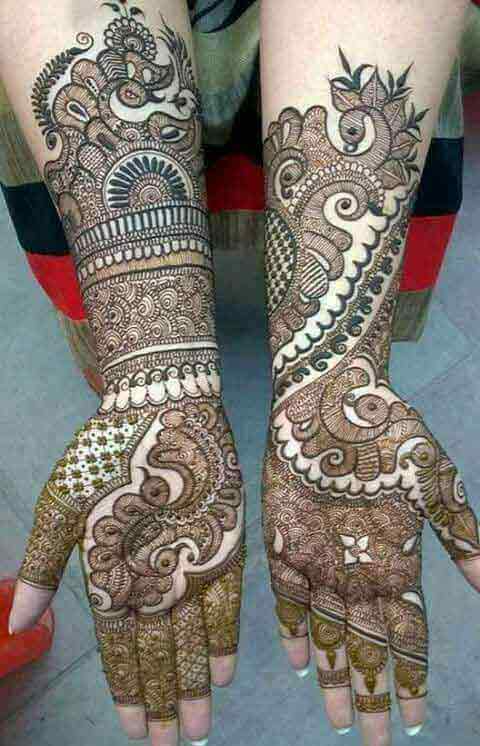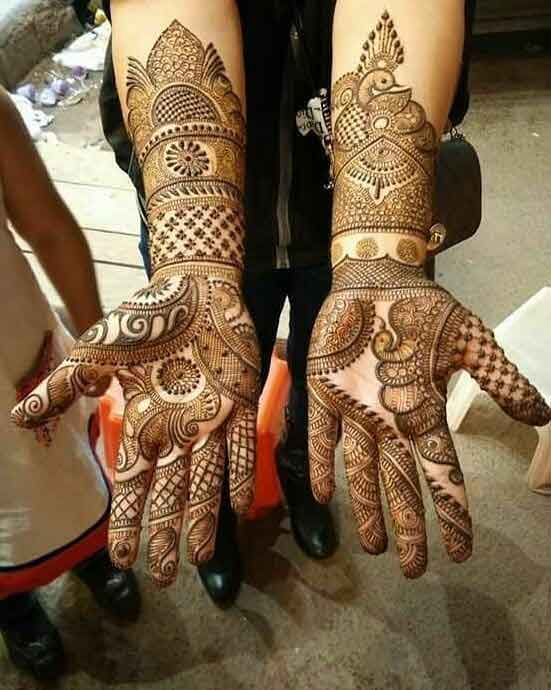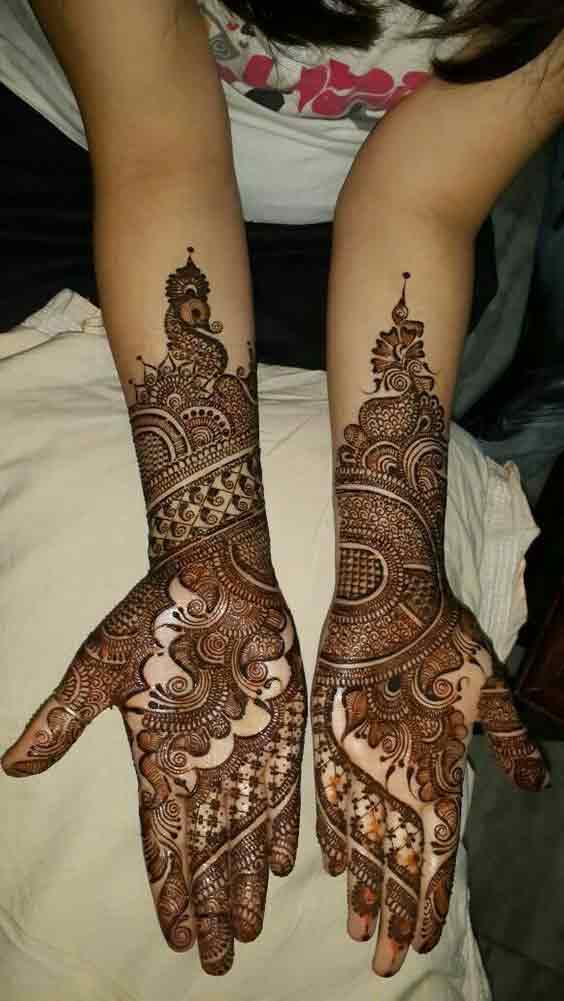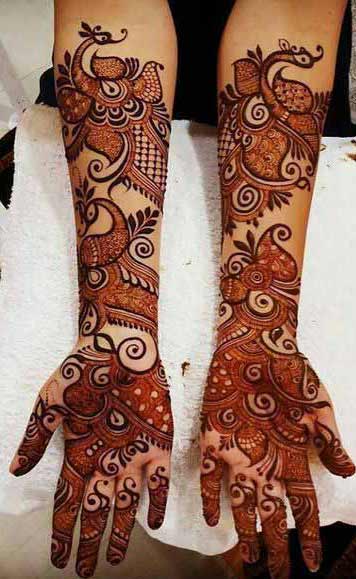 3. ONE SIDE BOOTI MEHNDI DESIGNS:
One sided booti mehndi design can be made on hands or feet. Starting from the palms, this design continues to only index finger. If you want to have intricate style, then you may join it to the pinky finger (little finger) that can be kept separated and can also be joined by dots or lines. Attached photos will elaborate it more.
Another idea of sides design is covering all the fingers, leaving the other areas clean from front or back side. Or you may have minimal mehndi pattern on wrist thus you still have the option of joining the patterns. This is a bit more creative and different. In order to connect, join it with any booti style, dots or lines or keep it clean, it's up to you.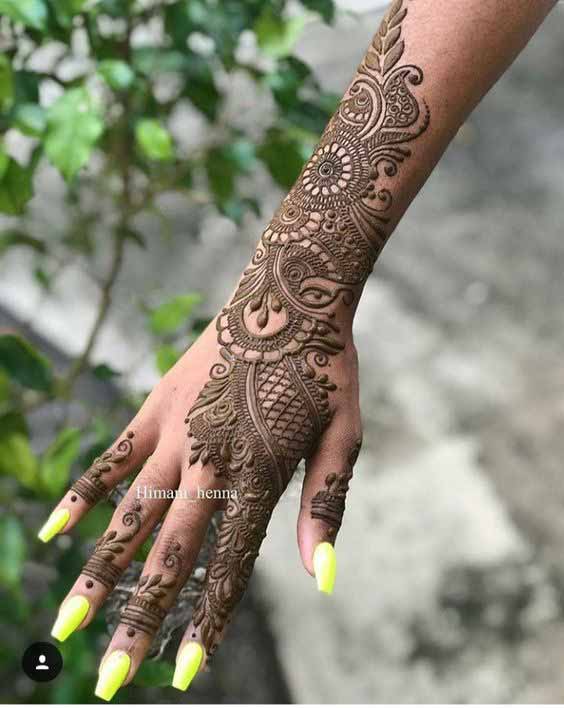 When brides have good know-how about Pakistani bridal mehndi designs, they want it more creative, more unique. Those mainstream designs are a symbol of boredom for them, they are just not attracted towards them.
One side mehndi designs mostly suit to people who want a bridal touch in mehndi but still don't want to it exaggeratedly filled all over the hands and arms.  So this is a perfect mix.
Some of the girls do not want heavy mehndi design instead they want to keep it simple and easy. They actually love a single slanted design from wrist bone to any finger. That can also be formalized by filling over the fingers.
Check out the following simple and easy mehndi design for bridals.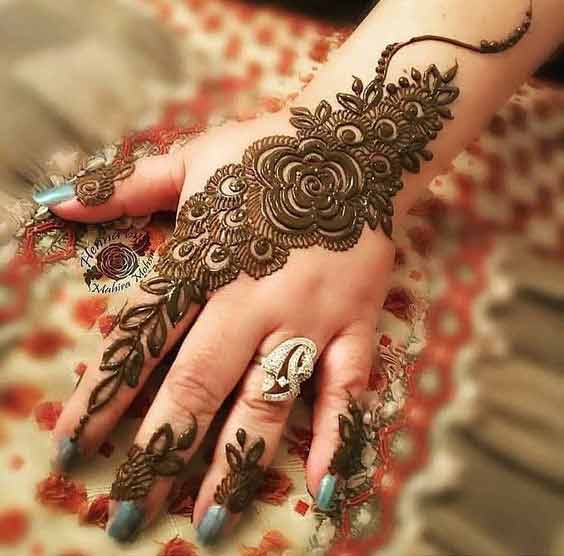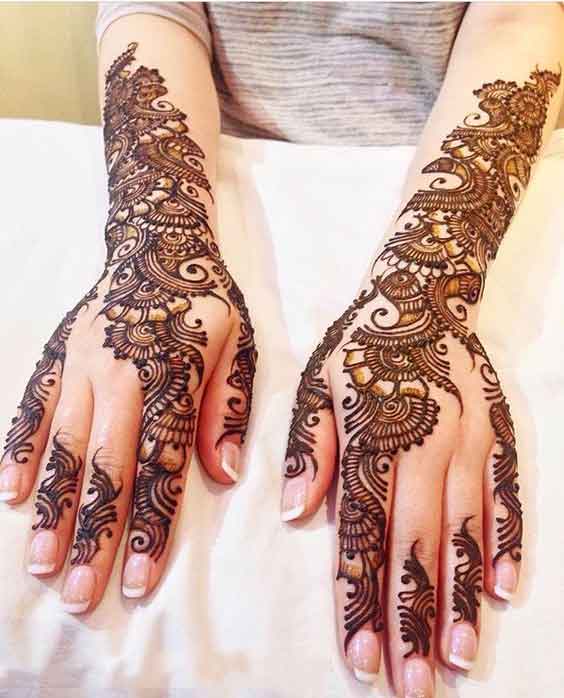 4. MANDALAS OR GOL TIKKA / TIKKI MEHNDI DESIGNS
This one is the most favorite Pakistani bridal mehndi designs! These are all-rounders. Mandalas goes for casual, semi formal, Eid, attendants of any wedding or party and also look super perfect for brides. Gol tikka mehndi design goes a bit more condense. Fingers tips are filled and you have a bride style mandala right here. Make it a lighter one and it's out of bridal range of designs.
Mandalas are very prone to the experiments and usually look good on all hand shapes and complexions. Go for the latest mehndi designs for wedding!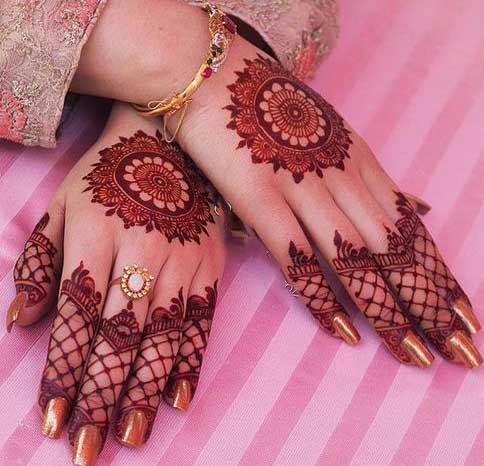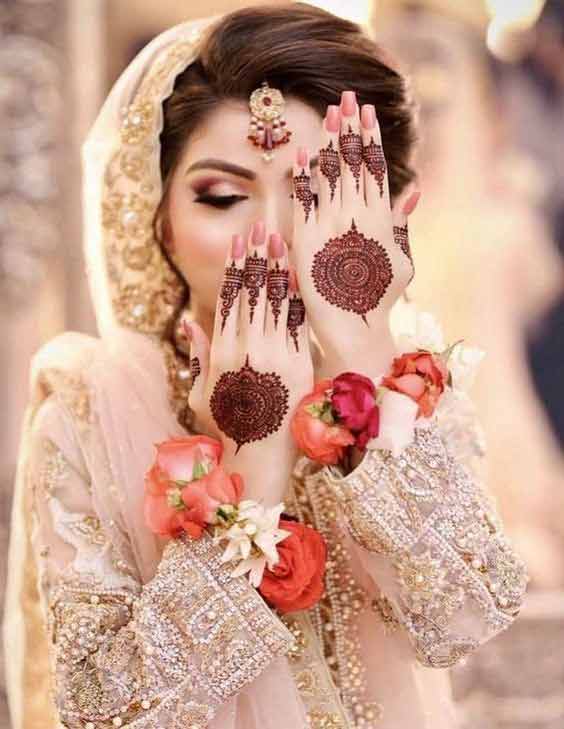 5. FEET MEHNDI DESIGNS FOR BRIDES:
Above all was about Pakistani bridal mehndi designs for hands, but how can we forget our feet?
Well feet designs, and mehndi applications gets a little tricky here! But nothing to worry because we have got your back. Soon you will see the latest mehndi designs for feet.
Let us tell you something before we get to the mehndi designs for feet. It's always better to keep feet in the same theme you have applied mehndi on your hands. It's more classy. Keep both hands uniform, if not same designs, keep it almost same styled. People do like it all different and apply it different but we just suggested what is more stylish and fashionable nowadays. Rest is totally up to on your taste and likeliness. Let's jump up to the new bridal mehndi designs and henna patterns for feet.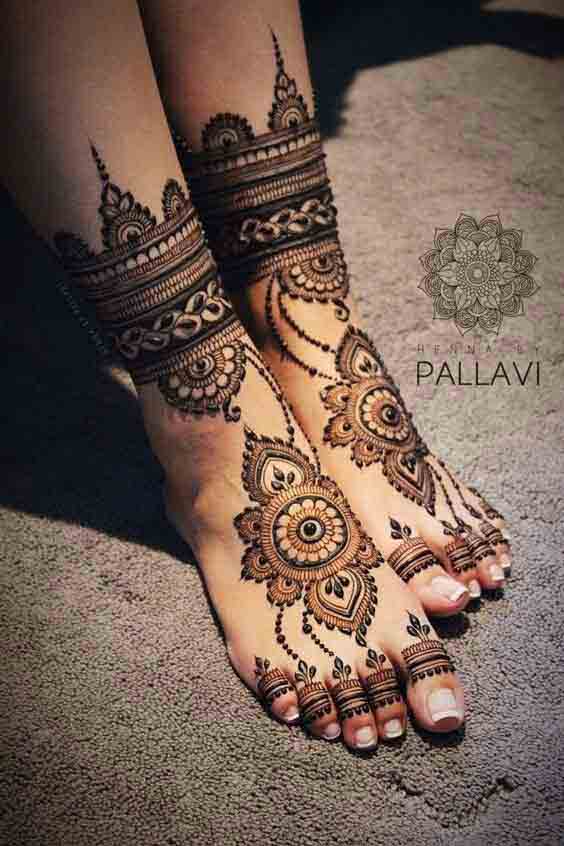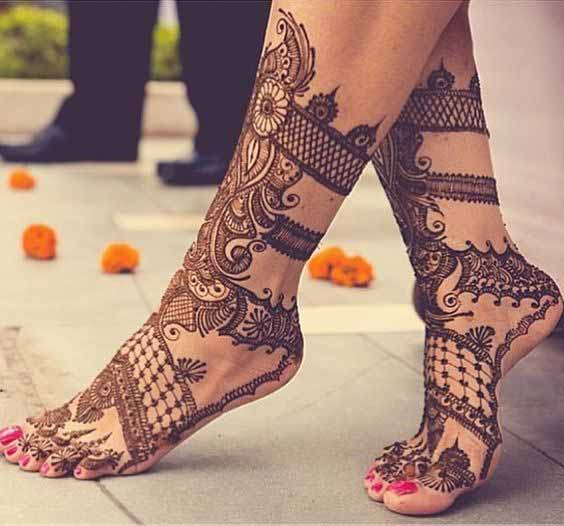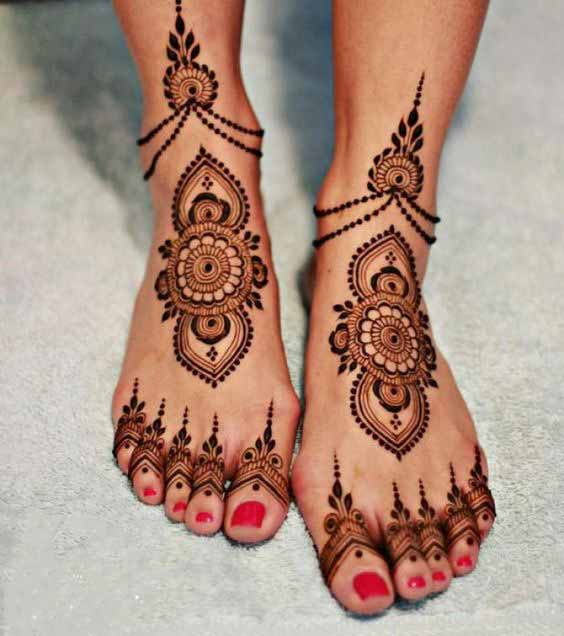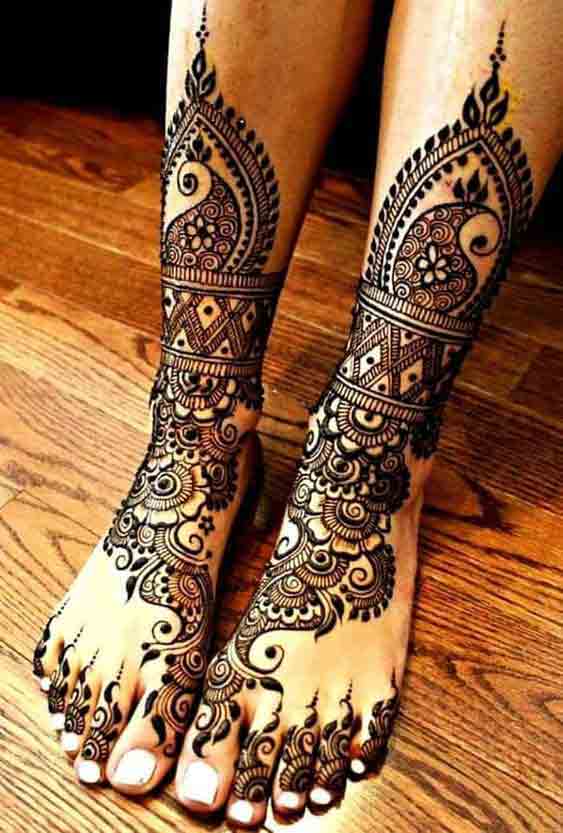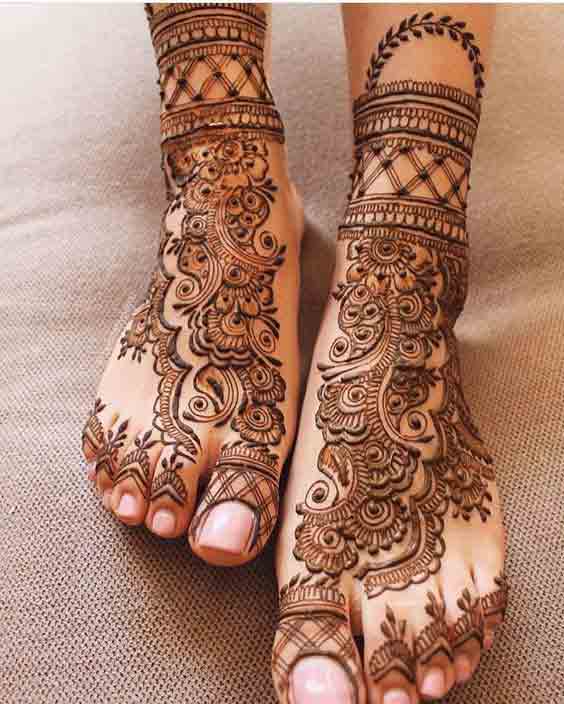 First of all again we have all filled up designs slot. Most of the brides like their feet all filled and covered with nice delicate mehndi design.
So who goes with all covered hand designs, covered feet is complementary. Specially for the brides who prefer to wear sandals which expose feet more.
Again, as hands, sides covering designs are also liked much, From thumb to the inner ankle and from the last finger to outer ankle.  Connect them both with anything or leave them separated both looks equally gorgeous. Again, like hands, a slant design, from thumb to outer ankle or from last little finger to inner ankle, cover fingers or not it's up to one's own decision.
Mandalas once again, turning tables towards themselves.  make a mandala only or do it with finger designs, it's a dapper all the way. As we told you before mandalas are the all-rounders of mehndi designs, they fit perfectly on all shades and shapes.
Last but not the least, this a bit different from the hand one's.  You can do it on hands too but it isn't so much of a bride thing to do for hands.
This is cover the whole fingers with and inch extending to foot and elaborate it more with some descending dots or something. These were styles and designs. In the end we have a little guide to, which style complements which hand more.
Pakistani bridal mehndi designs tips:
If you have a thick, bigger hands, one sided or slant designs will make it look slimmer and more girly. And if someone with this type of hands want to go for mandalas, make it square or diamond, rather than making it round, keep the size smaller and fill fingers more. It will make it appear smaller.
Contrary to above: if you have a smaller hand, make the mandalas bigger. Make design more thicker and fuller that will give it a healthier look. But all of this is a trait and nothing else. We give you all these tricks of making yourself look the way you want for your self-satisfaction. But the truth is you are beautiful the way you are. Embrace yourself and keep shining.
Above you have seen the latest Pakistani bridal mehndi designs images, if you wondering for a mehndi video tutorial, then let us know via comments.