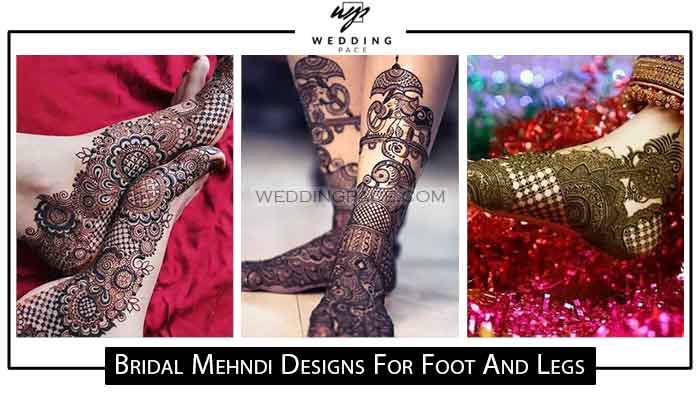 Hello to the wedding brides! If you are looking for the best bridal foot mehndi designs, this article is for you!
Here, I have gathered the most appreciated and unforgettable collection of mehndi designs for foot and legs, especially for the bridals. The auspicious art of mehndi application on hands, feet, legs, or even back – tends to make a bride look super attractive and alluring.
This fun-filled ritual has become more creative than ever before! Brides are more experimental today. When it comes to mehndi designs or henna applications, there are several styles and patterns that can be seen.
Latest Bridal Mehndi Designs For Feet
A variety of unique and creative designs are more attractive to others. Some brides love to have decent and simple red gol tikki mehndi style while others prefer to experiment with intricate and complicated mehndi designs to grab the attention of everyone around as a bride.
Have you checked out the latest mehndi designs for engagement?
Jewelry Inspired Floral Bridal Mehndi Design
The beautiful floral pattern is a fine blend with intricate swirls and dotted lines. Much-appreciated jewelry inspired mehndi pattern gives a vibrant touch that represents the anklet style full of beads and stones. This design is perfect for the mehndi bride.
Gol Tikki Mehndi Designs For Foot
Beautifully applied gold tikka or tikki mehndi design is all you need to pick for your big day! Super enchanting floral shaded mehndi will certainly make you stand apart from the crowd. Traditional or modern, you will look stunningly beautiful with any ensemble you pick.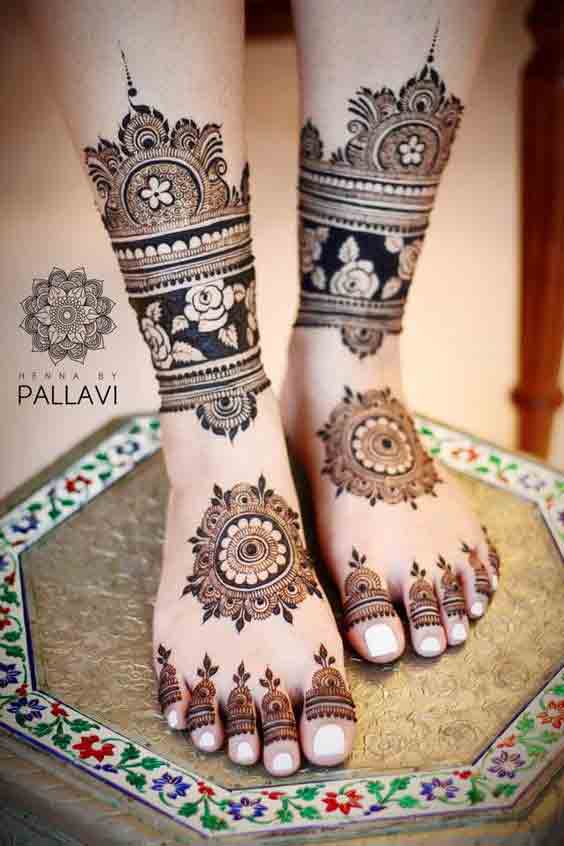 Check-Peacock Inspired Bridal Mehndi Design For Feet
Fully embellished check mehndi design is one of the most trendy henna patterns of 2023. When nothing comes to your mind regarding how to fill up space, fill it up with check pattern either dotted-square or dotted-circles (as shown below in image). It will absolutely make your design intricately creative and alluring as it gives the illusion of adorned beads.
Dotted Check Simple Foot Mehndi Designs
Another check style is here! Fill the in-between spaces with dots and draw fence-style mehndi design on fingers.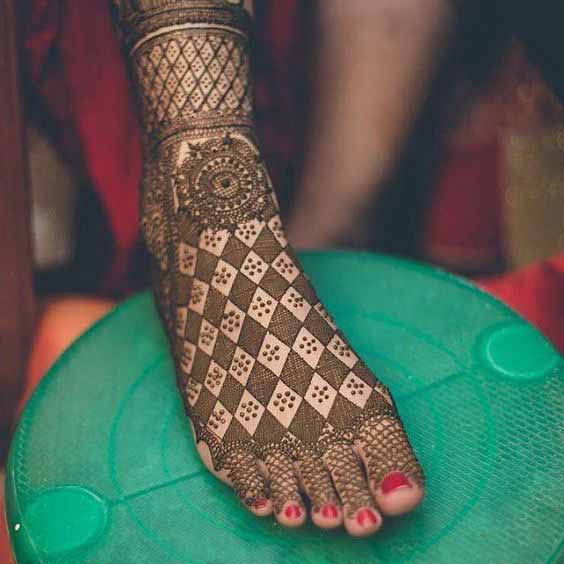 Gol Tikki For Bridal Foot And Leg Mehndi Design
No style is more alluring and vibrant than a small mandala gol tikki surrounded by creepers pattern straight to the ankle and shaded thick mehndi design on leg. Plus, red mehndi on the bottom of the foot and on toes seems dazzlingly beautiful for the wedding brides.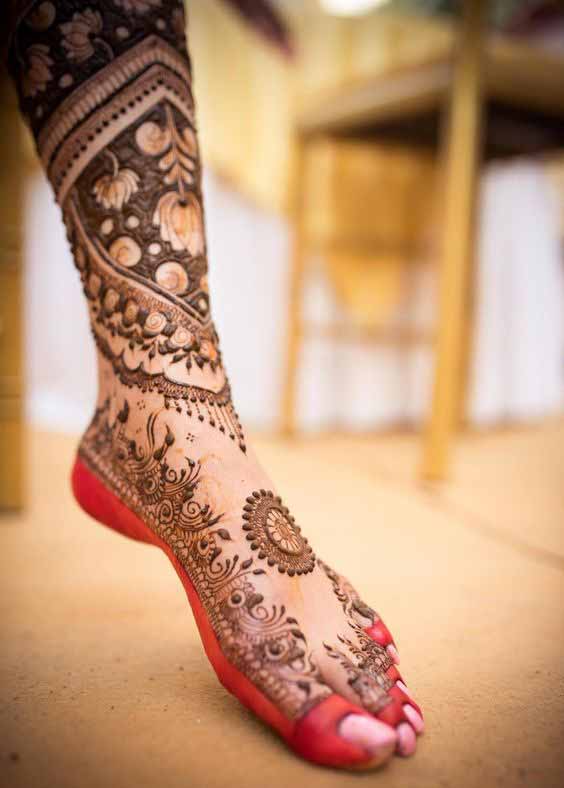 Peacock Foot Mehndi Designs For Bridals
A beautiful peacock inspired thick mehndi is all you need to have on your big wedding day. A beautiful mandala is surrounded by the complex check pattern and swirls. This design is an absolute choice for the wedding brides.
Bridal Panjangla Mehndi Designs For Foot
Who loves to have panjangla mehndi design for feet? Here is the most beautiful one that you can give a try. Adorne your ankles with beautiful patterns. Choose the simple foot finger mehndi design to enhance the overall mehndi look.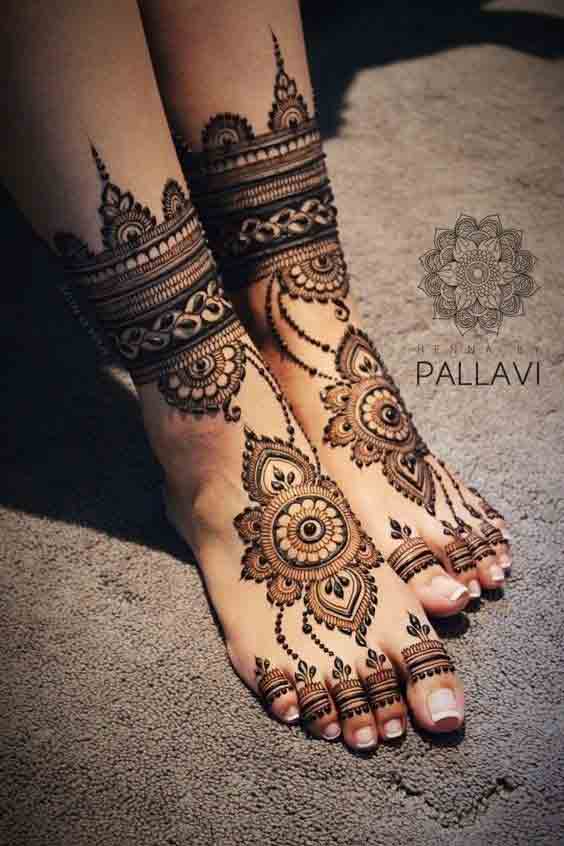 Complex Full Foot Mehndi Design
This one is certainly a complex mehndi for feet. This design needs immense visualization to draw out. The artist needs to concentrate on the minor details to go through this design that absolutely looks stunningly tremendous.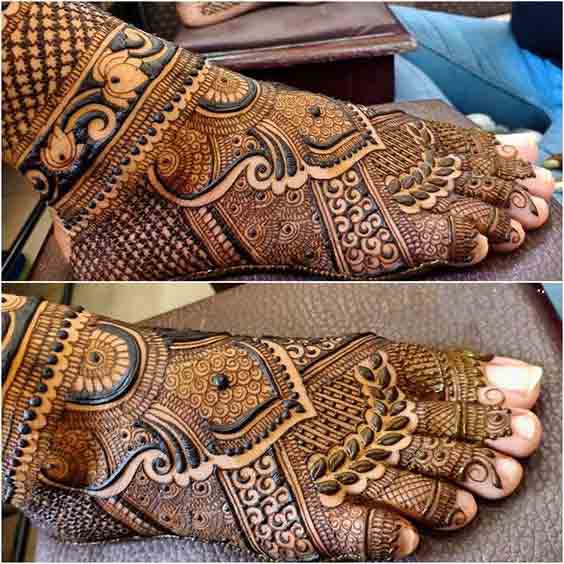 Dulhan Mehndi Design For Leg
Who loves the thick mehndi design for bridals? Beautifully applied this henna style will win the hearts of everyone! Dulhan (brides) love to have rich and dark mehndi color on their feet and legs. Try out this style to turn everyone astonished with a unique mehndi pattern.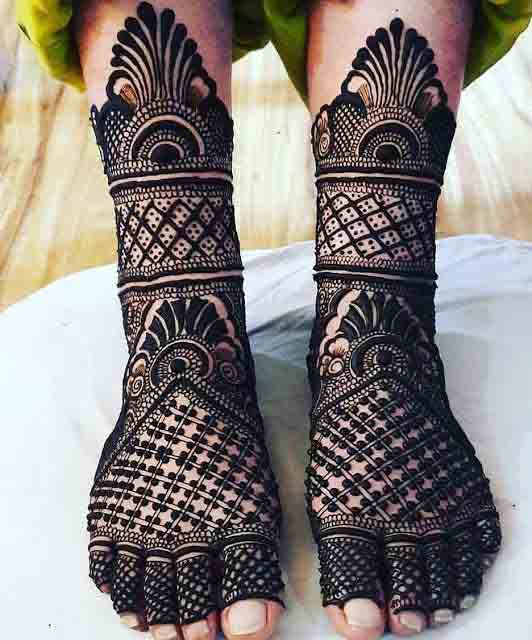 Hearted Check Bridal Mehndi Designs For Foot And Legs
Ravishing thick hearted check mehndi design is an all-time favorite and most coveted by young brides. Red nail paint is absolutely enhancing the grace of this pattern.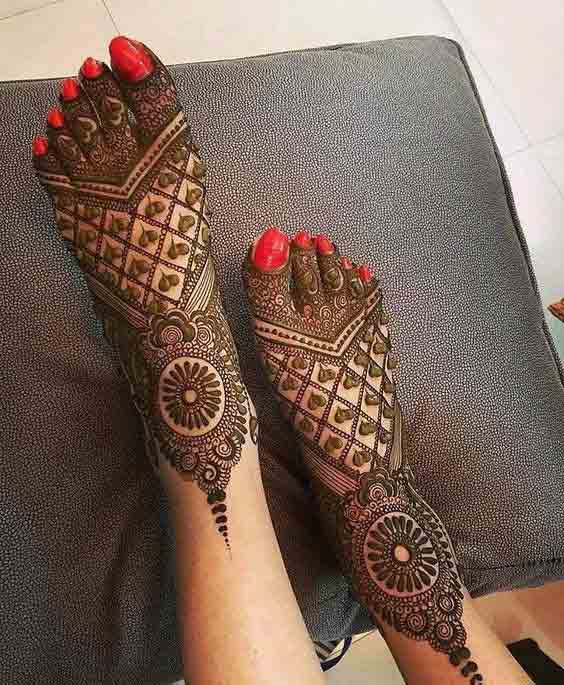 Arabic Foot Mehndi Design For Brides
Leaf-like mehndi style is one of the oldest design that is not only easy to draw but also equally tempting. This is why Arabic mehndi designs are the most popular of all. Floral patterns of roses, lotus, leaves, and finishing the style with dots is super charismatic and alluring.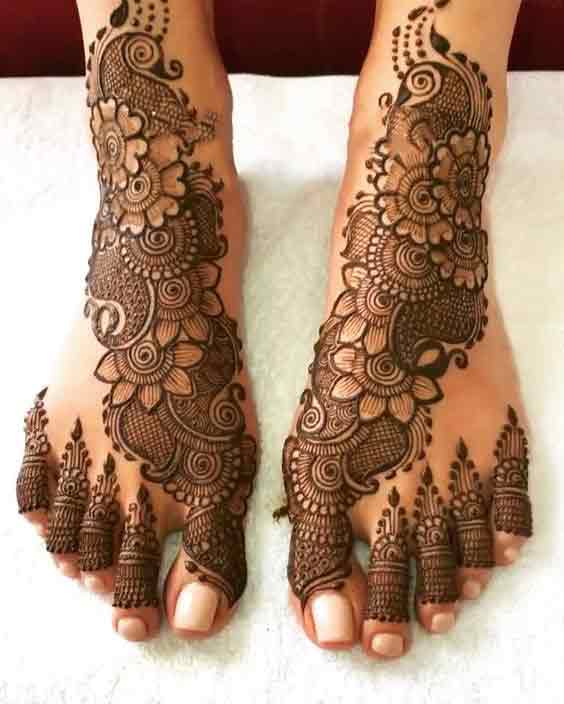 Easy Floral Side Mehndi Designs For Feet
This beautiful floral side mehndi for feet is full of swirls and dotted check pattern. It is designed straight from toe to the heel. Enchanting empty flowers are adding more beauty to it. This style can never fade to impress!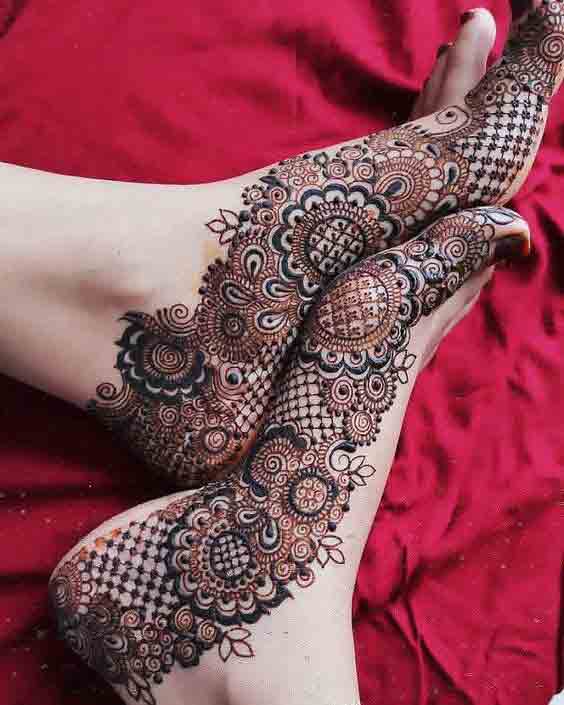 Easy Mandal Gol Tikki Mehndi Designs For Feet
Try this easy gol tikki mehndi and you will love the finished look. Dots, leaves, and swirls will decorate it more beautiful and feminine.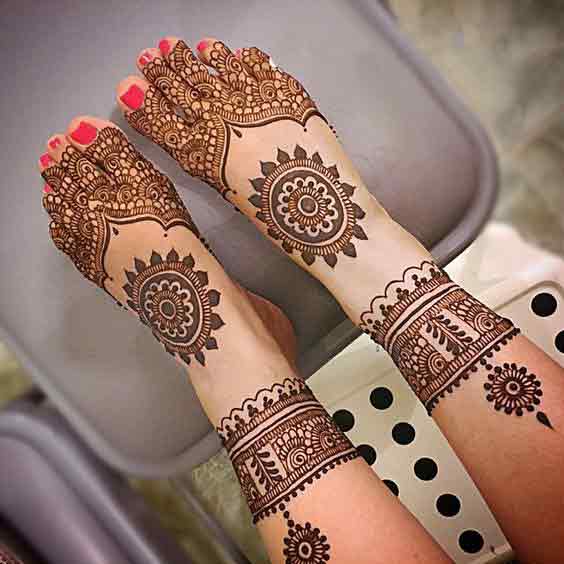 Bridal Mehndi Designs For Legs
Beautiful complex full feet and legs mehndi design is trending nowadays. Today wedding brides are inspired to have complex and fully decorated thin mehndi style on their feet and legs. This dotted unique mehndi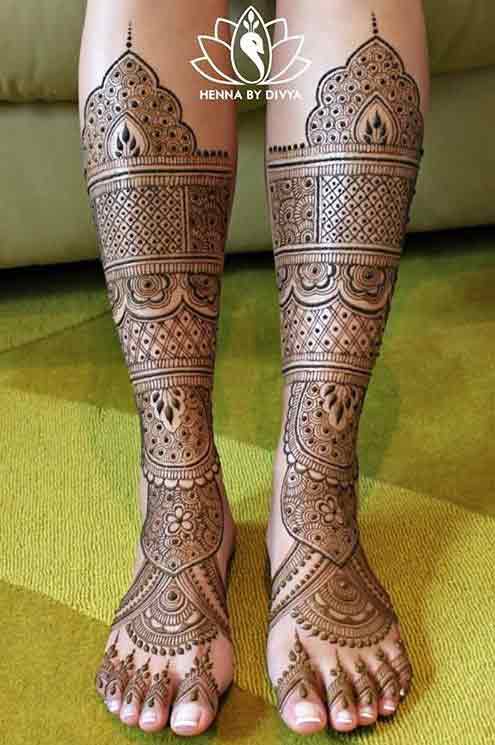 Wedding Mehndi Designs For Bridal Feet
Here comes one of the super trendy and gorgeous bridal mehndi designs for feet. Intricately designed this style is ready to impress everyone. Dotted check, floral pattern, and fun-filled spaces will certainly grab the attention of people around you.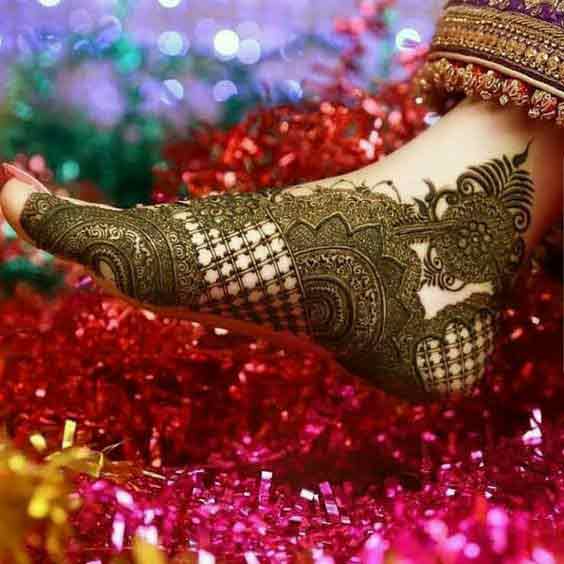 Panjangla Bridal Foot Mehndi Designs
Another panjangla foot design is mesmerizing for the wedding brides. The recurring manner of this style is on the go!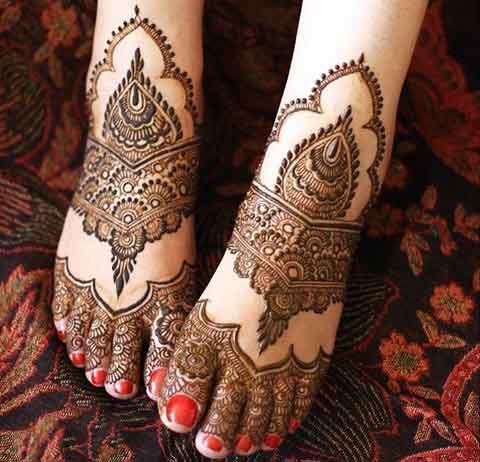 Indian Mehndi Designs For Feet
Indian mehndi designs are well known to everyone and much appreciated. You can add peacock motifs and fence to this beautiful design.
Here are the Pakistani bridal mehndi designs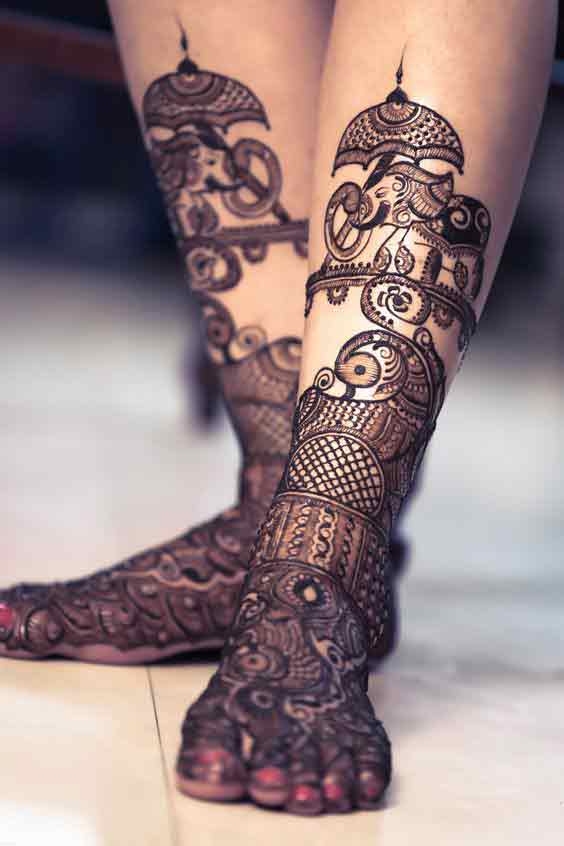 Geometric Foot Mehndi For Wedding Brides
Geometric shapes are the beauty of this design. It creates a versatile pattern that attracts everyone.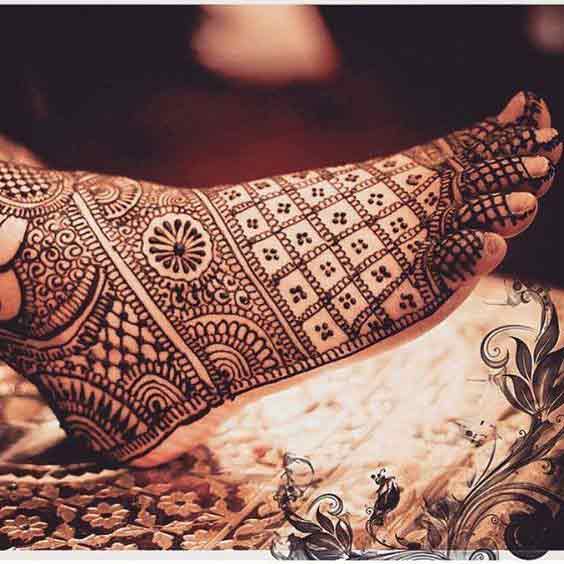 Arabic Bridal Mehndi Designs
As the wedding season is ahead, it's all about following the latest trends. Arabic mehndi designs are the most popular henna patterns all over the world. So here comes the trendy bridal foot mehndi in Arabic style. Vines and swirls are the beauty of this form.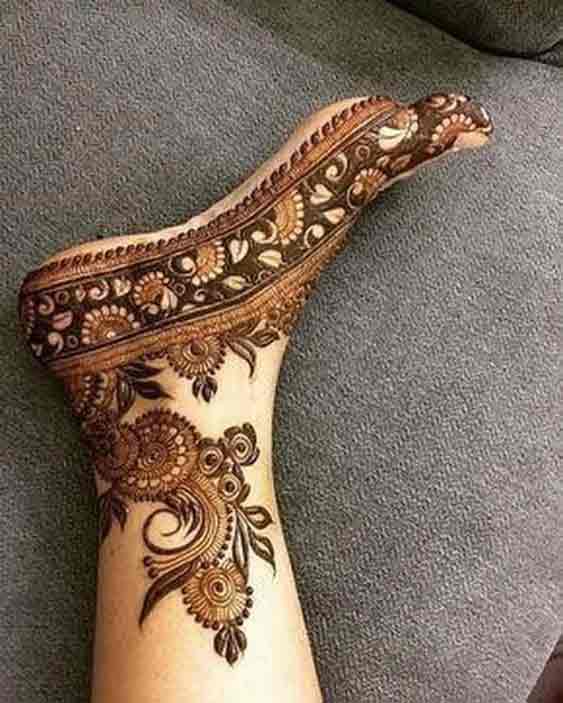 New Mehndi Design For Feet – Jewelry Inspired
This is another foot jewelry inspired mehndi design for wedding brides. The beautiful floral pattern is super eye-catching when it is made on the ankle. The design is combined with the small circles and dots that are looking like charismatic embellished stones.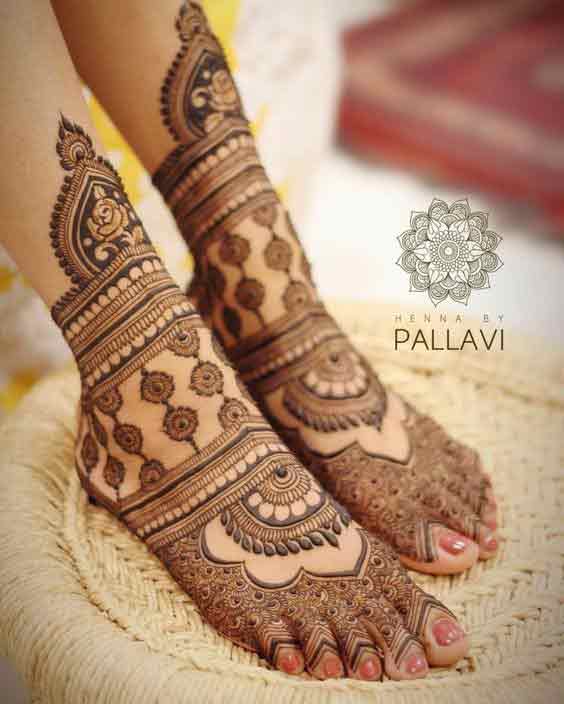 Rajasthani Bridal Mehndi Designs For Full Feet
Here comes the traditional Rajhistani bridal mehndi style. Peacocks and elephants are the central choices of this mehndi design. Rajasthani mehndi is trending now not only in India but also in Bangladesh, Pakistan, and other Asian countries.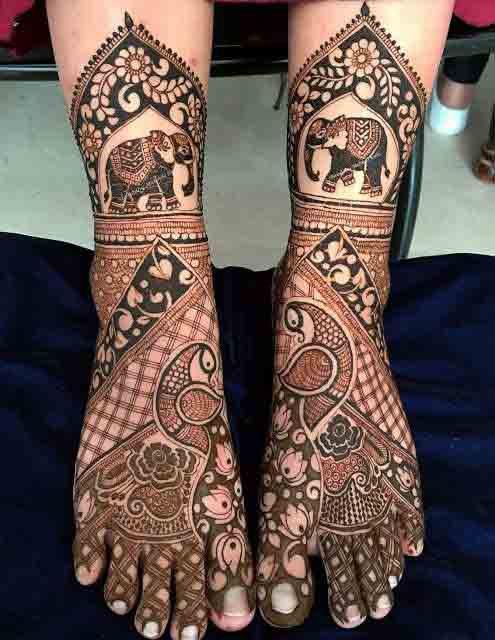 Intricate Mandala Bridal Mehndi Designs For Feet
Are you ready for the complex yet most beautiful mandala bridal mehndi design? Stand out from the rest of the crowd by applying this trendy mehndi style. You can add swirls and teardrops to decorate it even more.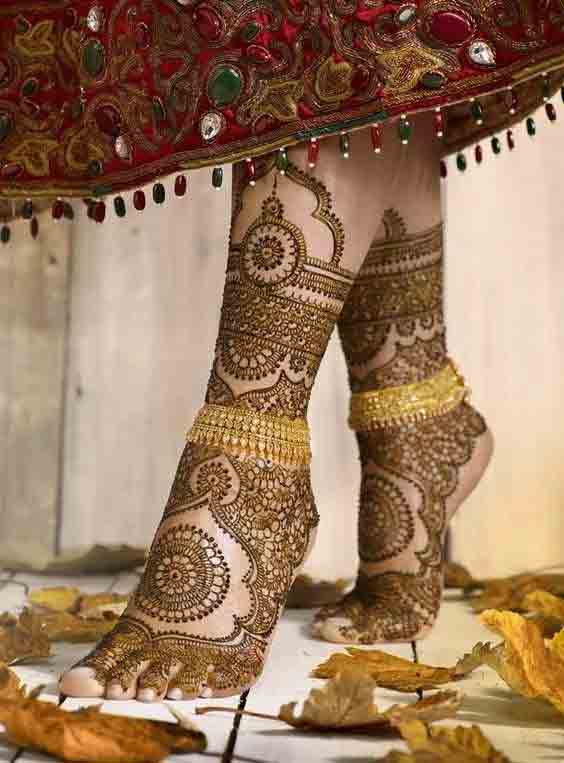 Easy Mehndi Designs For Feet
Here is the most simple and easy mehndi design for feet. Draw the same pattern twice and finish the look by make a cute little flower at the top of your design. Don't forget to apply the thick, shaded mehndi on toes and you are done!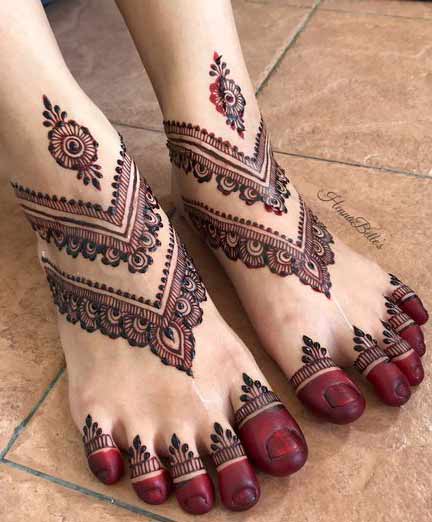 Mirror Image Bridal Mehndi Design
Get your hands on the mirror image bridal mehndi designs for feet. This design is achieved by applying the same pattern on both legs and feet. A perfect art to take pictures and inspire everyone around. It shows the remarkable skills of Mehendi artists.
Above you have seen the top bridal mehndi designs for feet and legs with images. Get inspired by your favorite style and go for that on your big wedding event.