Are you looking for the new styles of beautiful Pakistani bridal sarees for weddings? Have you decided the color combinations, fabric type and draping style of your bridal saree that you want to wear on your big day? This article will help you out to take the sound decision concerning all the things that you must keep in mind as a classic yet conventional wedding wear.
Today,  you will see the Pakistani designer sarees in a variety of attractive hues and most suitable combinations including:
Black
Red
Golden, and
Pastels
Do you know about the beautiful Pakistani bridal sarees draping styles? Well, at the end of this article you will come to know about the sumptuous saree designs that will certainly make you stand apart from the crowd. Following are the latest Pakistani saree designs to be considered in 2021.
Lehenga saree
Fishtail saree
Maxi cut saree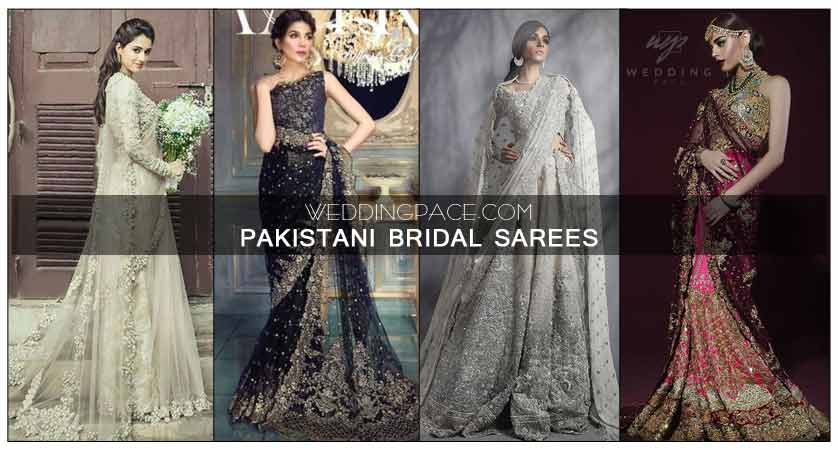 Are you ready to check out the new designs of Pakistani bridal sarees?
Do you hear the wedding bells? Well, we do! Time to crack the toughest nut of "What To Wear". So, what are your inclinations this event? Are you thinking of wearing a traditional wedding outfit like Pakistani peplum dresses, lehenga choli, or frock with gharara? We have thought about bursting this bubble in your head and suggesting you something very ethnic and conventional compilation of latest saree designs. Yet the most elegant thing to carry in a wedding; is a Saree!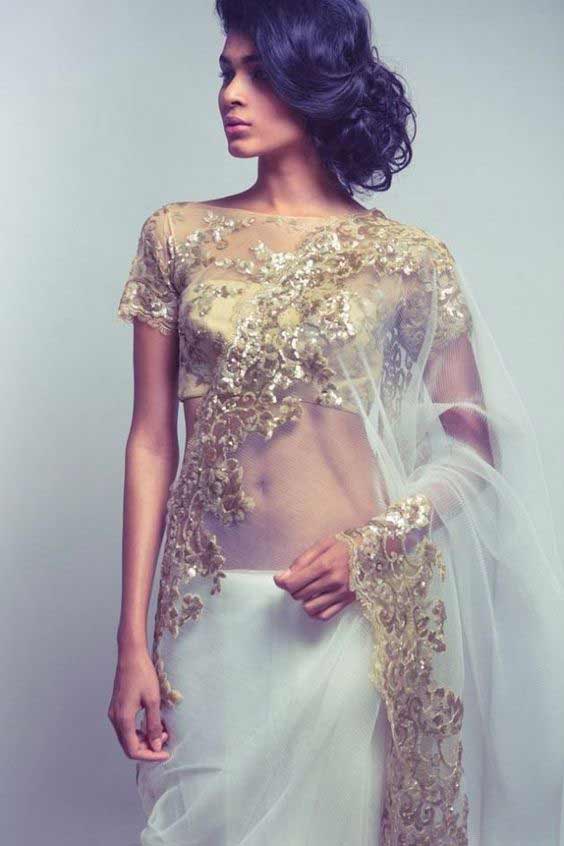 Best Pakistani Bridal Sarees For Wedding Events
Before we dig into the latest Pakistani bridal sarees collection, we know that the variety of wraps and alteration in a saree fall unlocks all the restrictions of carrying it snugly. This particular bridal wear is one of the most ancient styles of dressing up but is still considered to be the boss of trendy clothing. We have plucked up some contemporary, up to the minute shades and hues for you, also we have some show-stealing ideas of moderating the outfit to add groove in your look.
Look at the following beautiful and new saree design that can help to grab the attention of everyone around!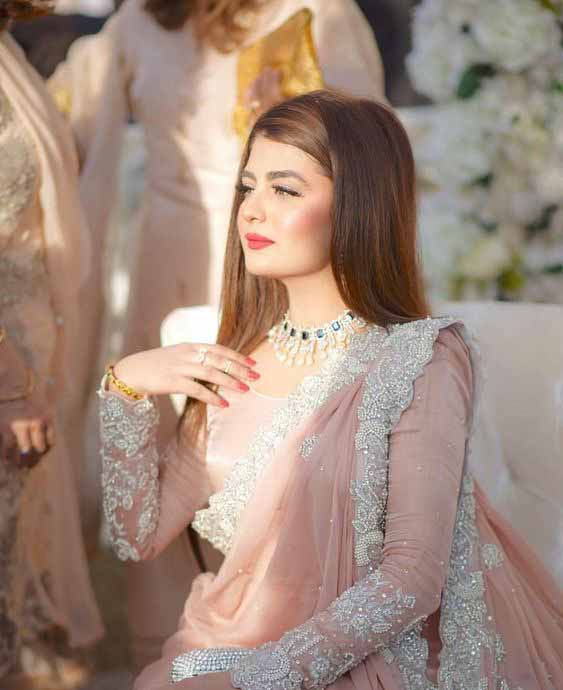 SAREE FABRIC TYPES:
Remember that the choice of fabric can enhance or step-down your beauty. Go for the fabric that will make you look nicer, slim, tall and voguish at the same time. Pakistani bridal sarees come in various fabric types including:
Silk,
Chiffon,
Brocade,
Net,
Banarasi silk, and so forth.
If you want to carry your saree in a most comfortable way during the long ritual hours of the wedding event, your first choice must be the silk! Although silk fabric is quite expensive thus the designers cost it superhigh, you may choose to have fully embellished chiffon or brocade saree.
Read more:
Do you want to see more Pakistani wedding dresses for bridals? Do not miss to check out these Pakistani engagement dresses that will certainly inspire you.
SAREE COLOUR COMBINATIONS:
Bridal saree colour combinations profoundly depend upon the wedding events. So, for which day are you looking for the Pakistani bridal sarees? If it is for the wedding (barat) day, go for the attractive blood red, magenta, purple or golden shades, and if it is for the reception (walima) ceremony, then you may opt for the elegant pastel hues from the palette.
Colour selection tip:
Fair Complexion: Pick pastel for the light and fair skin tone as it will enhance your features. Try pastel blue, mint green, periwinkle, baby pink, and heather grey.
Medium-Coloured Complexion: For the best results, wear metallics such as gold, green, brown, and yellow.
Dark Complexion: Bold and bright color combination will pop and complement your skin tone. Choose jewel tones, such as turquoise, and emerald green. Avoid black and other deep tones.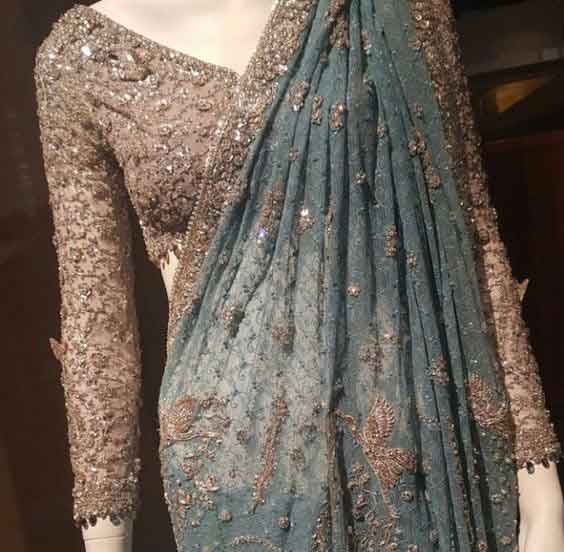 Beautiful Pakistani Bridal Sarees With Images
This is the aeon when we have numerous styles, colour combinations and wraps choices to drape a saree. It is very traditional and still fashionable to wear heavily embroidered and fully embellished work saree on your big day. When someone talks about royal and gloriously elegant apparel, Pakistani bridal sarees are the first thing that comes to the mind. In past days, sarees were just bound to the aged women but now this is an open option for Pakistani bridals and young girls as well.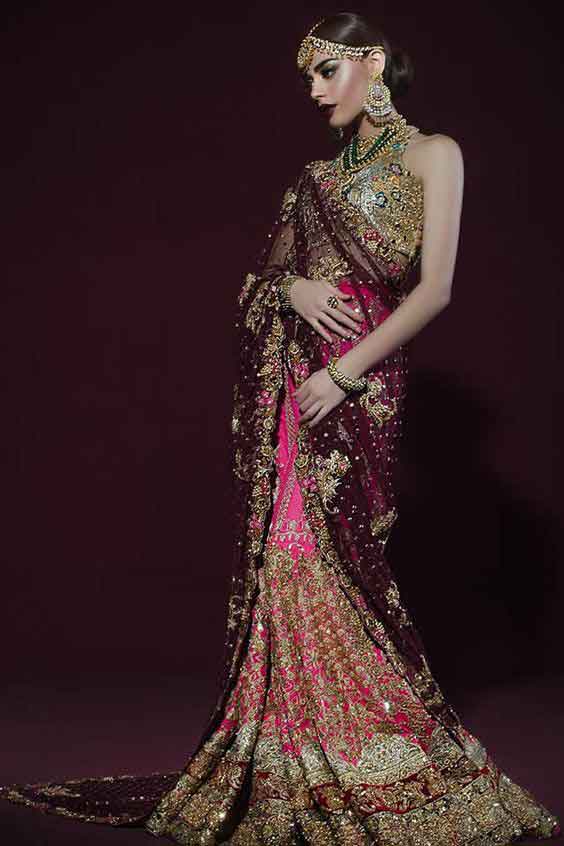 Black Saree Designs For Pakistani Brides
Black is never outa fashion race, it still kills the hype of every chroma when it comes to the show. Pakistani saree designs in black are the perfect shade for everyone, for every physic type, every complexion (other than dark) and cover all ages as well.
Go for a jet black saree with a glittery golden blouse (or any other popping coloured blouse), add some embroidery to the neckline and sprinkle pearls and stones everywhere on the bottom or pallu of a saree. And If you don't want Pakistani bridal sarees heavy yet a bit formal then fuse an embroidered top with a plain saree, or lightly sequined.
Check out the beautiful black Pakistani saree images and get inspired from!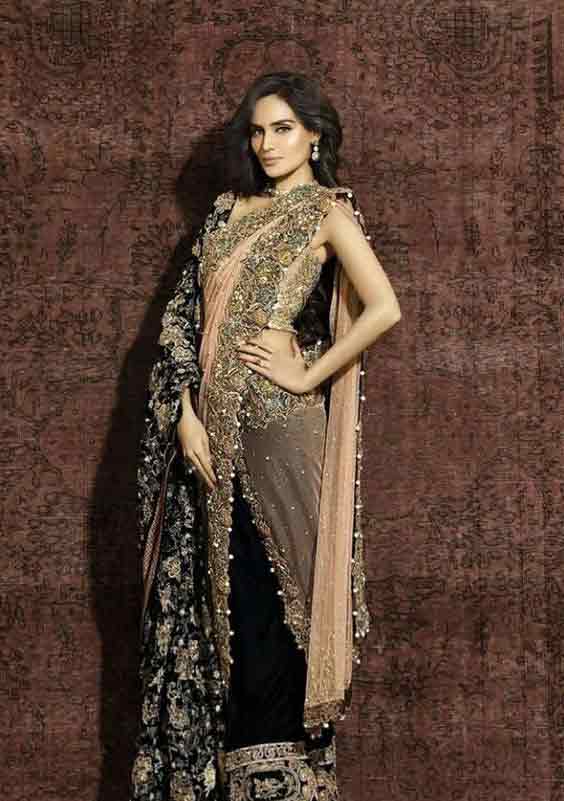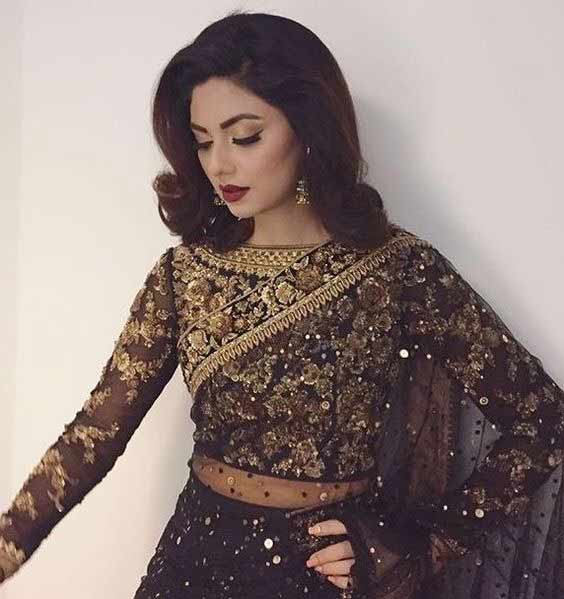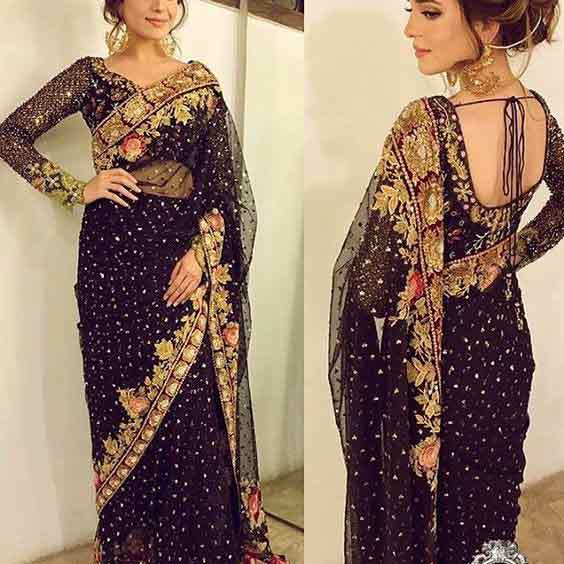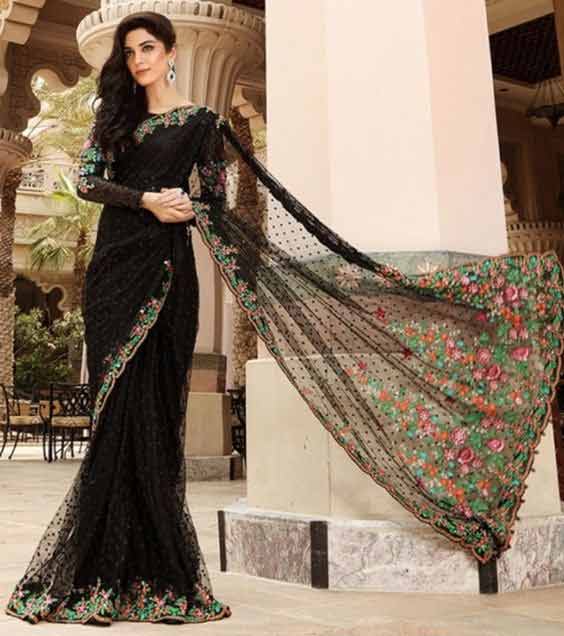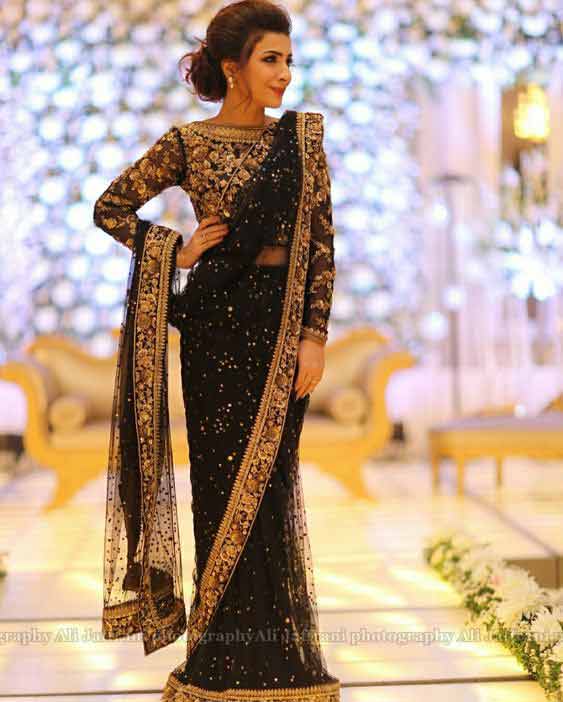 Pakistani Bridal Sarees In Red Colour
Another luxuriously ravishing hue that never fails to be a trendsetter for Pakistani bridal sarees, is none other than the Red. This is considered as signature bridal shade because it has certain warmth in it and conventional vogue too. That's why every shade of it carries a distinctive attraction in its own.
When it comes to the bridal dresses, you must not miss the red colour! Drape up a pure silk red saree with any luxuriously embroidered or sequined blouse to become the queen of your wedding event. A red saree will surely set the look on the heat in all ways.
Check out the latest red saree design for wedding brides!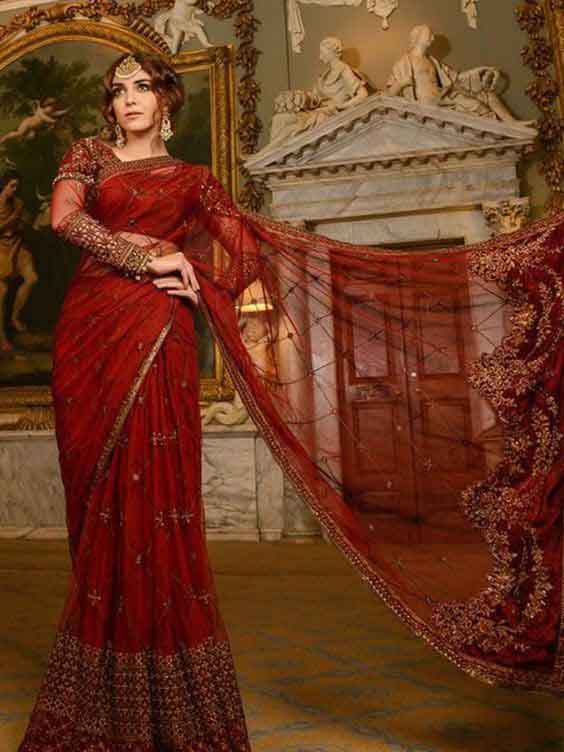 Beige And Golden Saree Designs
All embroidered panels and blouse designs of beige and golden Pakistani bridal sarees are always darlings. You may add gold or multi-colour adornments to the bottoms of a saree as it will glamorize your whole look. Complement it with heels and you are all set to steal the show.
Go for the following Pakistani designer sarees collection consisting of sober colours of beige and gold plus the artistic designs will certainly leave you awe-inspiring.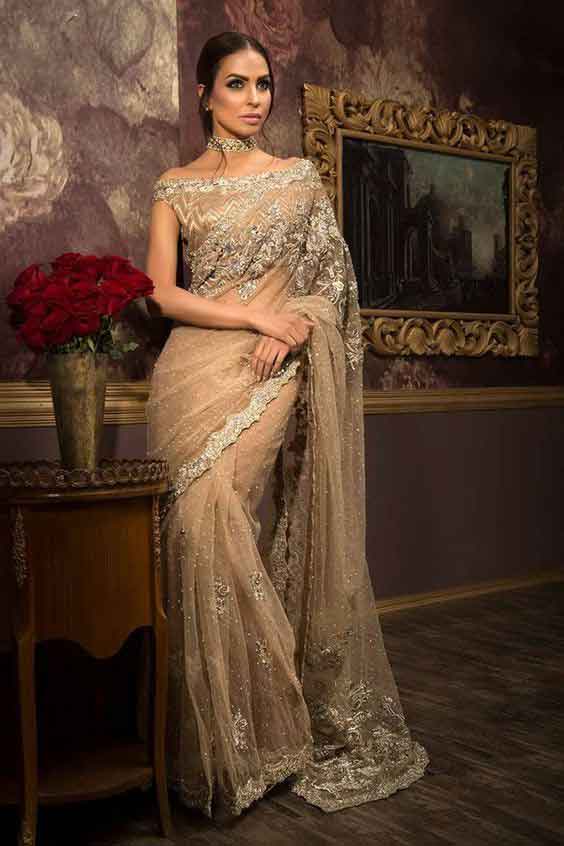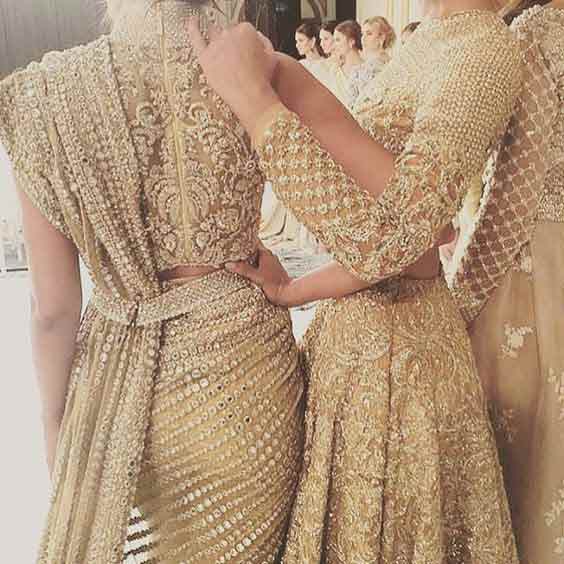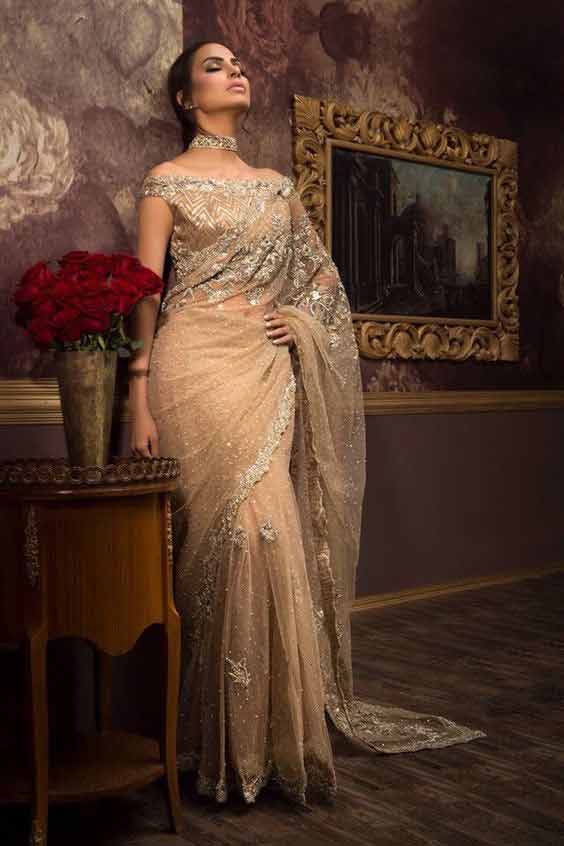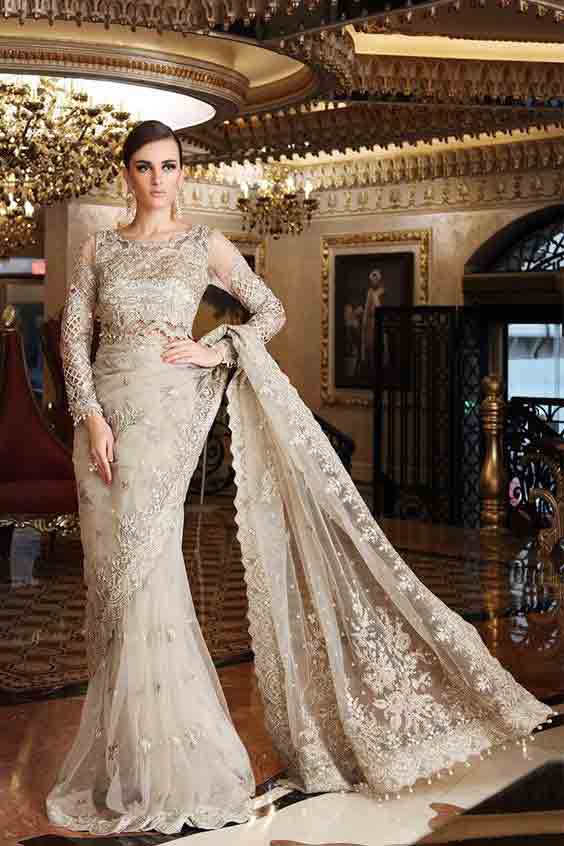 Pastel Sarees For Wedding Brides:
Pakistani bridal sarees in pastel shades are the most popular trend amongst this era. Light green, peach, teal, off-white, grey, pink and many more colours are at all the rage this epoch. Pastels adorned with pearls, or moti, dabka work, 3d embroideries are the ultimate rockers.
Have a look at the beautiful Pakistani bridal sarees in pastel colours!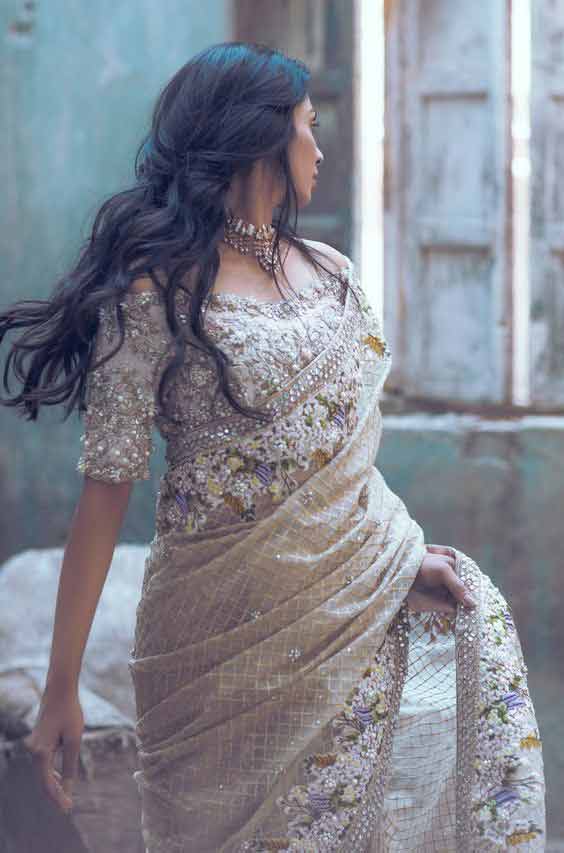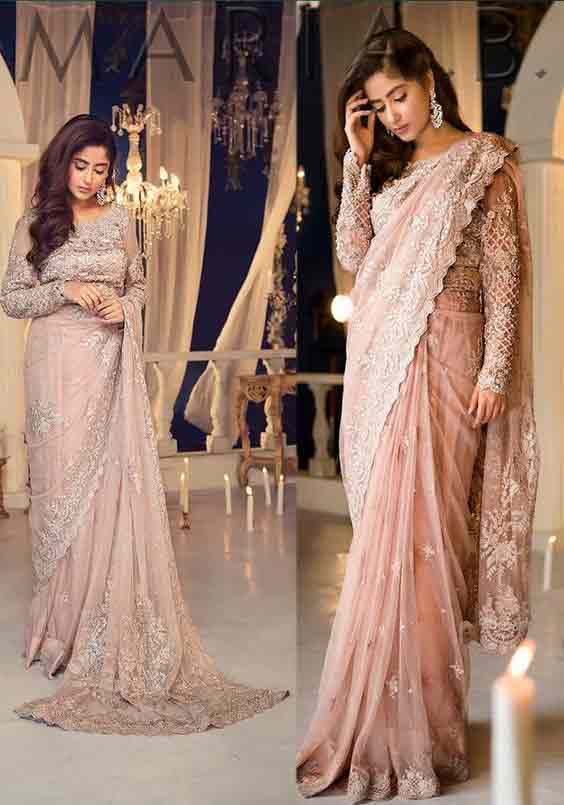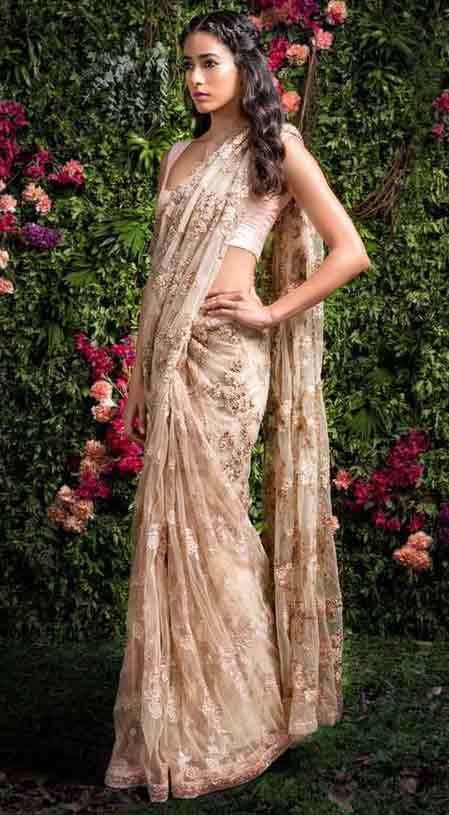 Pakistani Bridal Sarees Draping Styles
Today we have multiple drape styles, which can add more drama to saree and make them fit any age women.
Lehenga saree
Fishtail saree
Maxi cut saree
Now let's have a look at the following saree draping styles!
1. LEHNGA SAREE:
This style is inspired by Lehnga Choli, the section of saree which is supposed to be draped on a petticoat, the dupatta is attached to a lehenga style bottom, and pallu is wrapped around the waist. This looks flawless.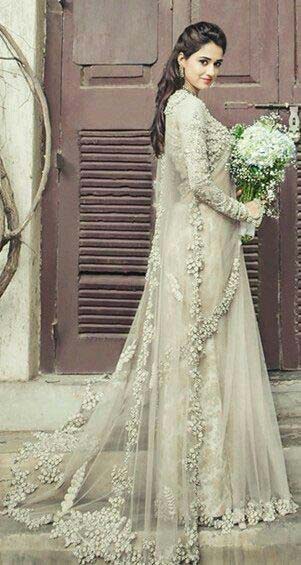 2. FISHTAIL SAREE:
This style gives a look of fishtail skirt, worn as saree. the bottom is actually tailed or flared skirt and again pallu is wrapped around to give it a saree look.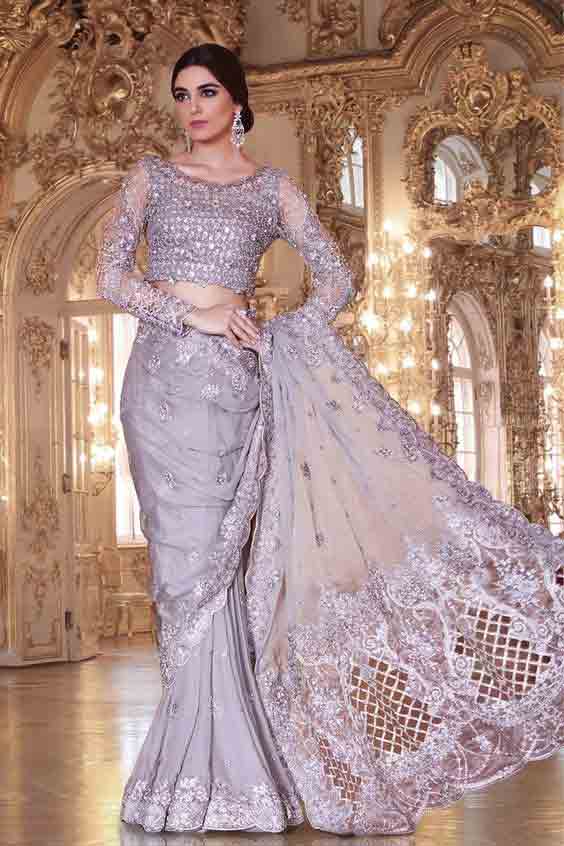 3. MAXI-CUT SAREE:
Maxi-cut saree draping style is very common, this kind of sarees are worn by Indian women as their traditional dress in routine. Here in Pakistan we make it a bit formal and carry it for wedding events. Because saree is not a casual thing here so commonly.
[su_note note_color="#f1f1f1″]Sometimes women want to carry a saree but don't find it comfortable enough and they feel uncovered and uneasy. For those beauties, shawls are the best crawl out option. Get a nice stylish shawl and carry it on your shoulders, and voila! Give wings to your insecurities so they can fly away from your mind.[/su_note]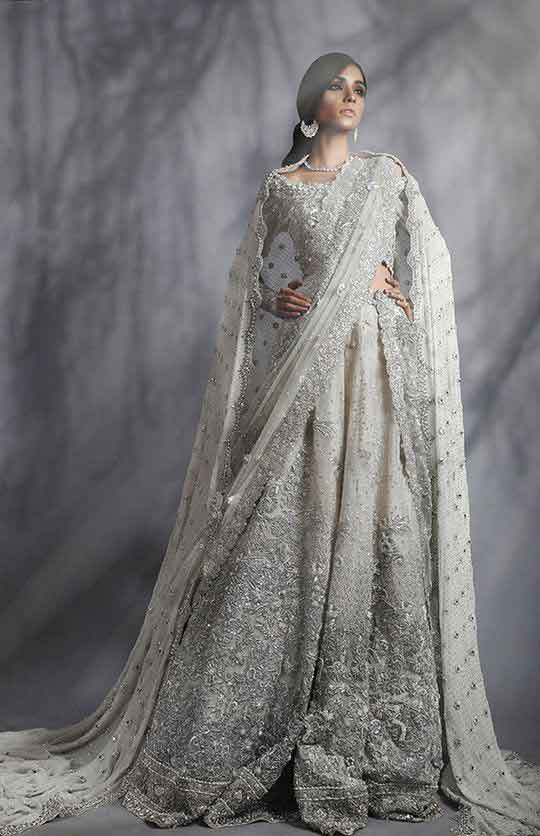 BACKWARDS FRONT STYLE:
Backwards front saree style is a rare one. Most women with a bulky physic adopt this one to cover up their odd curves. But this is not necessary though. This style is popular in some events like Mehndi or Mayun where girls do dandiya or luddi dance. Lehnga style sarees with pallu wrapped from back to front, rather than front to back. Also, it is not kept that long till feet length but mostly to the length of the waist.
Nothing harmonize saree more than a nice pair of heels. They just add more glamour to the look.
PAKISTANI DESIGNERS
Numerous Pakistani fashion designers are engaged not only in the production of bridal lehenga choli or kurti, but also rendering their services to assemble the trendy Pakistani bridal sarees. These designers have gained recognition outside the boundaries of Pakistan just because of their artistic and remarkable skills plus enough courage that is backed by a strong desire to achieve their industrial goals.
Usually, Bridal saree designers are working in the major cities of Pakistan including Karachi, Lahore, and Islamabad. If anyone is interested then feel free to drop us an Email at info@weddingpace.com in order to get complete details about Pakistani wedding saree designers.
Tip For Online Saree Shopping: Two to three months before your wedding day, you must search Pakistani designer saree blouses and sarees online, confirm and compare the prices and then choose your most favourite one that is within your range.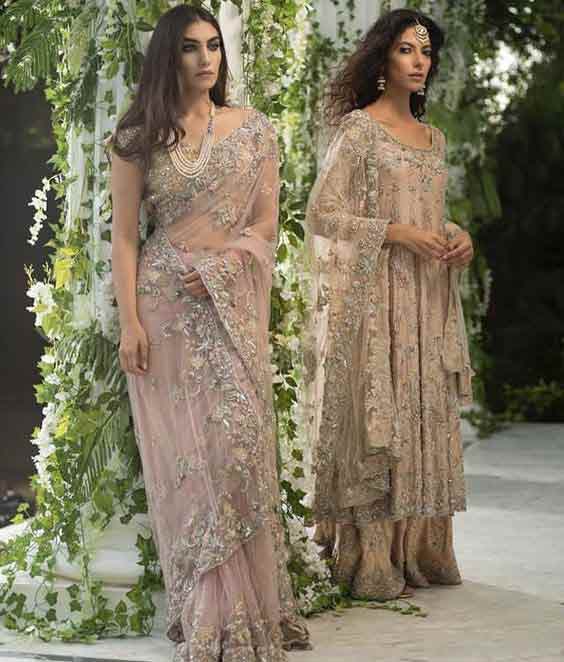 You've seen a recent collection of very eminent Pakistani bridal sarees with sequined and contrasting panels. Nowadays there is a unique trend of tassels and tie up threads at the back of the blouse. They aren't regular tassels of threads and beads, they are pieces of killing creativity, like small dolls, animal shaped tassels, customized named tassels and many more.
Clearly, Pakistan's fashion industry is stepping up every single second and bringing deadly creativeness in the market. our fashion fraternity is now contributing hugely to international design councils, Which no doubt one day will overcome many designer blocks soon.
PAKISTANI BRIDAL SAREES TIPS
Do you want to know "how to wear saree for wedding in a proper style? Following are the styling tips to wear saree beautifully. These tips will also help you regarding the colour selection and saree draping styles for wedding reception.
Let's collect the useful tips on selecting the right Pakistani bridal sarees!
The choice of the fabric can make you look slim or bulky. For that reason, silk fabric is always the first choice for bridal sarees in Pakistan.
Heavily embroidered and embellished bridal sarees will make you look stunningly gorgeous, but you should never forget that "the heavier the design, the more uncomfortable you will get."
In Pakistan, deep necklines and backless blouses are being avoided but you can still choose the trendy boatneck blouse design because that will not only define the beauty of your collarbone but it will also enhance the glamour of your overall apparel.
Now that you have your fancied color, fabric, style, design and budget in place, you are ready for the next step. Go for the window shopping! Visit a few designers and know what they are offering. Compare the prices and then choose your favored one that fits in your budget.
Ready to buy? Set your budget and you must know what is within your range! Why not ask the respective Pakistani bridal saree designers and see how much a custom-made saree will cost you?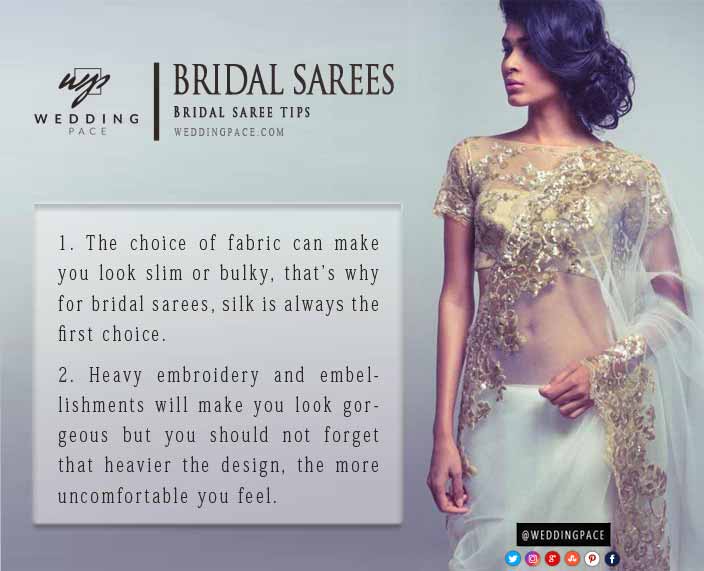 Fashion and styling sense is developing in people with every passing day. People are more style oriented now and have left behind the idea of associating particular getups with particular events. Also, they now know how to fuse and mix different fabrics to enhance the looks of their attires. Some people still believe that SAREE is not a reasonable dress for unmarried girls, but this a just a norm. Trust us when we say you can wear a saree at any age, anytime with some customization according to your priorities and this is totally fine.
[su_highlight background="#fbf7d2″]Are you wondering to know about the Pakistani sarees with price? Most of the Pakistani designer brands usually do not disclose the bridal wedding wear prices to everyone. They inform in details when you inquire. Thus, in the coming articles, we will try our best to write about the saree designs with price in Pakistan.[/su_highlight]
One very important thing to be cared of is the fall, Saree will look as good as much perfect fall it has. A little fault in the fall can make it look like a complete disaster.
In this post, we have covered almost every possible style and color combinations to adorn a saree. You can now think about getting your hands on a saree for the upcoming event. Wear whatever you want and however you want because you are all beautiful in all ways.