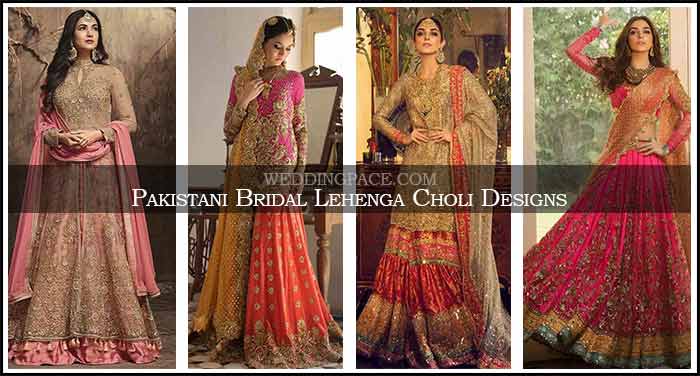 Are you looking for the new styles of Pakistani bridal lehenga choli designs in 2021? Here are the latest collection of traditional bridal lehenga choli dresses for wedding brides. Go for the following images to choose your favorite one!
Here are the following special wedding lehenga choli styles to keep in mind before you buy your wedding dress!
Crop top choli with lehenga
Mid length choli with lehenga
Knee length kurti with lehenga
Long shirt or kurti with lehenga
Latest Pakistani Bridal Lehenga Choli Dresses
Whether you are looking for the Pakistani lehenga party wear or bridal lehenga choli designs for online shopping, you will be amazed to see the latest bridal dress designs for all kind of wedding events. No matter how modern the age turns, no matter how many new cuts and forms have conquer the fashion trends, the beauty of our old traditional lehenga choli designs can never be faded.
For example, you may have seen that many of gone days styles are returning to fashion house. Biggest of the examples is ghararas, patiala shalwars and in embellishments, gotta/gotti work . They look dope. Exactly the same way, most of those bridal lehenga choli trends look amazingly stylish even in this minute.
When it comes to a wedding bride, we see all modern brides everywhere. Nowadays, if you see a girl all dressed up in the traditional style lehnga choli dress design, carrying all our gone cultures along, don't you think it's heavenly? Yes it is!
So here we have some quirky, chic ideas regarding Pakistani bridal lehenga choli designs for the lovely brides who want to keep it close to our grandparents' era at their big day. Let's see how can we bring that conventional, evergreen lehenga choli designs to this day, yet keeping it to the point that it doesn't look anything outdated or old fashioned.
Read more:
Do you want to see more Pakistani wedding dresses for bridals? Do not miss to check out these Pakistani engagement dresses that will certainly inspire you.
Best Pakistani Bridal Lehenga Choli Styles
Do you love Pakistani bridal lehenga choli designs? Are you a traditional freak? An old soul breathing in the modernized era? Are you a bride to be who's looking for something purely traditional lehenga choli images – back to our grandparents and parents wedding trends? You are at the right spot brides!
In this reign of constant experimenting and reluctantly quick changes in trends, we can deliberately say that everything is in vogue! Just a little bit of modern cut can make anything go voila. Peep into some more creative and trendy ideas of making your traditional bridal lehenga choli in Pakistani desi style that will look ravishing.
Check out the following lehenga choli designs for online shopping!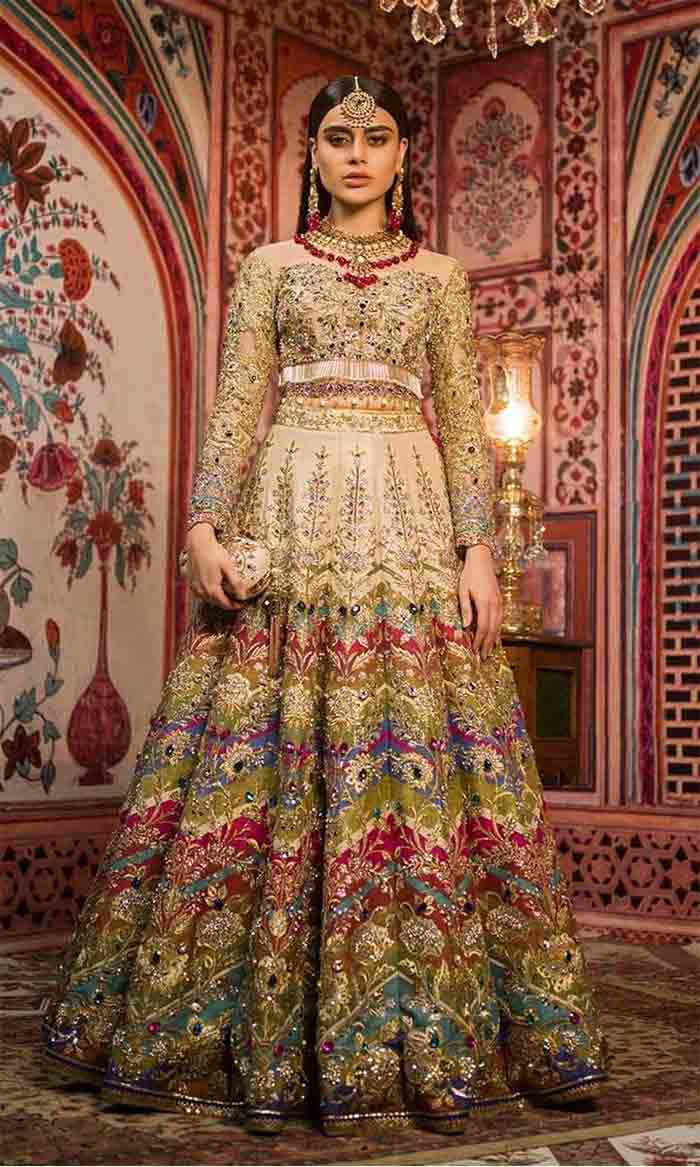 CROP-TOP CHOLI WITH  LEHENGA
These crop-top choli designs are so freakishly dominating the whole wedding lehenga choli style family. They aren't only trendy to wear with lehenga or formal skirts, but also ruling the casual lines, even with those super trendy high waist palazzo and pants. These crop top choli with lehenga things are killing it everywhere. Pakistani lehenga designs are full of attractive hues that will surely leave everyone awe-inspiring. Especiallay red lehenga for bridal (dulhan) in Pakistani style is most sought after by the Asian brides.
PRO TIP:
Pair them up with a flared, formed bridal lehenga. It can be a heavily embellished fishtail lehenga or even with the droopy fall lehnga. These are fabulous of all.
Check out the following new collection of latest Pakistani lehenga images of crop-top choli with lehenga in 2021.
Note: Do not forget to check out the trendy cuts and embellishment styles of bridal lehenga in Pakistan.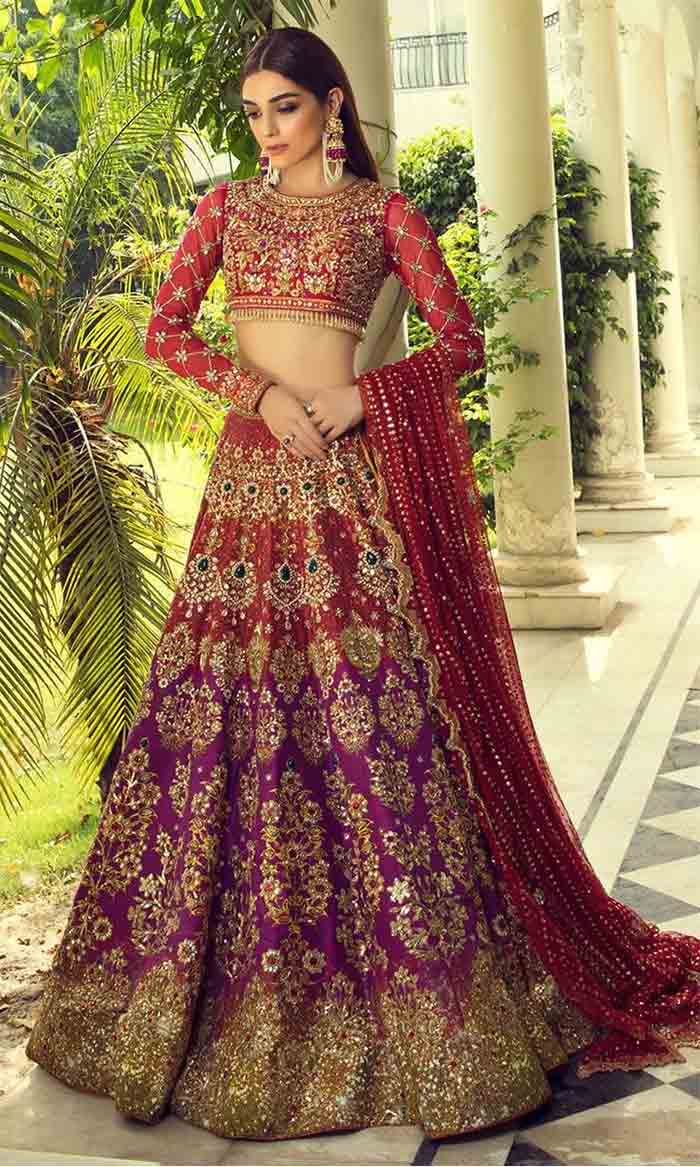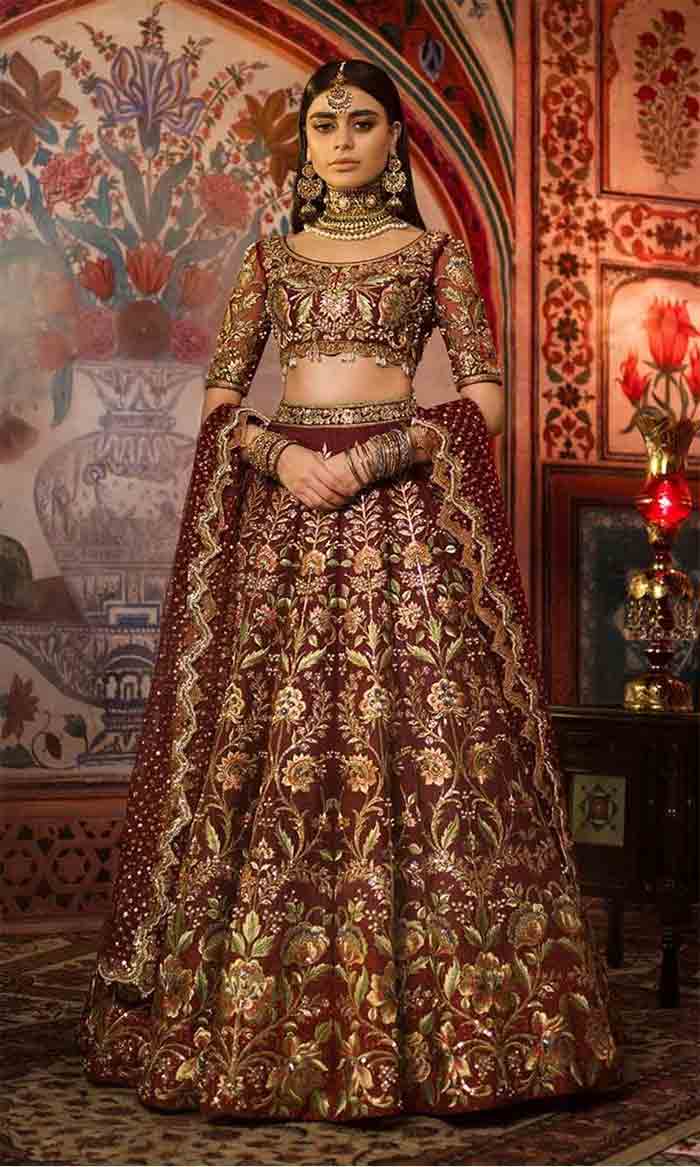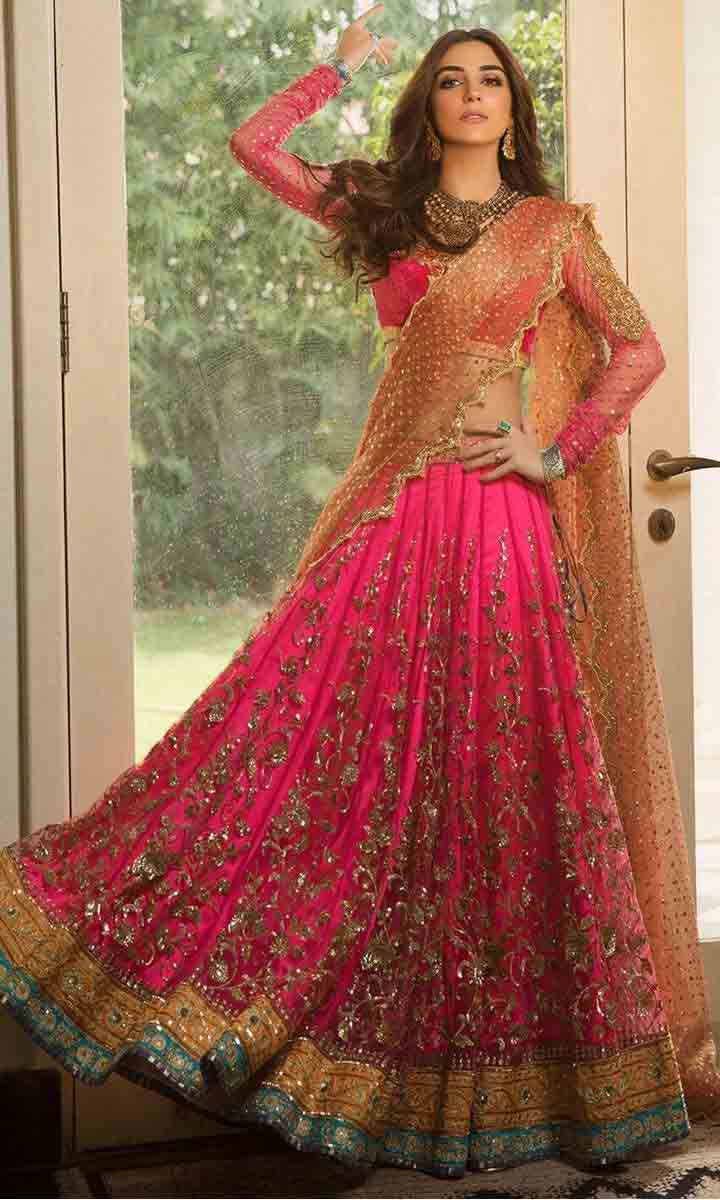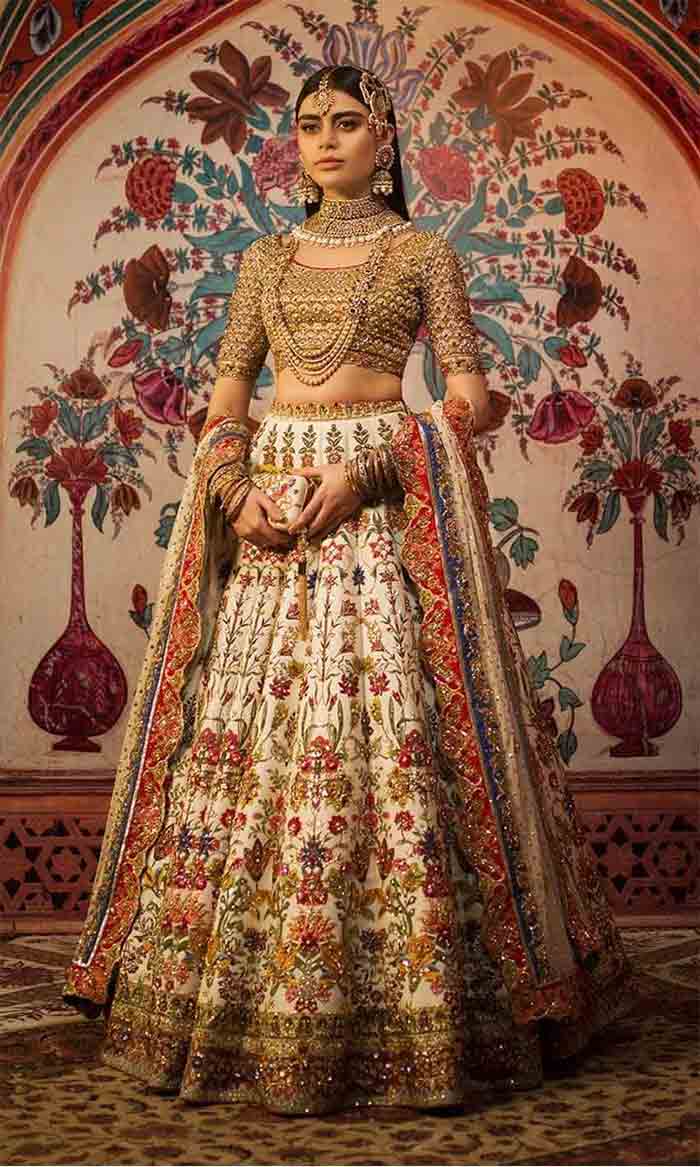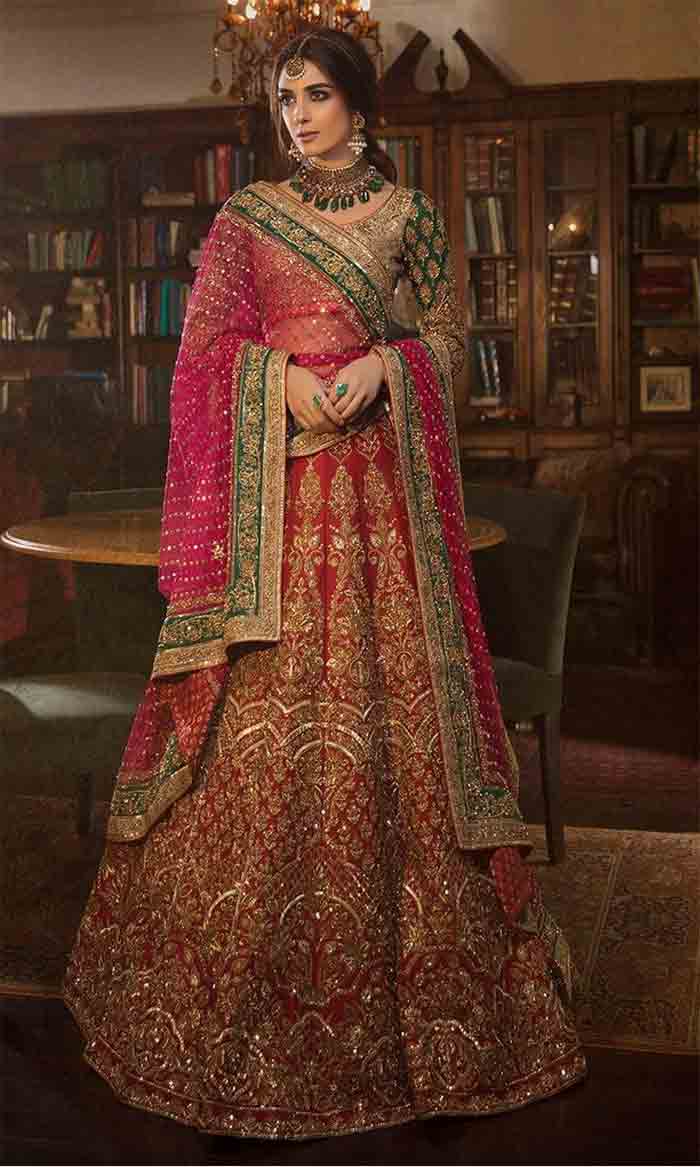 Pakistan has adapted the crop top choli style from Indian lehenga choli for wedding brides because it is their traditional wedding dress. When it comes to the lehenga style, your bridal lehenga design must not be that heavy to make you feel uncomfortable throughout your event.
MID-WAIST KURTI WITH LEHNGA
Here comes the latest style of bridal lehenga choli! Mid waist means something that covers till hip. You can keep it open or a close one but mostly kurtis with this length are usually kept side opened or bit loose especially if they have heavy sequins on it.
This length is more comfortable and yet being in cabin of style specially for people with a bit bulky body, or even for too skinny people.
Check out the following bridal lehenga collection and go for the best one to influence everyone around you.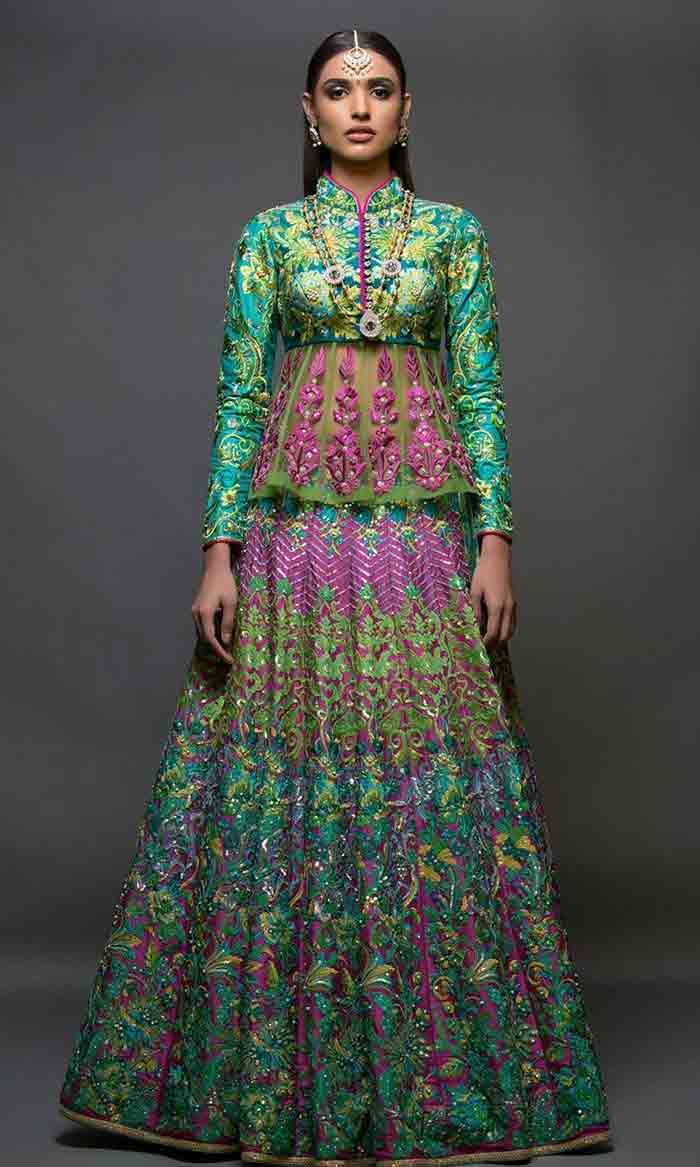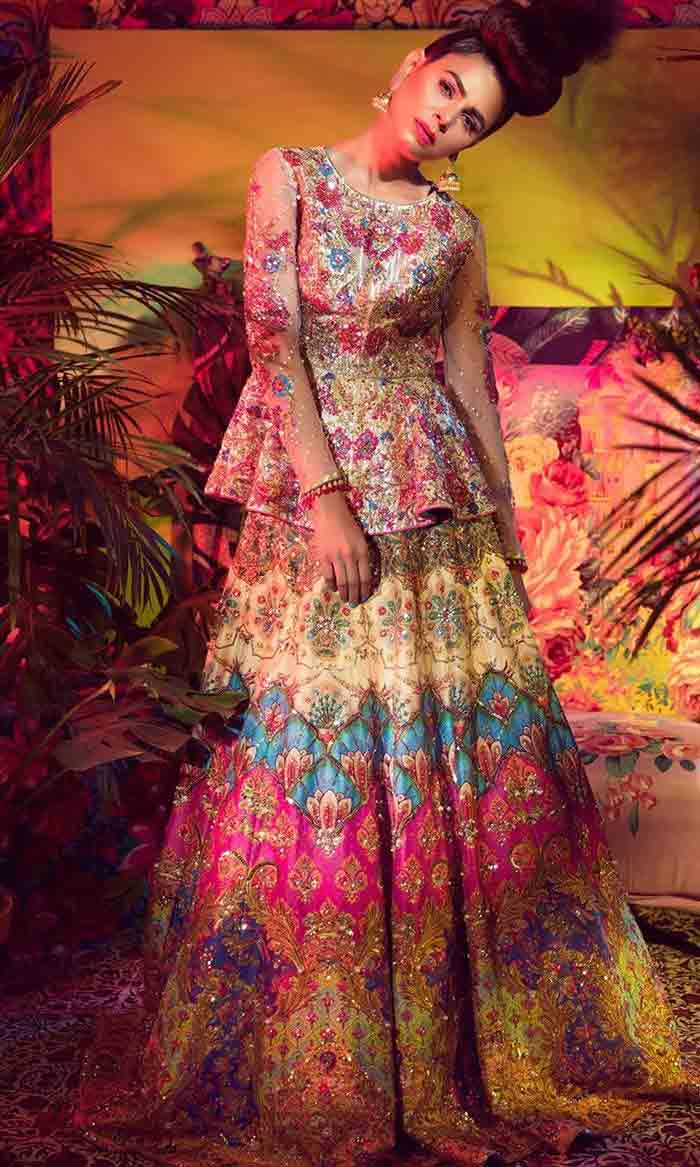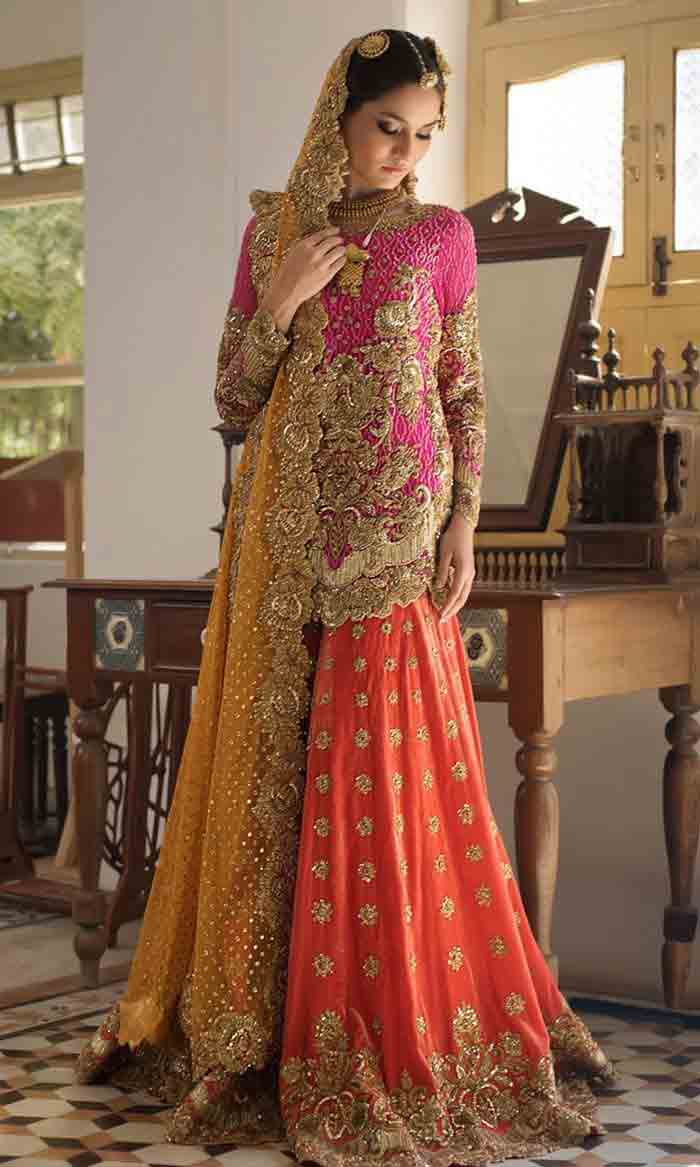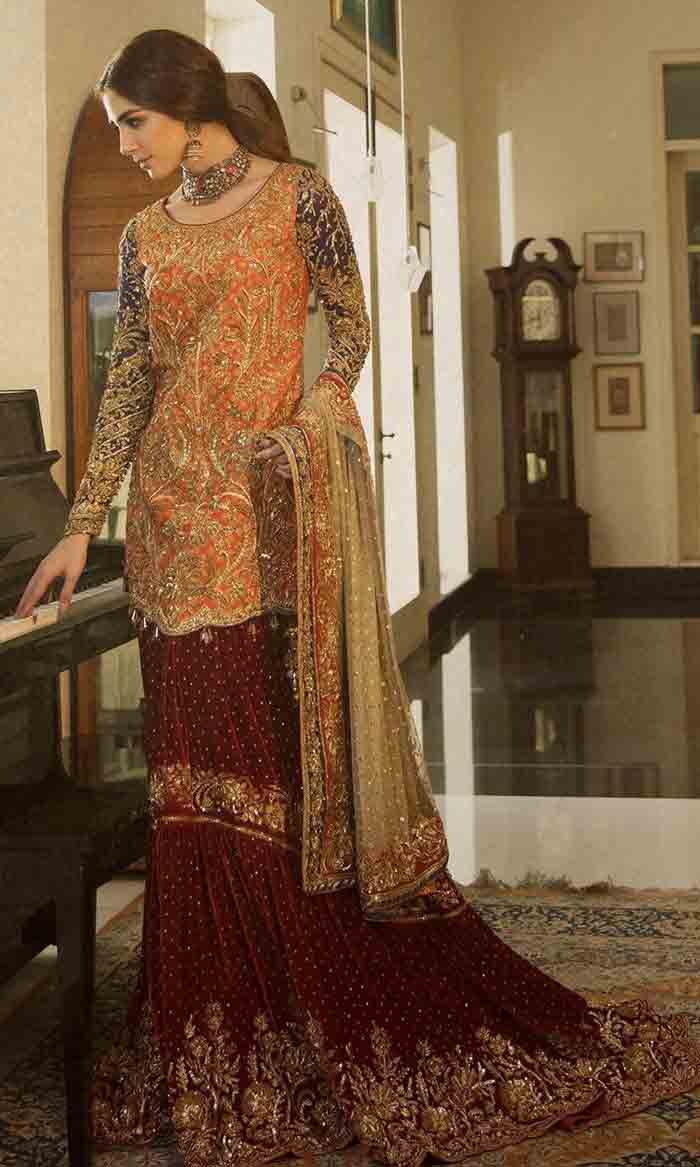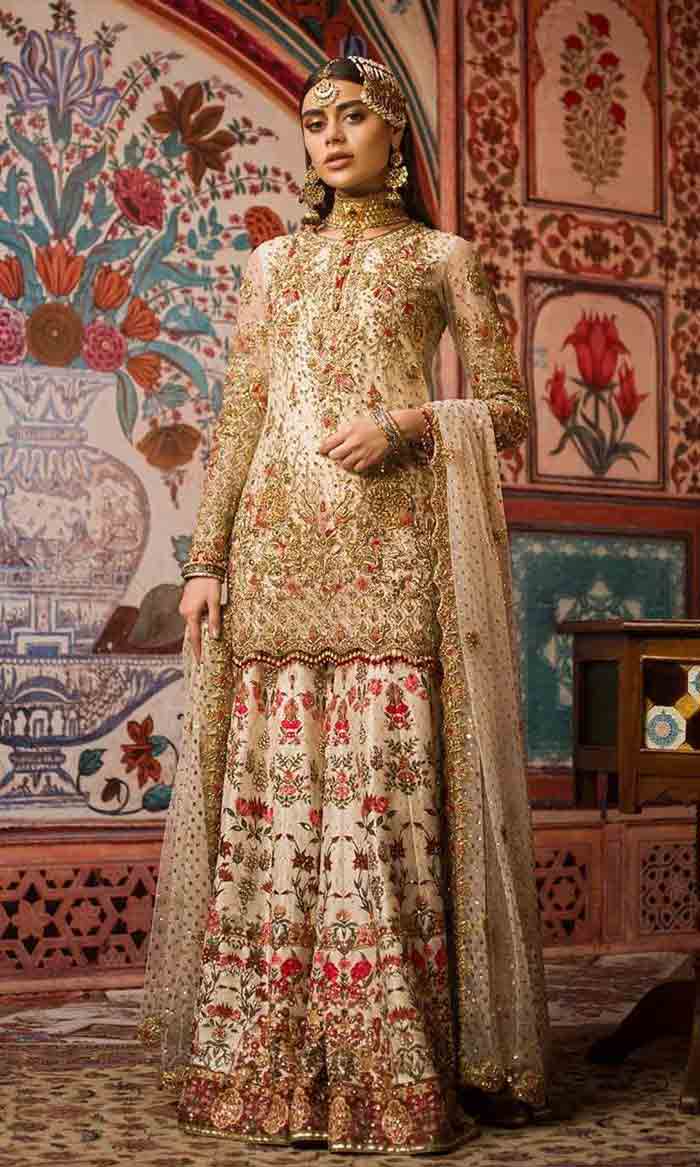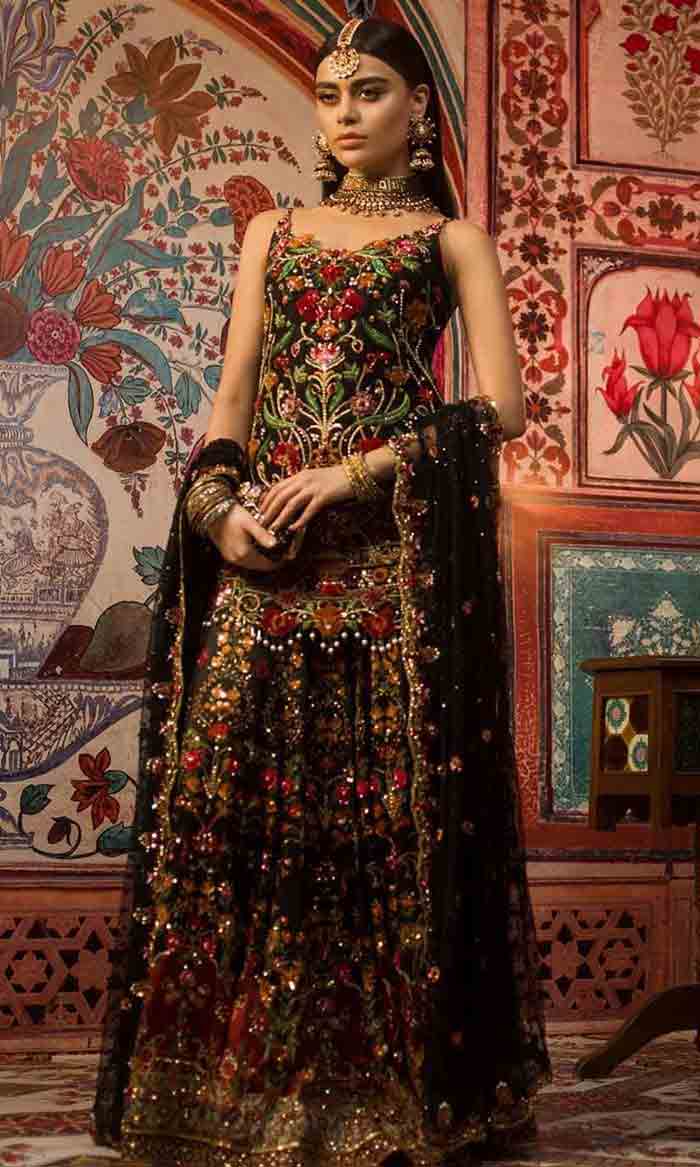 KNEE LENGTH KURTI WITH LEHENGA
Knee length kurti style of bridal lehenga choli is bit tricky. You have to be very careful. Make sure that embroidery is balanced enough that it doesn't make your shirt droopy to any side. It is a very common mistake brides make. They make the front too heavy that it becomes hanging down towards the front.
Plus, kurti shoulders may also get misplaced and give a really awkward look. Of course no one can give that heavy embellishment at the back of Pakistani lehenga choli for bridals. But do something to balance it. You may add any heavy tassels at the back of dress, at the daaman, or any embroidery patch on the edges so that it balances the weight.
Here are the latest lehenga designs in Pakistan to choose from!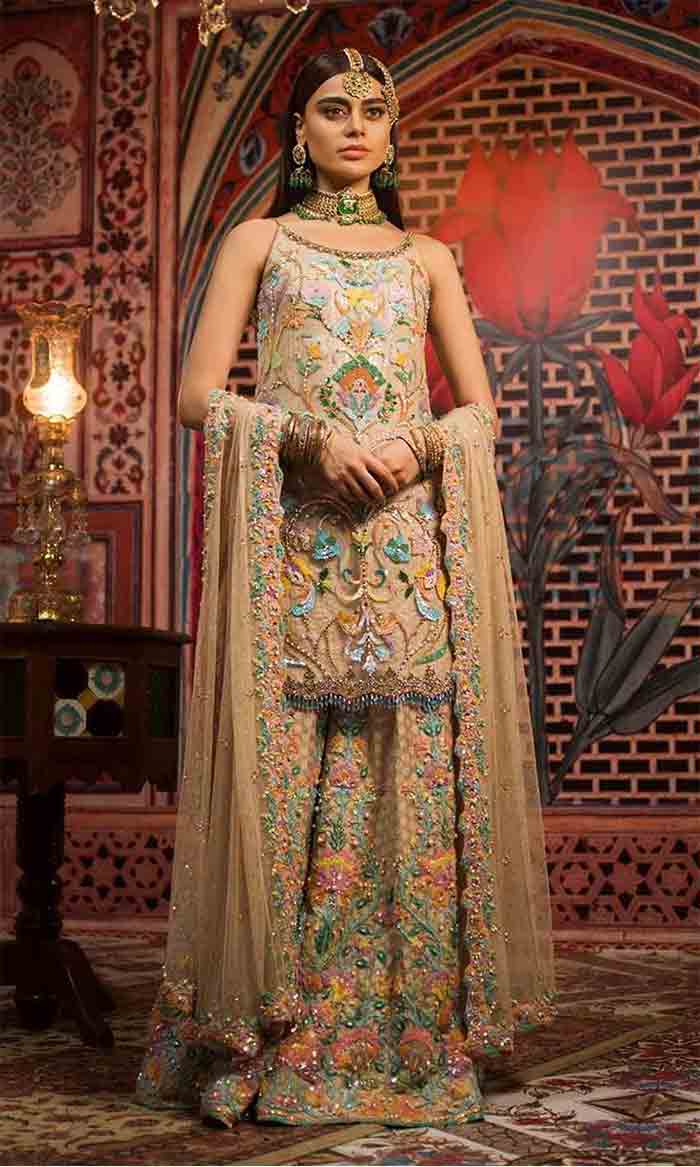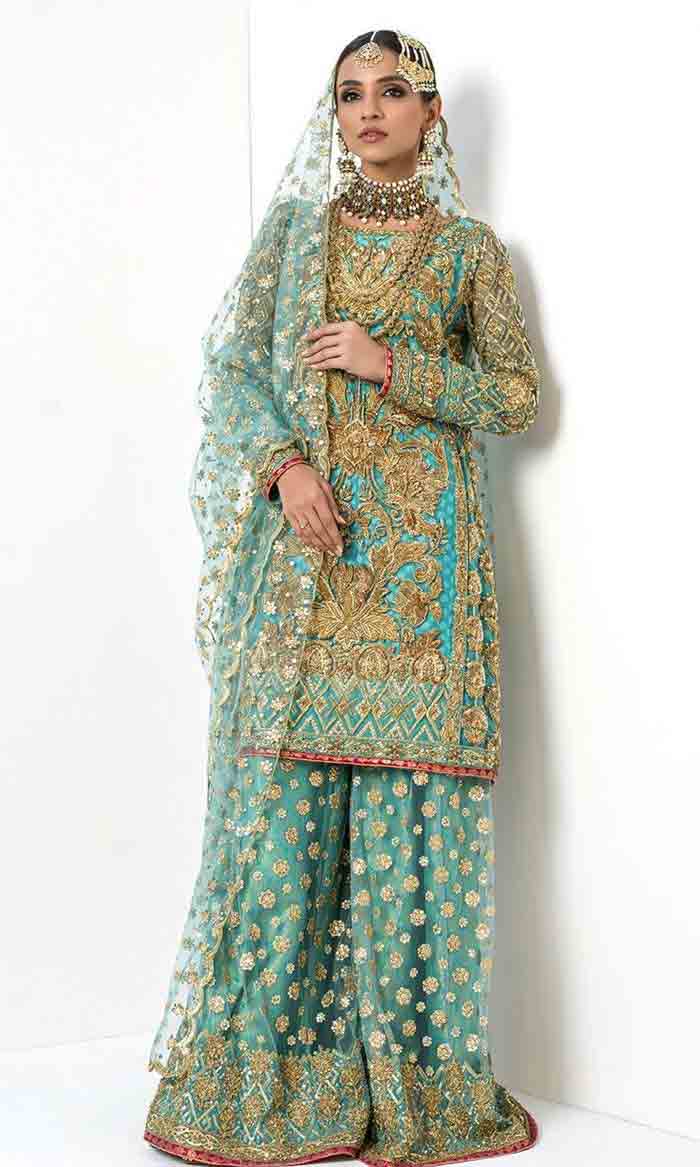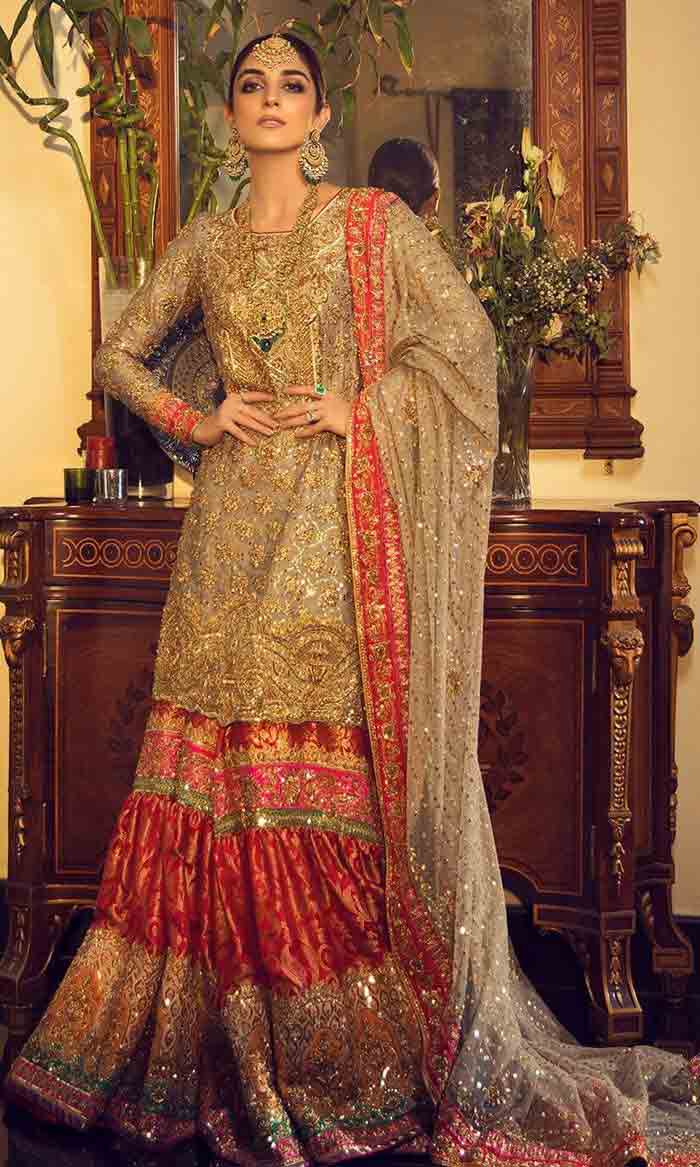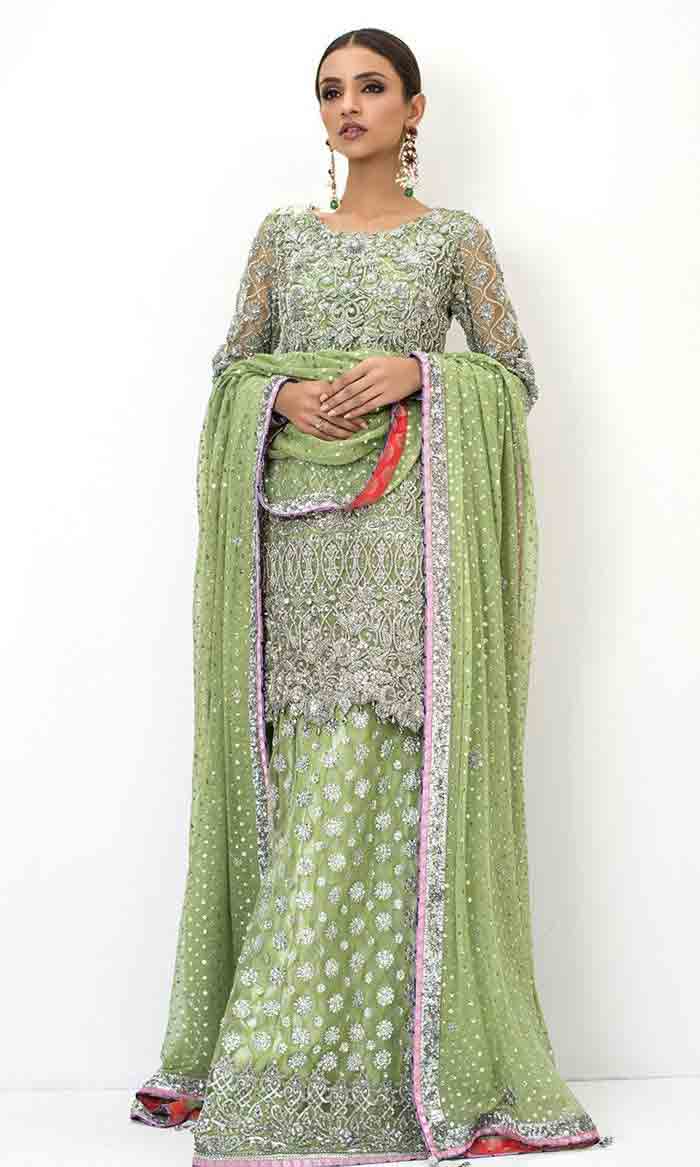 One more thing about these Pakistani lehenga choli designs is, making it too tight is never a good idea. Keep it a bit loose so that it gives margin of keeping the bottom inside and doesn't make it uncomfortable.
Keep these points in mind and you're all set.
Long kurti with lehenga is an intelligent way of making a wedding apparel. Keeping the bottom lighter makes the whole dress use-able for upcoming occasions. Shirt can b worn separately and bottom too! Whole dress becomes an open thing for the future. Otherwise most of the bridal wedding dresses just stay in the cupboard for the rest of life.
We have many options to customize Pakistani bridal lehenga choli designs. For example, short peplum dresses, reutilizes choli to make a bridal saree, kurti to A-line, open or closed, or a straight long shirt/kurti with open sides. We suggest you to make it heavier on kurti, than the bottom. It will hardly come out of the shirt, so keep the motif to the edges of the bottom, whether it's lehenga or anything else.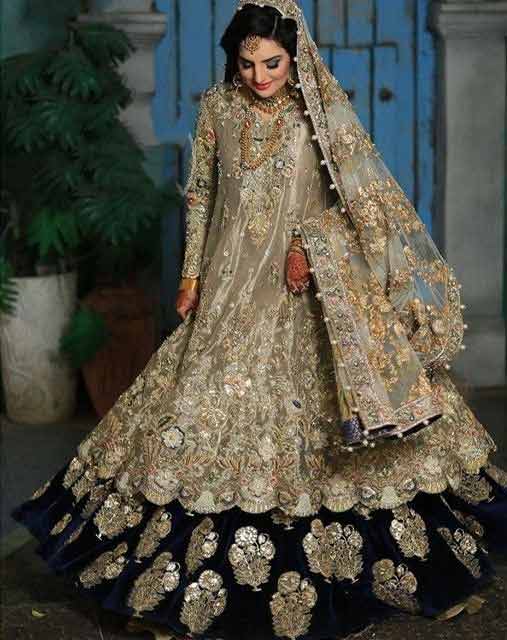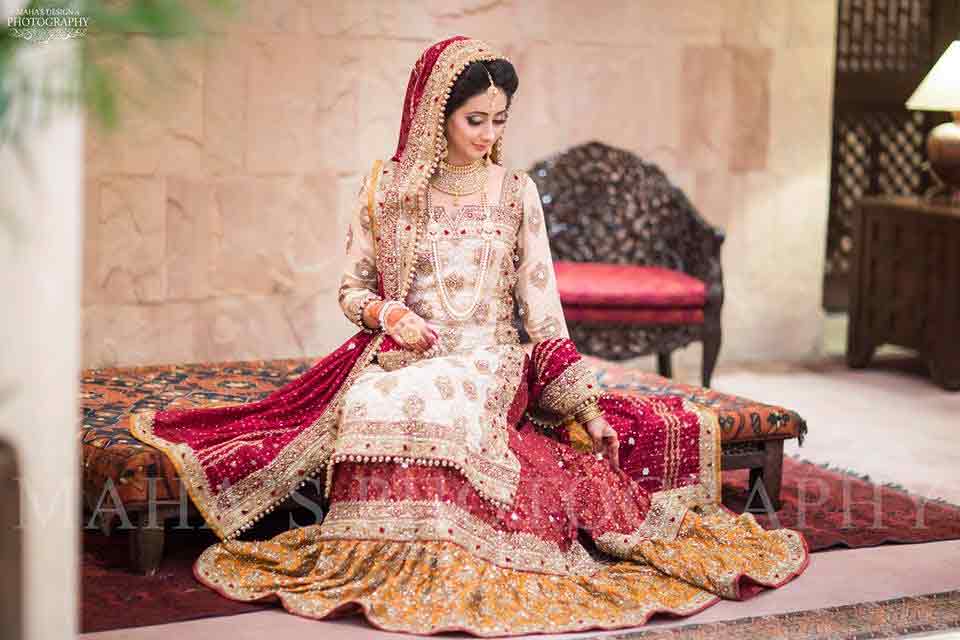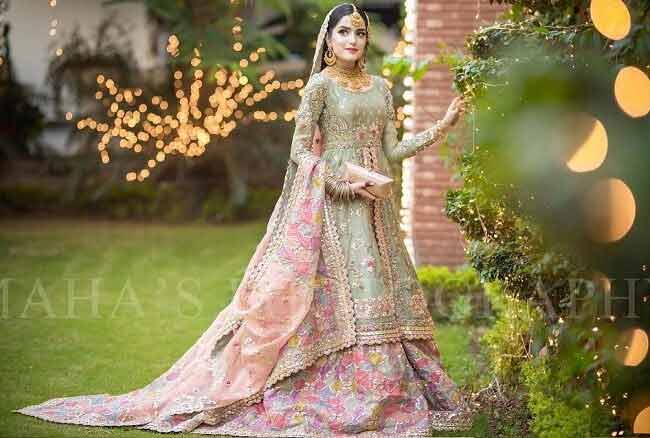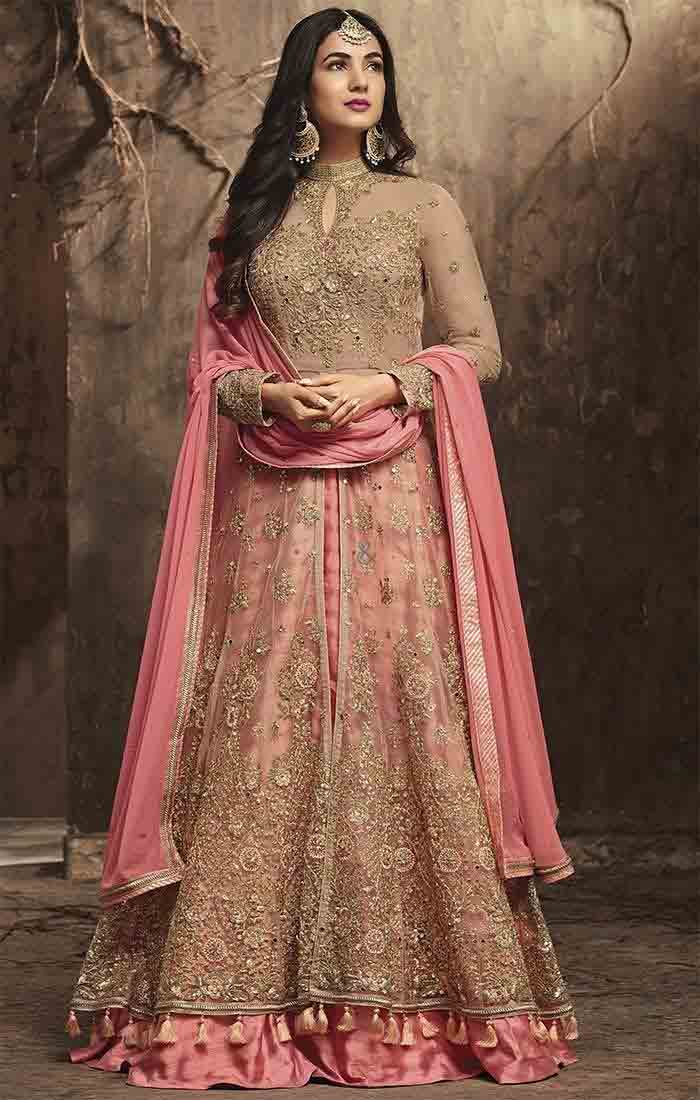 PRO TIP:
Well, there is another tip, if any of these short length kurtis don't go good with your physic, but you desperately want to wear it, don't let your spark dim! Go for it. It's your day girl! You may add a little bit of layers and flares under it or in your lehnga, and this is so lit. Your shirt is the same length as you want and still won't look odd on you, what say?
Gone are the days when you had to compromise on your wish and choices, this is just not that era. You can carry whatever you want. However you want with little bit of alteration in details.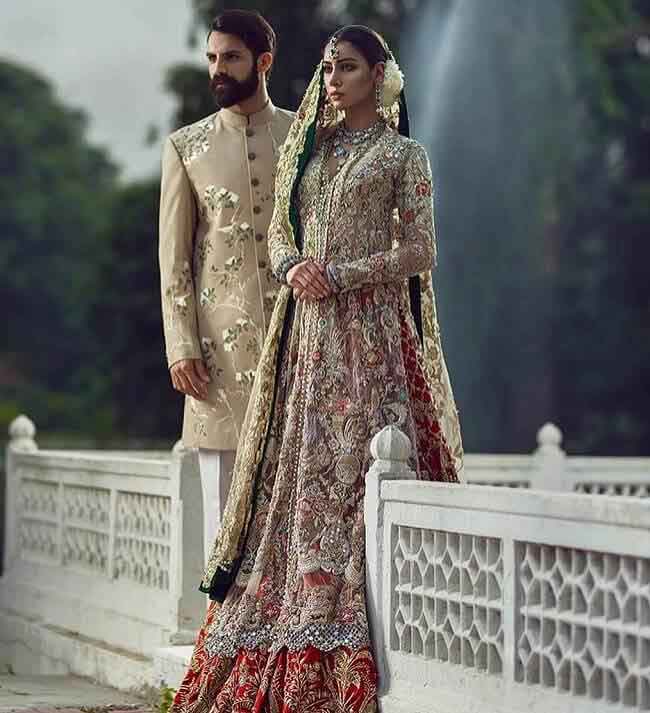 Pakistani brides do wear maxi and fishtails lehnga with choli but in our style observation and opinions, only the conventional shape and style of lehnga goes fantabulous with choli or short kurti. Rest of the ghagra choli designs just go wrong from any corner of the design because they are not that luscious.
Pakistani Bridal Lehenga Choli Designers
Mostly people searches for the latest Pakistani bridal lehenga with price, but the truth is that, well-known Pakistani designers or brands do not disclose it on their websites because of the high cost. They suggests you to inquire on call. If you are interested to buy any wedding dress, make sure to reach us at info@fashioneven.com  or contact us through contact form.
PRO TIP:
Lastly, be very careful about the color and contrasts. Make sure what color brings out your complexion the best and what compliments your physic the better.
Pick a darker shade if you have a dark or dusky complexions, and go for anything openly if you have a light, medium or fair skin tone. It's not about racism, it's just that darker hues look best on the darker complexions like anything else.
Another thing is, don't go for a flared big lehenga, instead go with a droopy one, it looks more intrinsic.
Additional Style Tip:
Do not go for the can-can skirt under stiffly formed and flared lehnga designs. If you wish to wear lehenga with volume by wearing can-can skirt under it, then make sure the lehenga isn't a fishtail and not heavily embellished with sequence work. Because if the embellishments and ornaments are too heavy then wearing it wouldn't be helpful. It would be a bad choice because this creates a weird look, which could be a dire disaster.
So if you want your lehnga to spread around then go for adding frills and flares under it near the bottom of the lehenga. Fishtail is also not a good companion of open, mid length kurtis.
This was a concise guide for you, about picking up your Pakistani lehenga choli design wisely, by sticking close to the roots of our norms and cultural signature attires.
We wish the best happens to you for your Pakistani designer bridal lehenga choli!