Do hear that beat of drums and shehnai sound? Yes? We do hear it too! Because the most awaited, most festive, and the glamour-filled season is right around the corner with our latest collection of Pakistani mehndi stage decoration at home!
Check out the Pakistani mehndi stage decoration pictures that you can DIY at home. Here are most simple and easy ideas to follow.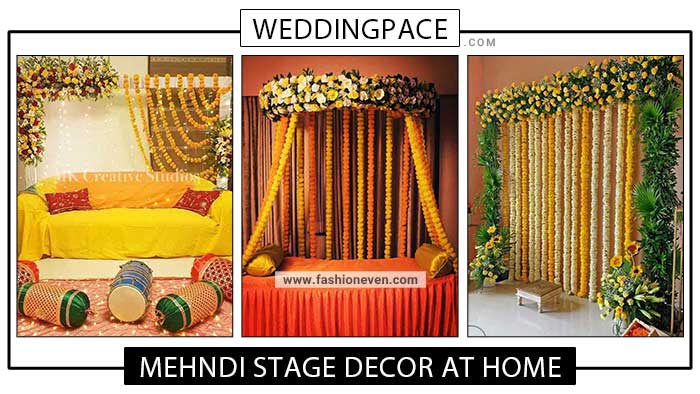 Simple Mehndi Stage Decoration At Home
When it's about fun and enjoyment with lots of colors, what could it be other than a mehndi event? Because, of course, this is the most fun-packed function of the entire wedding ceremony. All the friends and cousins are invited, there is a lot of dance, enjoyment, mehndi application, etc.
All the people gather and have fun times together so the mehndi stage decor at home should be color-filled and floral-themed.
The Marigold flower: A big round yellow flower, which is called Genda Phool, that is the best ever and the most common thing in mehandi decorations because this has the best mehandi vibe in its look and fragrance. Many people add up motiya phool or jasmine,  chambeli, and roses, like white or orange roses, with green leaves that spreads the magical aroma all around.
Here are a few picked ideas for low-cost simple mehndi stage decoration at home.
SQUARE FLOWER BACKGROUND
You can check out different ready-made molds for Mehndi stage backgrounds, which are available in the market. It is something that gives a look of a wide big net on the background wall of the stage. Place the mold and cover it all up with flowers.
Also, check Pakistani bridal mehndi designs
You can add fairy lights to make it look more enchanting. If you could not get the mold, then you can make this kind of thing by yourself, by tying the strips of flowers around the stage background. Don't forget to use green leaves to add colors.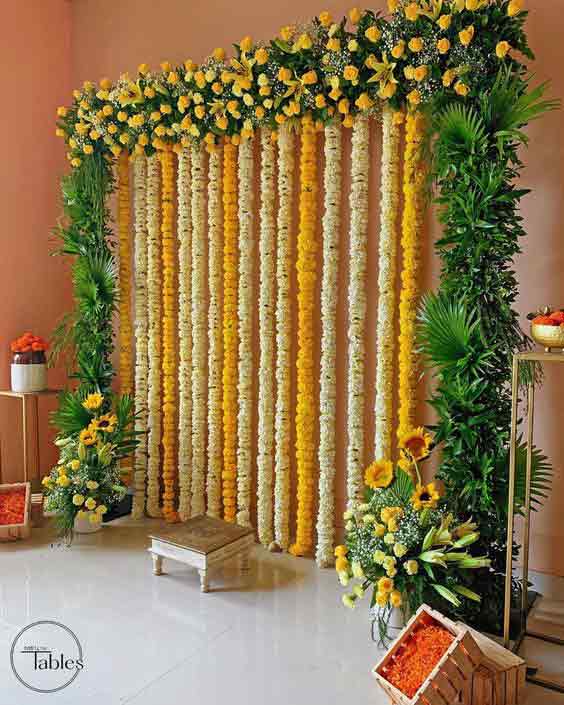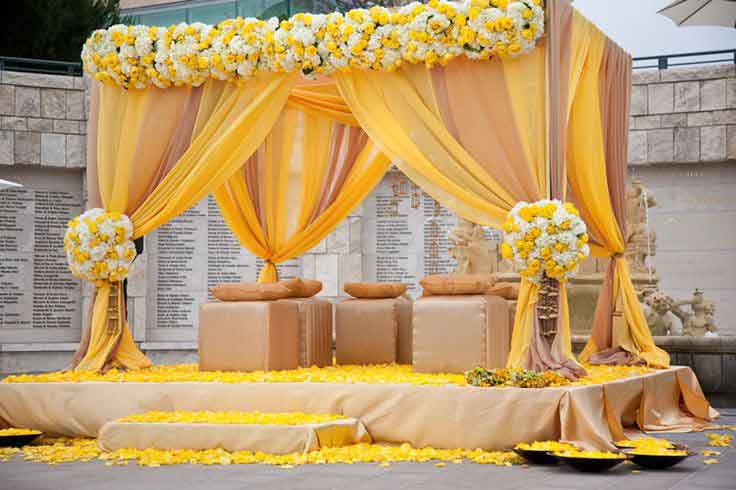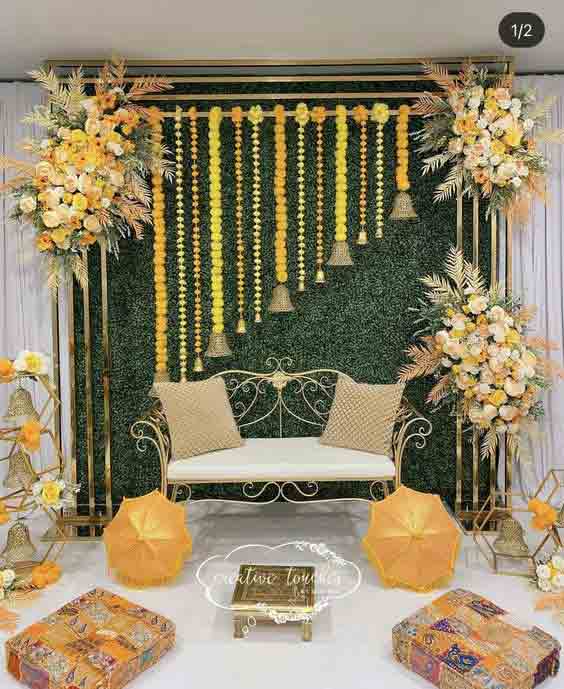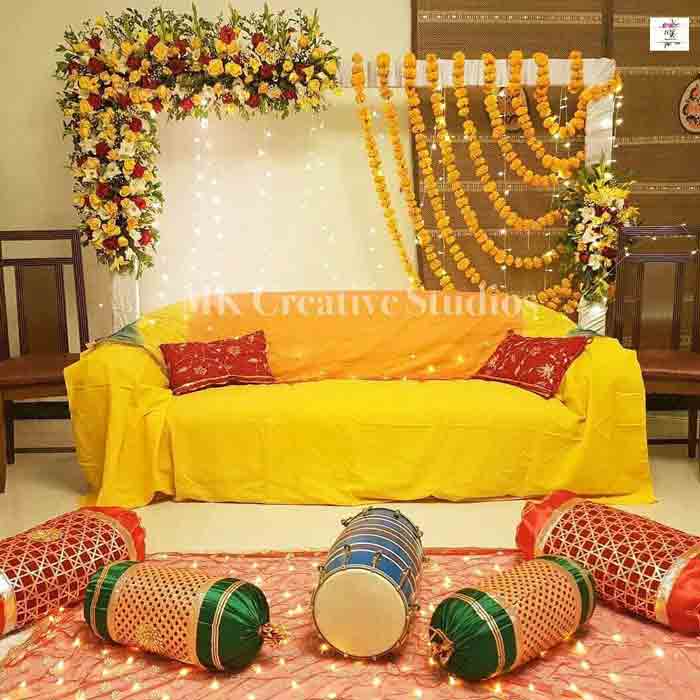 WHOLE FILLED WALL WITH FLOWERS AND ACCESSORIES
You can fill up the whole background with flowers, but not randomly. Make a certain pattern, like in squares, circles, or wavy stripes, or maybe straight. Fill up the whole area, and this one will look even more attractive with lights in it.
You can skip lights, it's up to you. Make sure to add different mehndi accessories to spice up the decoration and make it look more traditional.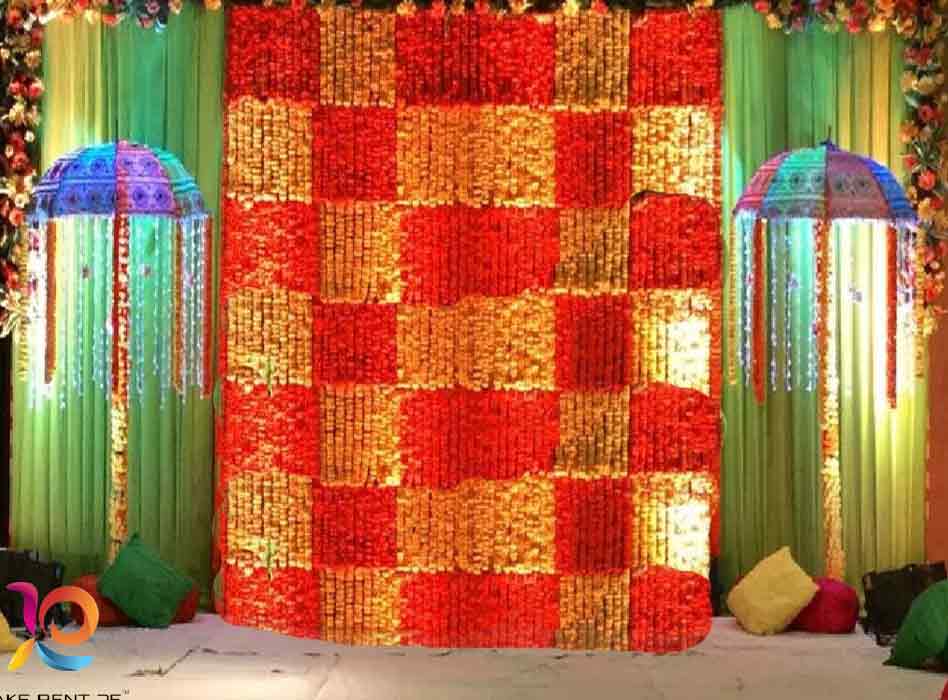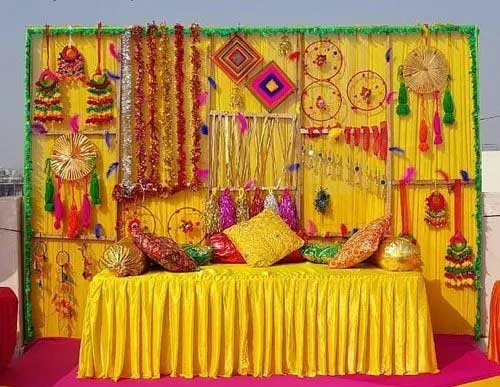 RING DECOR FOR MEHNDI STAGE AT HOME
This is quite hard work requiring different accessories and a big Ring at the background wall decorated with Gainda Phool/flowers.
Grab the candle holders from the market and some LED candles which do not melt at all. Put these candles on the sides of the stage as well, leaving the place to step on stage. There are artificial candle clones available in the market which work on electricity or batteries. You can get that too.
Again, here too, you are going to adorn it with a yellow backdrop on the wall and a floral ring as well. Because what would be a mehndi decor without gainda phool in it?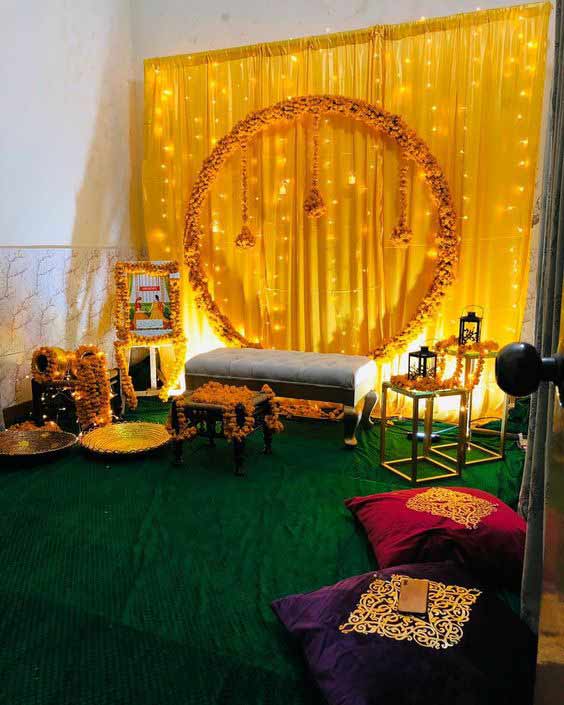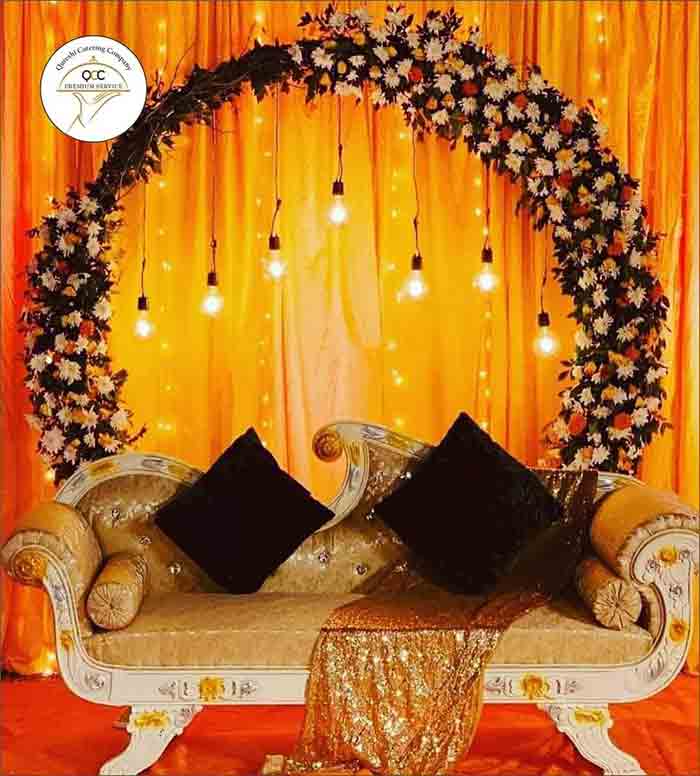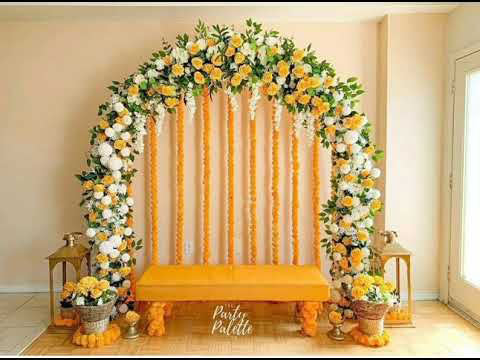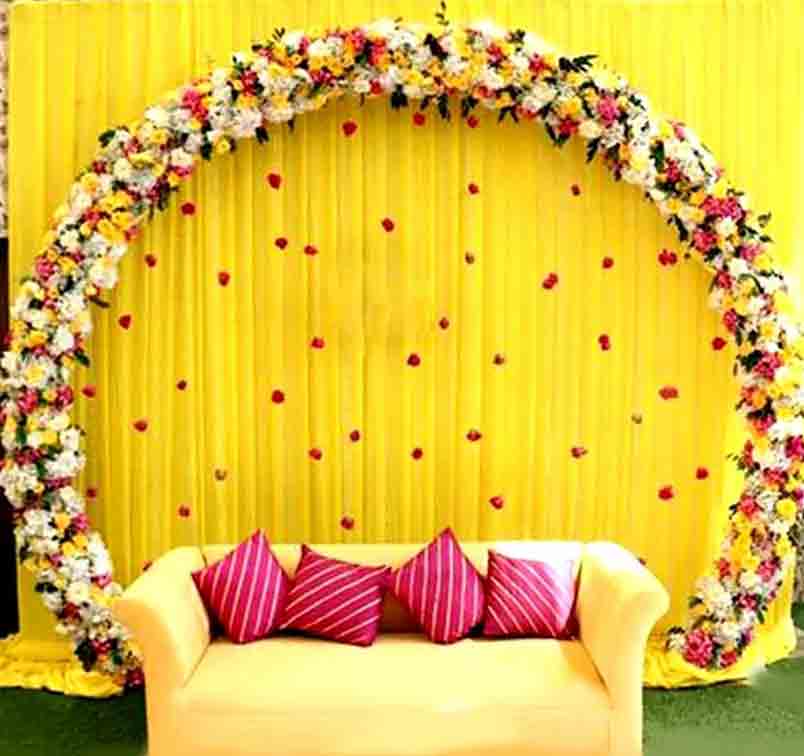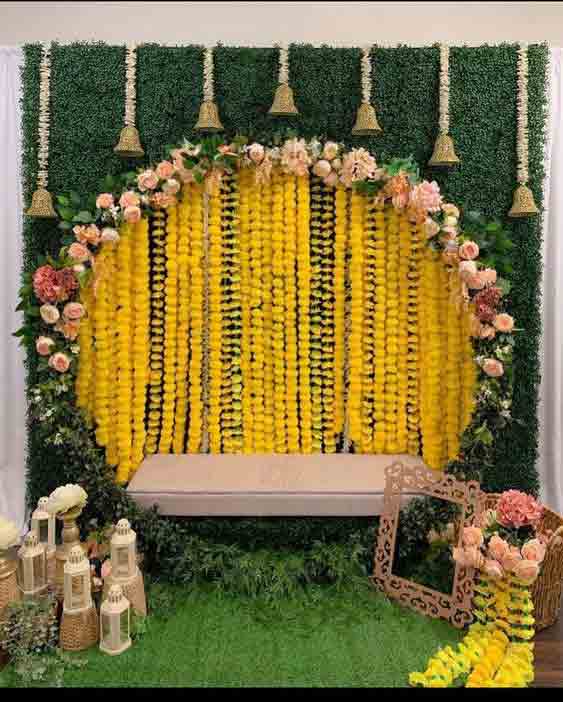 FLORAL CANOPY FOR MEHNDI STAGE DECORATION AT HOME
If you don't want that much decoration, you can simply go for a simple floral canopy with hanging flowers all around, or you may sprinkle them on the background too. It's all up to you how you want it to look like. Place sofa to arrange sitting and finish the look by adding cushions at sides.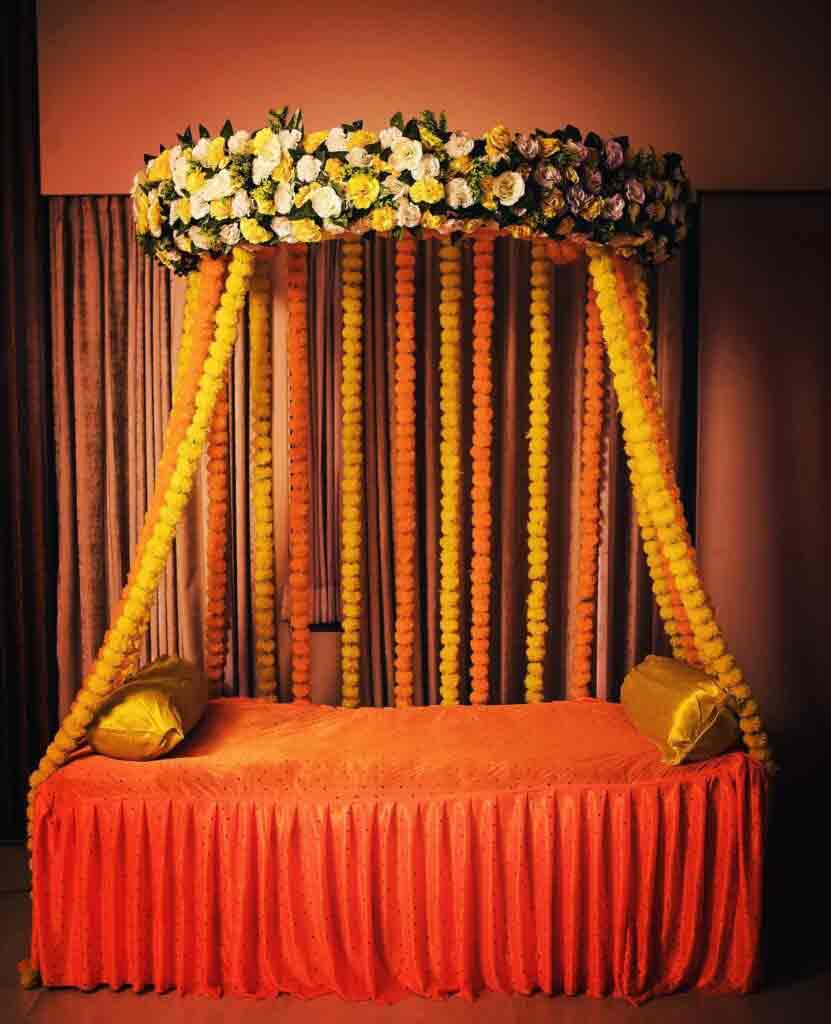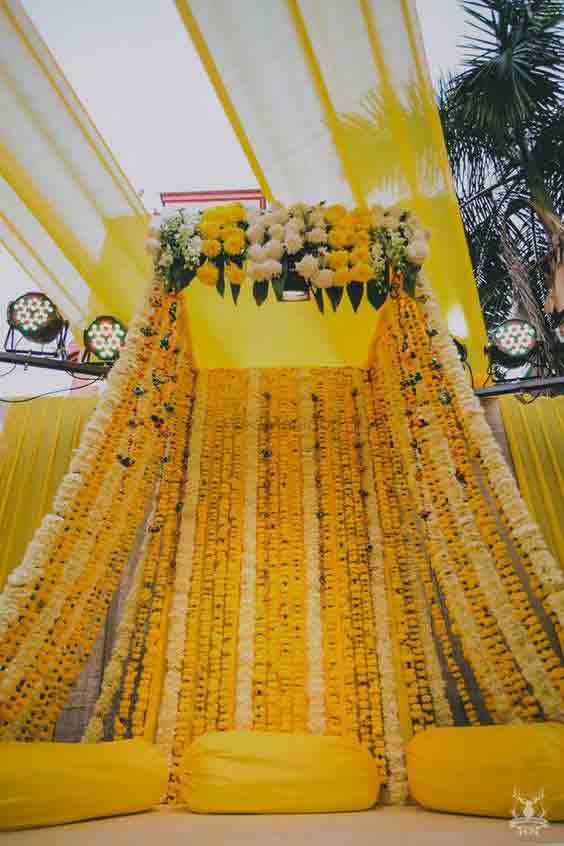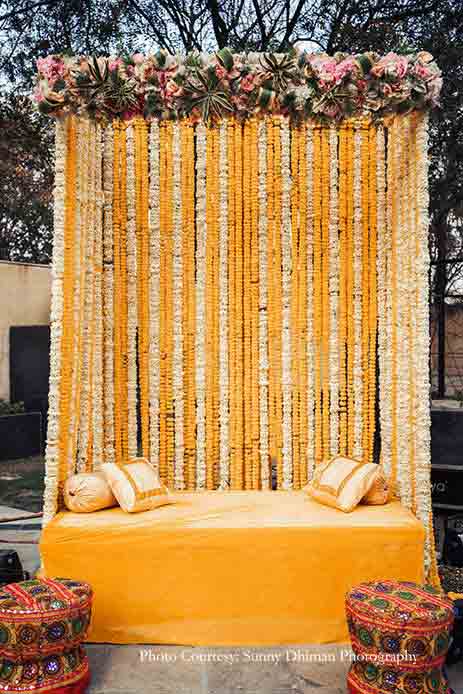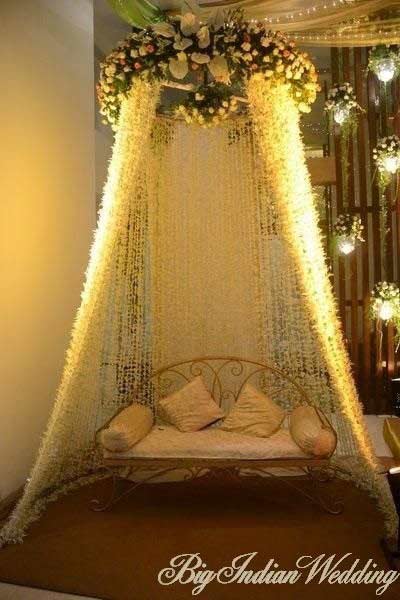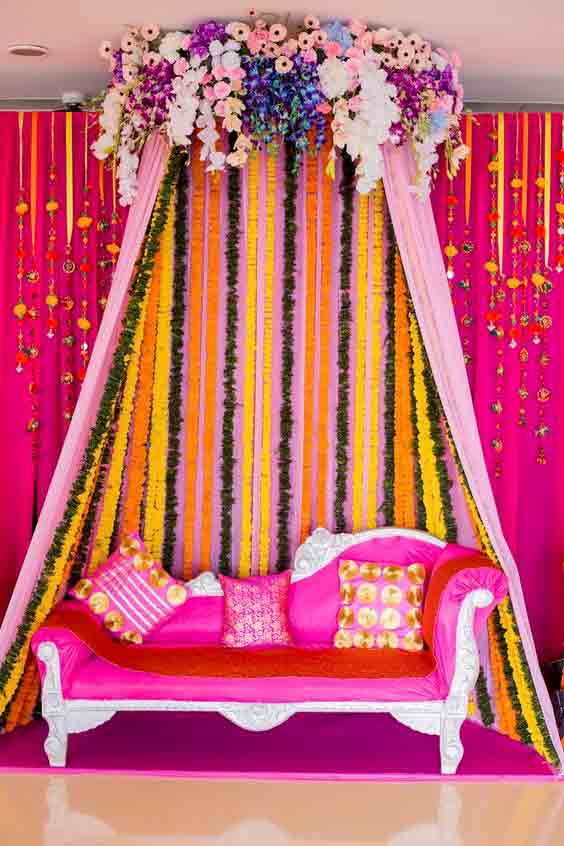 MULTI-COLOR DECORATION IDEAS FOR MEHNDI STAGE BACKGROUND
If you don't want to stick to the stereotypical flowers, you can add multiple colors to the decor setup. What's another thing that could possibly be done is to hang different colorful curtains against the walls along with fairy lights threads.
You can hang them up on the ceiling as well, in whatever kind of arrangement you like, because hanging stuff is always fabulous.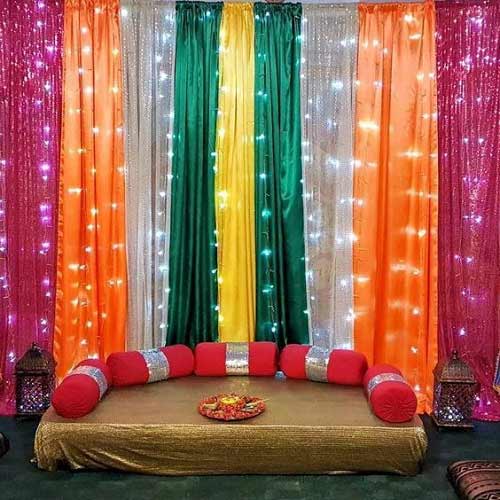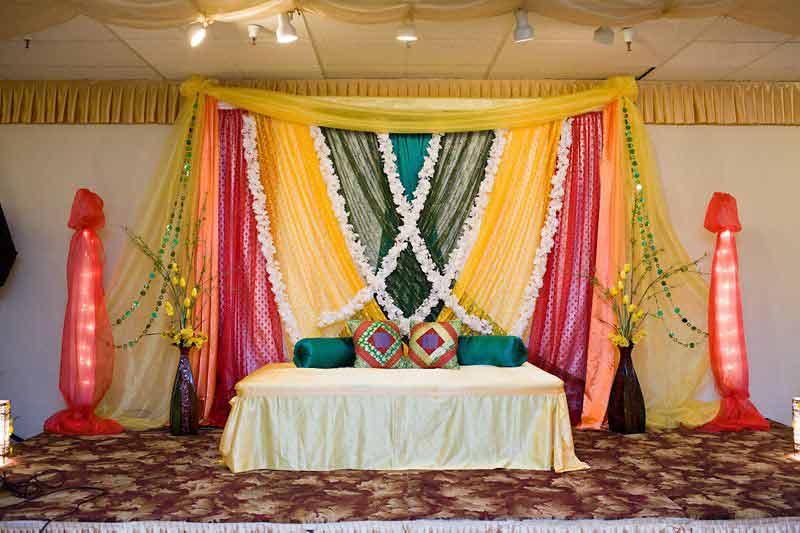 MEHNDI EVENT TIPS AND IDEAS FOR 2023:
There are certain things that should be kept in mind at the mehndi event:
Make sure nothing blocks the light so that pictures and videos stay bright and visible.
Keep the dance floor clear.
Try to keep electric wires and fire-based decor items far from the gathering area, to avoid any kind of mishap. But you can anyways sprinkle or hang flowers around that setup, that is completely safe. Also, this will allow people with kids, enjoy the event rather than running behind their naughty ones all the time.
Seating arrangement of mehandi events is usually floor sitting, so when people dance or do stuff to enjoy, nothing causes obstacle or hurt anyone. But still, you can put sofas at the corners for the kind of guests who can not sit on the floor.
Keep the sitting arrangement contrasting with the decoration theme, in order to avoid anything that fades the attraction of the setup.
Keep the background co-ordinating enough, that it does not merge with the bride's outfit. Too many of the same hues can cause a weird camouflaged effect.
If you doubt your management, you can always call up an event planner or decorator for this.\
Mehndi stage Design is heavier and more exaggerated with the use of the following decor items in Pakistan:
Mehndi
Dholki
Flowers Jewelry
Luddi/daandiya sticks
Gift for the Guests/ Giveaways
Dance Floor
Music Arrangement
Thaalis with Candles
Let us give you a little background of the event since the ancient ages. In Pakistan, mehndi function is the day before rukhsati or Baraat. And in old times, friends and cousins came to apply mehandi on the bride's hand, which is known as rasm-e-henna.
The fragrance of henna is considered a symbol of happiness and prosperity for a girl's married life, and for this, all women and relatives put henna on her hands, which says may her hands always be filled with colors of Suhaag. And sweets are presented with a thought that all her coming life be filled with sweetness.
These small gestures of our culture make it so beautiful that it attracts everyone. Rasm-e-henna is all about vibrant colors like yellow, orange, green, and shades of love and prosperity.
Mehandi event basically is the one which is most creative as the entry of the bride and groom is kept so funky, like entering on a decorated rickshaw, or bicycle, and that cute Cinderella coach, etc. Basically, this day certainly has some themes, all the decorations, outfits, and performances are based on that particular theme.
So that was all about the latest mehndi stage design 2023-24 in Pakistan that kind of decorations can be done for the stage and entry of the bride or groom.